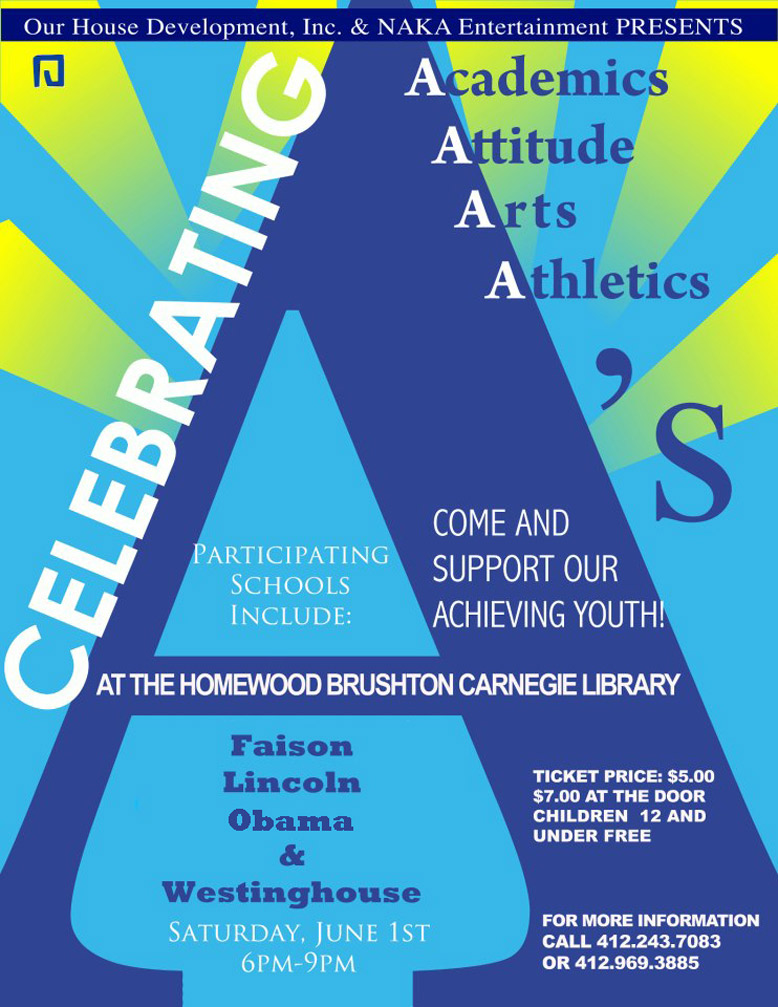 Who: Our House Development, Inc. & Naka Entertainment
What: Celebration of the A's!
When: Saturday, June 1st 2013
Where: Carnegie Library (Homewood-Brushton Branch)
It's that time again to recognize the students in our area who have excelled in Academics, the Arts, Athletics, and Attitude! Too often we hear only the negative aspects of our children; however, there are many positive stories that continue to go unnoticed. So, please come out and reinforce the message of being on the right path to success! We are focusing on the following schools: Pittsburgh Faison, Lincoln, Obama, and Westinghouse! What an exciting year as we watched both the boys and girls basketball teams at Westinghouse win the Championship! We will also recognize the Homewood Little league football program, who also brought home a championship for our community! There will also be performances to show off our youth's talents in the arts. In addition, a gallery of art work will be displayed from each of the listed schools. This will be a night to make us all feel proud to know that we still possess a strong culture that continues a track record of success!
Doors open at 6pm – Program starts 6:30pm
Youth Vendors welcome! (No fee)
Come show off your entrepreneurial ventures!

Ticket Price - $5.00 Donation
Contact: Dawn R. Webb Turner
@ 412-243-7083 or dhouse2@verizon.net