---
CHURCH POINT PARKING BRIEFING
Repeat Showing by Request

Sunday, May 25
, 10.00 am - 11.30 am
Background History and Present Challenges
Presented by Bill Gye
Warringah Council 1986 Combined Floating carpark/commuter boat wharf proposal
When:
Sunday, May 25
Where:
Community Hall
Time:
10.00 am to 11.30 am
Do you want to be more informed about Church Point parking?
Come and hear about the 40 year historical background of this issue.
There are some surprises here for even some seasoned Church Point watchers!!
Tea and coffee will be available
RSVP:
billgye@gmail.com
---
Scotland Island Rego Check Day


---
THE DAISY BUSHELLS THANK YOU!

ISLAND HIGH TEA SUCCESS




A great afternoon was had by all who attended the Island High Tea on Saturday 3rd May. There were 25 entries for the baking competition and together we raised $1250 for Cancer Council NSW!



Our judges - Nathalie Muir, Susan Wallace and Bruce Savage - took their jobs very seriously and decided on the following 7 categories and winners:

Best Chocolate cake - Rosie Stenta's Chocolate Button cake
Best Decorated cake - Cleo Westley's Little Blue cake
Most Decadent - Jaime Sala's Poorman's Caramelk cake
Best Child Baker - Alby Gibson's Vanilla Strawberry Landslide
Best Tarts or Square - Giles Westley's Raspberry Tartlets
Best 'Other' - Theresa Hodgson's Milk Tart
Best in Show - Alby Gibson's Vanilla Strawberry Landslide!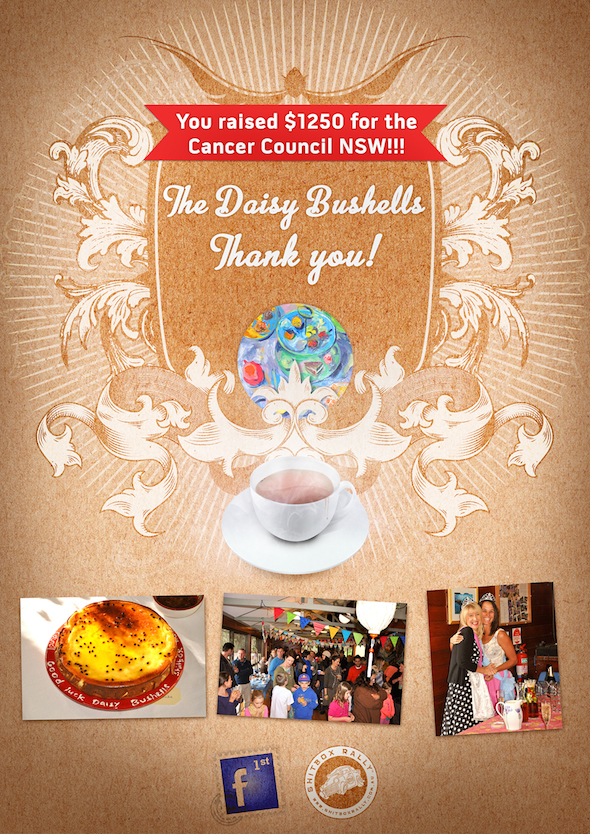 Huge thanks to our prize donors: Interlace Costume Hire, Church Point Ferries, Nadine & Conscious Life Yoga, NewportNet Co-working, Skye Damiani & Fit to Perform, Zubi Cafe Newport, Wild Nature Skin Products, Camille and The Family Beast, and Sandbox Media.

And even bigger thanks to all who came, enjoyed, helped and donated!! I couldn't have done it without you.

Leanne McLean
The Daisy Bushells (participating in Shitbox Rally 2014)

https://shitboxrally2014.everydayhero.com/au/thedaisybushells





---

Local Council Notices




Local Artists Invited to Submit Designs for Mona Vale Cemetery





If you're an artist looking for a unique opportunity, then Pittwater Council is calling for proposals for a commission opportunity at Mona Vale General Cemetery.



The designs of four artists will be chosen to be rendered into bronze plates, which will adorn four new granite memorial walls at the cemetery.

Council's Cemetery Officer Nadine Phipps said four new granite memorial walls have recently been installed at the cemetery, catering for the memorialisation and placement of cremated ash remains.

"The exterior of the walls will feature individual plaques for people to honour a loved one with a permanent memorial," said Ms Phipps.

"We are inviting the local artistic community to help to beautify the wall by submitting drawings for the decorative panels - the idea being to depict a scene from life in the Pittwater area."

Ms Phipps said there are four identical memorial walls, each comprising three faces with a central panel on each face. The central panels are where the successful artists' designs will be rendered in bronze.

"Each wall will showcase three of the chosen artist's designs, which will be selected through an assessment process," Ms Phipps added.

A payment of $1000 will be paid to each successful artist.

For more information call 9970 1341. For submission guidelines please visit www.pittwater.nsw.gov.au/art_commission



Submissions close Friday 30 May.



Contact: Nadine Phipps
Phone: 9970 1223


---
Doggy Do's and Don'ts with Steve Austin





Is your dog a scally-wag? Does he run away from you when you call his name, or repeatedly get his head stuck in the kitchen rubbish bin? Or perhaps he is a bully to other dogs? If your pooch needs a 'talking to', then it's time to meet dog trainer extraordinaire Steve Austin.



Pittwater Council has engaged elite dog trainer Steve Austin to help with your issues. Steve will be available

Sunday 22 June for a FREE session at Rowland Reserve from 9am-12.

It'll be a fun and informative morning where he can answer all your doggy-related questions; particularly when it comes to obedience.

Steve realised at the age of 13 he had a special way with dogs as he trained his dog Sooty to entertain crowds outside the pub.

These days Steve is often invited to lecture and help at zoos around the world. He's also a regular at American Law Enforcement Agencies and was asked to train dogs in bomb detection at the Mount Everest Kennel Club in Kathmandu. Steve also trained the first ever truffle detector dogs.

Most recently Steve was chosen to head the NSW Emergency Volunteer Canine Fire and Rescue Unit. This unit - the first of its kind in Australia will be deployed to help with recovery efforts during tsunamis, earthquakes, fires and floods.

The main focus of the session will be on dog training, dog park etiquette, obedience and social skills. No bookings required, just turn up with your four-legged friends and let the fun begin!

For more information: www.pittwater.nsw.gov.au/companion_animals

Contact: Sasha Lucius
Phone: Ph: 9970 1151



---
Fragile X Association Raffle
Fragile X Association's raffle raises funds to support families affected by Fragile X syndrome.
---
Bulk Organic Food Buying Group




Expressions of Interest



Hi all, I am looking to start buying bulk organic food, to make our family's shopping more affordable and more convenient, with the aim to order once every 10 weeks or so. I have been looking into different suppliers in the Sydney area, and am now on the lookout for any other families or individuals who might be interested in the same thing, so that we can create a combined order.

Also looking into bulk environmentally friendly household cleaning supplies.

Great for the health, great for the pocket, great for the earth and great for the community is the aim…

Expressions of interest or more info, email me at alanna.proud@gmail.com

Looking forward to hearing from you!
Alanna and family



---
LABOURER WANTED.



For regular work approx 3 days/week, gardening/clearing/whipper snipping etc

Must be reliable and physically fit as heavy lifting involved

Wage dependant on age and experience

Call Matt 0404 876685



---
For All Your Household Cleaning Needs




We offer a superior clean at a competitive hourly rate



Regular Cleaning or One-offs
Including standard or itemised detailing as required

For more information and your free quote
CALL: SANDY (0415 058 922)
OR NAT (0414 088 779)




---
---
Join SIRA
You can now join the Scotland Island Residents Association by
clicking here.
Please print the page and return the completed form to SIRA at this address:

The Treasurer, SIRA, PO Box 70, Church Point 2105.
Please NO CASH.

Contact SIRA at
sirac@sira.org.au
Join WPCA

To join the Western Pittwater Community Association
www.wpca.org.au
, contact Michael Wiener at

treasurer@wpca.org.au
---
Archived Newsletters


A complete set of past electronic newsletters since May 2000 can be found and read at https://ymlp.com/archive_gesgjgm.php or by clicking here or by visiting the Mona Vale Library.

The Island website is at www.scotlandisland.org.au


---
To Contribute


If you would like to contribute to this newsletter it's easy!. Send an e-mail to the editor (editor@scotlandisland.org.au) or by clicking here. Type your contribution (100 words or so would be fine) and assuming it is of general interest to the community, does not include matter of a political nature and is not offensive, it will appear next month.

Subscription Information


To get on and off this newsletter,

click here

or got to:

http://www.scotlandisland.org.au/signup .


To change your address, click the 'modify' link at the bottom of this newsletter or send an email to the

editor@scotlandisland.org.au


---
Follow the PON
---
The Online Local Contacts Guide
Click HERE to load
The views expressed in this newsletter are not necessarily the views of the Scotland Island Residents Association (SIRA), or the Western Pittwater Community Association (WPCA)
---