~  the Somerville Rock And Roll Yard Sale  ~


hello from Chris + Jennifer Daltry
of What Cheer. happy 4th July to you all!
we hope you enjoy the holiday. 

we may have closed up our retail shop,
but we want for you to know that we have 
in no way gone out of business. we've chosen this 
racket for life. we're now selling online on Discogs 
Etsy and eBay as well as putting together our 
Rock And Roll Yard Sale events. we also hope 
to also be open by appointment in the future, as
we now work from home in N. Providence. 

thanks to all of you who stopped in and helped
out by shopping and/or with our packing and with
moving out of our Thayer Street shop. 

this is the Call For Vendors for our next event,
the 2017 Somerville Rock + Roll Yard Sale to be
held at Union Square Plaza in Somerville, MA
on Sunday 10th September 2017. 

this is a FREE outdoor all ages DIY sale
in the Boston area with indie vendors selling 
Records + Vintage + DIY Handmade Goods

and is part of the Somerville Arts Council's
ArtsUnion Program.



vendor space for this event will sell out fast

.
be sure to read this email in its entirety to make
sure the event is right for you, and if so


apply right away

(link below).



(Raindate is Sunday 17th Sept) 
from 11am-5pm

CAREFULLY READ ALL OF THIS !



this is our most popular event. Somerville brings
out our the of any of our events, and because of this, 
vendor space always sells out almost immediately 
so if you want in, please read all of this email
very carefully and follow our instructions.

even if you are a regular vendor with us you
must apply using our online vendor application. 


this event is outdoors. we provide nothing
but an empty space on the brick / pavement, so
you must provide your own tent, tables + chairs
if you need them! 
spaces are up to 10' x 10' to
accommodate standard eventing tents.


there are some obstacles, such as trees,
benches, sculptures, etc. and these things make
the space a little hard to carve out, but it's
still a really great place for our event. 



you can share a space

, but it's up to you to
find someone to share with. if you're approved
and you'd like to share your space, please let us
know who you're sharing it with so we can
publicize everyone's participation.

the vendor fee for this is $100 and is 
due in advance of the event but vendor space
is only reserved with advance payment 
(first-come-first-paid) but you must first
Apply Right Away if you want in. 


if your application has been approved, you'll
receive an email confirmation with payment details. 
the vendor fee is 
to be paid through
 PayPal.)
~ Our Basic Terms ~
if approved and you pay on time, you're in!

but you must agree to all terms in this email
in addition to those in our application and emails
to vendors regarding payment and details. 


vendor fees are not refundable for any reason.
you must be available for both the event
date of Sunday 10th September as well as our
September 17th Raindate. while our hope is to
have great weather, you never know with outdoor
events, so that's why we've set a raindate.
other rules: nothing illegal / incredibly
offensive may be sold. you must also pick up
after yourselves. if you leave trash or anything
else in the space, you will not be allowed to 
do our events in the future.

Click Here for our Vendor Application! 



reply to this email 

if you have any questions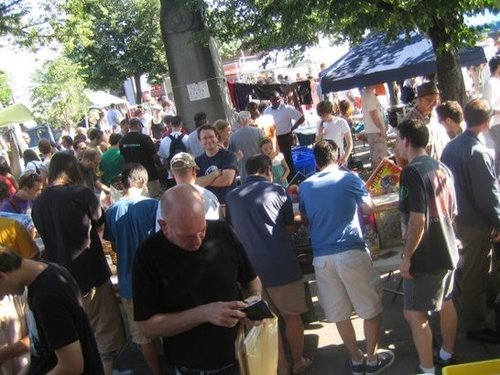 our Rock + Roll Yard Sales happen
a handful of times every year in Providence
and the Boston area to give independent
DIY vendors a venue to sell their wares, as
an alternative to the square and ugly
big box world we live in.

Support the Creative Economy!