Celebrating B&B Hospitality Since 1986
Thank You to our Veterans and
Thank You to all our Holden House guests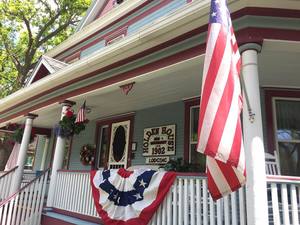 We want to say, "Thank You for Your Service" to Veterans and Active Duty Military in November, the month of Veteran's Day, and say "Thank You" to all of our guests with special multi-night discounts from October through December 2018 for all travelers when booked directly through the inn's website or by phone.
Veterans and Active Duty Military will receive $10 off per night all through the month of November, but there's no need to wait until November to book with our amazing multi-night stay discount specials valid anytime from October-December 28, 2018.
Starting in October, you have two choices: Stay 2 nights Midweek and receive 25% off your second night or Stay 3 Consecutive Nights any nights of the week and receive your third night free.
*All special discounts must be mentioned at time of booking, full amount of stay required, are non-refundable once booked, cannot be combined with other discount offers and cannot be applied to existing reservations.
Visit our website and click on Check Availability-Make a Reservation button. You will see the discount specials listed right on the top of our availability page. Click on the appropriate special and finish your reservation. It's that simple. If you'd rather personally speak to an innkeeper, feel free to give us a call at 888-565-3980 to book over the phone anytime between 9 a.m. and 8 p.m. daily, Mountain time.
Now is the perfect time to book a stay at Holden House 1902 Bed & Breakfast Inn located in Colorado Springs. Treat yourself to a stay in this romantic and historic Victorian bed and breakfast inn.
---
What's Cookin' at Holden House? Try this taste tempting recipe.
Crepe recipe:
2 Tablespoons of melted butter
1 Teaspoon of lemon extract
Directions: Make 8-inch crepes using greased skillet or crepe maker and set aside
Filling:
2 cups fresh Bing cherries, halved and pitted
1 Tablespoon Grand Marnier
1 Teaspoon of cornstarch mixed with 1 teaspoon water
¼ cup of sour cream (room temperature)
4 oz. (1/4 package) of softened cream cheese
½ cup semi-sweet chocolate chips or chocolate chunks
Directions: Mix cherries, Grand Marnier, sugar, apple pie spice and cornstarch mixture together in saucepan over medium heat for 10 minutes or until slightly thickened. Set aside to cool.
Blend together sour cream and cream cheese until it is a smooth and spreadable consistency.
Lay each crepe flat, gently and lightly spread sour cream and cream cheese mixture over crepe, so as not to tear crepes. Evenly spoon approximately ½ inch high, cherry mixture in middle area of crepe, then sprinkle a handful of chocolate chips over cherry mixture. Fold crepe sides to middle and invert with folds placed on bottom side of plate. Place 2-3 crepes on each plate and garnish with additional cherry sauce, a sprinkle of chocolate chips, a sprig of fresh mint and several whole fresh cherries with stems. Lightly sprinkle nutmeg over crepes and top with a dollop of whipped cream.
Einfach Wunderbar! (Simply Wonderful!)
This recipe combines the delicious elements of a Black Forest Cake with the simple French crepe. My German great-grandmother would be pleased that I have brought the two nationalities together in this crepe, perfect for breakfast or dessert. It's a sweet blend of cherries, cream cheese and chocolate, sure to please any particular palate.
-Sallie Clark, Owner/Innkeeper
---
We're Very "Social" at Holden House!
A GREAT B&B
- Located on a quiet street, Holden House is a charming retreat. The accommodation we had was a luxurious suite-bedroom, sitting area, fireplace, tub, shower, Jacuzzi etc. The young lady-Sahouda- did an outstanding job of greeting and orienting us to the facilities and surroundings. The grounds are well kept with some sitting areas. The service was excellent with great attention to detail. Since we had planned an early tour one day, we had a "breakfast to go" which was very good. We also met some fine people during our stay. Tip: be sure to read the history of the place in the folder in the room!
---
Coming soon... Holiday & Christmas Splendor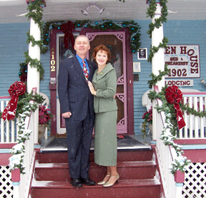 For more ideas on what to do and see, visit the Colorado Springs Convention and Visitor's Website
For online availability, visit
www.HoldenHouse.com
and feel free to call 888-565-3980 toll-free for more information.
Reservations can be made personally by phone or 24-hours a day on our website.
Built in 1902 by Mrs. Isabel Holden, the widow of a prosperous Colorado Springs businessman, the
Holden House
is a lovely Victorian inn featuring three adjacent homes decorated with family heirlooms and elegant antiques. We're located on a quiet tree-lined residential street, just a mile from downtown, near historic Old Colorado City and just a few minutes from quaint Manitou Springs.
The inn features six luxury guest suites, and various room features include queen or king beds, sitting areas, private baths, in-room fireplaces, color/cable TV, WiFi, hair dryers, iron/ironing boards, snuggly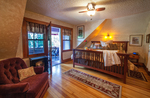 bathrobes, private label amenities,
oversized bubble bath tubs for two,
and refrigerators. Our Pikes Peak suite offers a separate living room, kitchenette and private balcony off the bedroom. We also offer 24-hour coffee/tea service and our famous bottomless cookie jar in addition to our delightful afternoon wine social served between 5-7 p.m. each evening. Our full gourmet breakfast includes fresh fruit, freshly baked muffins and a main hot breakfast gourmet entree which includes one of our award-winning signature dishes such as German Puff Pancakes with Spiced Apples, Southwestern Eggs Fiesta, Ruffled Crepes Isabel or one of our many specialty recipes. We're happy to adapt to special dietary needs if notified in advance. Your breakfast is included in your room rate and served in our elegant formal dining room at 8 or 9 a.m. An optional breakfast en suite is available for an additional Romance package charge and our "early risers" breakfast can be made available for those with an early morning schedule to meet.
We look forward to hearing from you soon!
Sallie and Welling Clark, Innkeepers
Heather, Tracy, Jenny, Sahouda and Connie, Assistant Innkeepers
Holden House offers great packages and specials

throughout the entire year. Whether you're celebrating something special, joining us for a holiday or looking for adventure, we have a package for you!
1102 West Pikes Peak Avenue
Colorado Springs, Colorado 80904
719.471.3980 888.565.3980
Voted "Best" from
Colorado Springs Gazette
Colorado Springs Independent
Colorado Springs Business Journal
and many more!