JUNE'S IN BLOOM AND JUST IN TIME FOR INTERNATIONAL PICNIC DAY
CELEBRATE WITH OUR B&BS!
for Bed & Breakfast Innkeepers of Colorado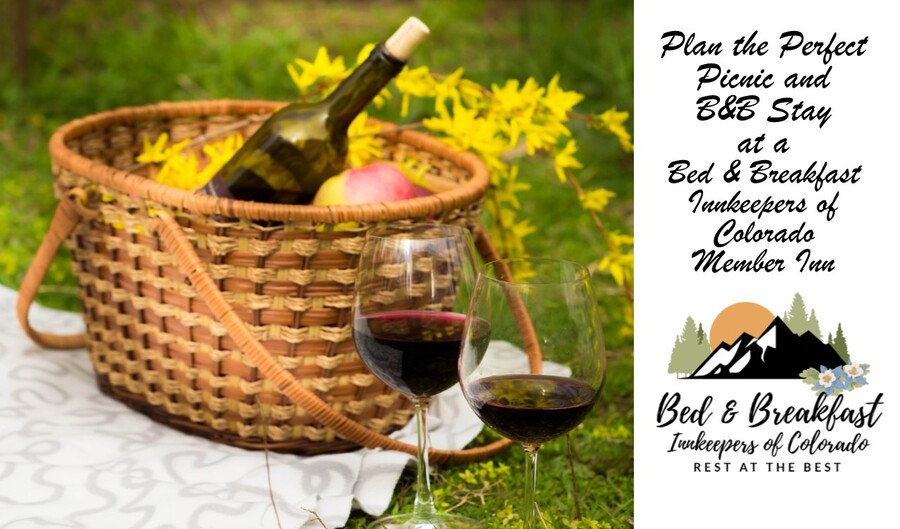 #BookDirect today by visiting
Grab your picnic basket and some goodies to enjoy exceptional scenery for
a sunny daytime outing or an evening under the stars,
returning to a lovely bed and breakfast in our state.
At a Bed & Breakfast Innkeepers of Colorado (BBIC) member inn,
you'll always find an individual selection of B&Bs, quality standards
and the assurance of resting at the best Colorado has to offer.
Anytime is a great time to visit Colorado,
so book now to reserve your special spot!
---
Say "Cheers"! Celebrate International Picnic Day while staying at a Colorado B&B!
According to

NationalToday.com,

"For many across the world, picnics are a relaxing change of pace from their daily lives. However, the picnic as we know it today didn't exist until the French Revolution, as public parks finally became available en masse. Although the French are credited with the creation of modern picnics, globalization and individual cultures are responsible for their grand popularity. In 2018, 55% of young Americans said having a picnic was their favorite warm-weather activity. And as the concept of picnics has spread, a myriad of different traditions have arisen in a plethora of different places. There are very few, if any, cultures around the world that do not engage in picnicking in their own way. Picnics are a wonderful way to get outside and enjoy what your city has to offer you. And after a hike or walk, you'll be antsy for a nice break and a yummy meal."

Read more...
---