---
Bugler Wanted




Bugler wanted for ANZAC Day Wednesday 25th April

by Bruce Healey of Scotland Island Fire Brigade for the Church Point memorial service.

Please call Bruce on 9997 5470 to discuss.



---
POP
The New Exhibition @ Painters Gallery
April 13 - 30

Shop 11/20 Bungan St, Mona Vale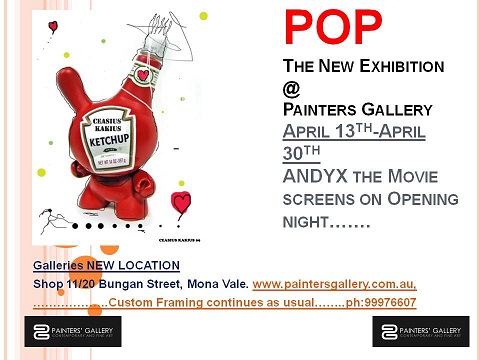 Click image to load flyer
---
Water Taxi Fares


COMMUTER SPECIAL TO CONTINUE



Yes Folks!
Monday to Friday, 6am to 6pm, Church Point to Bell Wharf (or the other way) is still $12.

After a slow start while the word got around, the Bell commuters put in a strong finish for March and the Taxis near-as-dammit broke even on the Bell to Church Point run (compared to $16 fares).

It only takes a few extra trips a week to become regular and we'll be able to make $12 to Bell a permanent thing.

Well done one and all. Keep it up.
Yours aye - the Pink Water Taxis

PS. Water Taxi phone is being moved from Vodafail to Telstra as fast as humanly possible. Will advise.



---
Thankyou from Pittwater High School
for "Beatlemania"

A big thank you to all Scotland Island and West Pittwater communities for your tremendous support for the Pittwater High School Europe Tour fundraiser "Beatlemania".

It was one of the most successful fundraisers ever at the school.

Thank you to Flaming Doghouse for their terrific renditions of Beatles classics − many sore feet at the end of the night!; to Brian Francke for lighting; to John Marshall for sound; to all the artists for their very generous donations; and to the many families and friends of Pittwater High School who made the night a huge success.

Your efforts were truly appreciated by both students and family.

PHS Band students will be traveling to Vienna, Prague, Munich, Saltzburg, Venice and Ljubljana in December this year. Will let you know how the Tour goes.

Best Wishes
Karin Krueger
PHS Band President



---
Homeless vinyl LP's


Someone eons ago someone gave me three albums to copy to CD's – a Miles Davis set of two LP's, Dire Straight's and 'The secret policeman's ball'.

They are very lonely and would like to go home.
Paul Burchall 0414 975 79


---




FREE Earth Day film Screening - 'HOME'





Earth Day is intended to inspire awareness and appreciation for the Earth's natural environment. It is celebrated annually on 22 April in over 175 countries around the world.



This Earth Day experience the planet Earth as you've never seen it before through a screening of HOME, a stunning and thought-provoking film by the famous French photographer Yann Arthus-Bertrand. The film explores the beauty and fragility of our Earth and is a call to action to value and care for our world.



When

: Sunday 22 April



Time

: 10:50am – 12:30pm



Where:

Coastal Environment Centre, North Narrabeen



Cost:

Free!

Bookings Essential! Click Here

The screening will be followed by a light lunch and informal networking to share knowledge and ideas of how we can reduce our ecological footprint and protect our environment.

Light lunch and networking - 12.30pm - 2:15pm

For more information about our events please give me a call or email jo_tulau@pittwater.nsw.gov.au

Thanks for supporting our natural environment!

Joanne Tulau
Senior Natural Environment Officer - Sustainability
Pittwater Council
9970 1339


---
New Online Consultation Tool





Pittwater Council has launched a new consultation tool based on Google Maps.



The tool is being used for the first time to gather feedback and comments from the public on the draft review of undeveloped land in Warriewood.

The tool allows people to make a comment using a marker on a Google Map of Warriewood.

They can then 'pin' their suggestion on the map, using either a street address or guiding the map marker to their chosen destination.

Comments on the Warriewood map are grouped under themes such as transport, housing, flooding and open space.

General Manager Mark Ferguson said the advantage of the tool was that it allowed people to see what others were saying about an issue.

"By checking a box on each theme, residents can see comments from others drop into view on the map."

"We hope it will encourage more people to make comments online and greater transparency when it comes to gathering feedback from the public on a variety of issues."

He added that personal details such as names and addresses were not disclosed by the consultation tool.

To access the tool visit www.pittwater.nsw.gov.au/warriewoodreview

Community Relations Pittwater Council Ph: 9970 1119



---

AUTHOR TALK
Local Historian Nan Bosler - The Story of Bob Waterer and his Family 1803-2010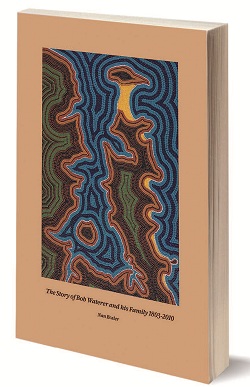 This is the story of one family that can trace its heritage back to Sarah (Biddy) Wallace – a member of the Broken Bay clan led by Bungaree.

Featured in the story is Bob Waterer's great grandmother Catherine Bens (1838-1920) who was known to many locals as The Queen of Scotland Island.

Meticulously compiled by local author and historian Nan Bosler, this superb 112 page A4 size edition is a fascinating family history and archive of the early days in the Lower Hawkesbury River, Scotland Island, Pittwater and Brookvale.

Packed with vintage photographs, the book also features a comprehensive list of the descendants of Sarah Wallace.

The book was launched by the Governor of New South Wales, Professor Marie Bashir, AC, CVO, on 29 July, the opening day of 2011 National Family History Week Sinhalese, but writes beautifully in English. For many years she has worked for the Red Cross in Sydney.



Author Talks 2012




Date:

Thursday 26 2012


Time:

6.30pm


Venue:

Mona Vale Library
1 Park Street, Mona Vale



This is a FREE event celebrating Heritage Week. Bookings essential, tel. 9970 1600.





---
Article Correction



In our April first issue we incorrectly attributed the

Tarrangaua Open House for Palliative Care at Mona Vale Hospital

article. The article was written and published by

Pittwater Online News on March 25 -31, 2012: Issue 51





---



Missed out on a Newsletter?




Go to the archives to download previous notices



A complete set of past electronic newsletters since May 2000 can be found and read at https://ymlp.com/archive_gesgjgm.php


---
The Online Local Contact Guide

Click HERE to load
The views expressed in this newsletter are not necessarily the views of the Scotland Island Residents Association (SIRA), or the Western Pittwater Community Association (WPCA)
---