| | |
| --- | --- |
| BHAF Annual General Meeting | April 2015 |

Dont forget our
Annual General Meeting!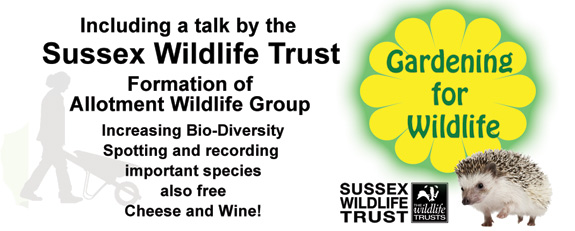 Thursday 2nd April


6.45-9.00pm


The Brighthelm Centre
North Road, Brighton
1. Allotment Strategy Review / Treasurers Report
Democracy in action, site rep elections, rules review, forming associations
2. Elections of Committee Members
3. Wildlife on Allotments
A talk by Michael Blencowe and Jess Price from The Sussex Wildlife Trust about
gardening for wildflife, increasing bio diversity, recording wildlife and spotting
important species.
4. Federation Wildlife Group
Formation of an allotment group to feed into the Bio-Sphere project
6. Protect Craven Vale and Mile Oak Allotments
The campaign to protect allotment land under threat of development.

Last years minutes will be approved at the start of this years meeting, You can view them here; 2014 AGM minutes

A call out for Committee Members

We would like to take this opportunity to invite nominations for Committee members and officers. Belonging to the Committee is not as boring as it sounds! We have tea and biscuits at our meetings and chat about many issues affecting plot holders across the city. It's a social gathering as much as a meeting. We are keen to get new people on board so please get in touch if you have a little spare time to offer and would like to promote a vibrant food growing community that is committed to promoting sustainable growing, protecting the environment and encouraging open democracy and representation on all our sites.
We are especially in need of a secretary. The role would mainly involve taking minutes at about 6 meetings a year.
Please email us at bhaf.contact@gmail.com if you would like to get onboard.

We look forward to seeing you.
Best Regards,
Mark Carroll, Publicity Officer for
BHAF Committee.

Sign this Important Petition


Help protect the UK's Allotment Sites



---
---
Follow us on Facebook


You do not need a Facebook Account to read our posts!