Advertise in this newsletter and reach thousands!

List your property or activity!
Add your Event to our Calendar
Hi Bryan,
From your "Colorado's Best Deals" Email Announcements subscription.



Winter is in full swing and the Fourteener Country ski areas (we don't call them resorts) are in excellent shape! Many locals consider February the best month to ski because the snow conditions are consistently awesome. The Arkansas Valley snowpack is 114% of median, which skiers, snowboarders, snowshoers, and snowmobilers are enjoying daily. 
Here are a few of the things coming up in February.
Leadville Snowshoe Marathon & Half Marathon

Back for a second year after an incredibly
successful
 2014 race. The Leadville Marathon and Half Marathon is a great event to kick your winter workout routine into high gear.
Starting and ending at the Mount Massive Golf Course the race course follows high alpine trails and roads around Turquoise Lake under the massive Sawatch Range. The out and back course finishes at the golf course club house where hot soup and cold beer will be waiting.
Date: February 7, 2015
Time: Registration 6:30am - 7:50am 
Time: Race Starts 8:00am
Cost: $75
Leadville Winter Mountain Bike Series
The Cloud City Wheelers created a winter mountain bike race series with a twist, they race on the snow at night. These fatbike races are fun to watch and even more fun to take part in. Fatbikers from around the state participate in these events. Watch the action from the Nordic Center deck with a hot drink or from somewhere along the race course.
Date: February 7, 2015
Location: Tennessee Pass Nordic Center
Time: Registration 4:00pm
Time: Race Starts 6:00pm
Cost: $20
Leadville's High Altitude Snow Drag Races and Demo Day

Rev up the excitement with this high altitude high octane event. The Leadville High Riders Snowmobile Club sponsors the event which features three classes of sleds (under 800cc, 800 & up, and pro modified classes) racing head to head and demos from industry vendors. 
Buena Vista's Winter Sol Festival
Celebrate winter with art, music, outdoor fun, and a dip in the hot springs with your Valentine. The weekend long Winter Sol Festival list of events includes include an AIARE Level 1 Avalanche Safety Course, Valentines Shopping Spree & Chocolate Walk, Hearts & Arts Show, live music, and more.
Dates: February 13-14, 2015
Location: Downtown Buena Vista
Live music & live painting
Kort McCumber is an incredibly talented multi-instrumentalist, prolific songwriter, and gifted vocalist. While Kort is performing Colorado native Jesse Crock will paint an original piece during the show. Jesse's pieces will be raffled off that night to directly support the Whitewater Winter Music Series, a fundraiser to benefit the Buena Vista Whitewater Park. You may recognize Jesse's signature artwork on the Eddyline beer cans and throughout Eddyline Restaurant and Brew Pub.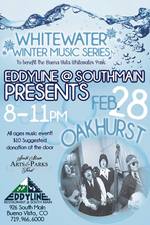 The Whitewater Winter Music Series presents Oakhurst, a high energy band that spikes traditional bluegrass with rock & roll and a kamikaze rhythmic sensibility. Take a string band and swap out the fiddle player for a groovy drummer and you're well on your way to understanding the sound of Oakhurst. Like all Whitewater Winter Music Series events there is $10 suggested donation at the door to support the Buena Vista Whitewater Park!