Dear Friends,
We hope you, your family, and friends are safe and sound. Here is this week's Library Minyan Weekly Update for Febrary 26, 2021.
If you have suggestions or would like to include something in a future Weekly Update, please email Jerry Krautman at
JKrautman@sbcglobal.net
or reply to this email.
---
Mazal Tov
Congratulations to Rachel Siegel!  Her son Avi Siegel is receiving a young pioneer award from the Jewish Education Project.  Kol HaKavod!  Please click here for information about Avi and the award.
Larry claims that the haftarah for T'tzavveh is a haftarah sandwich, boring and filled with scribal errors. Rick points out that no haftarah that has four (count 'em) pazers in one verse, a record for any haftarah, can be considered boring. The boys are still looking for a tape measure in cubits.
The Mishnah Study Group will be gathering to learn on February 27th with Barry Rosenblatt.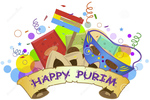 Megillah Unmasked: The Untold Story
Last night Temple Beth Am put on a great Megillah reading and shpiel. Thank you to Library Minyan participants Stan Goldstein, Joel Grossman, Jennifer Low, and Joey Schimmel who along with Rabbi Kligfeld did a wonderful job reading the Megillah.  Thank you to Mike Cohn and Dr. Erica Rothblum for their hilarious portrayals during the shpiel. Thank you to Michaly Lahat and Cantor Michelle Stone for their part in the fantastic closing song. Thank you to the other TBA members who wrote, produced, sang, and acted in the presentation: Larry Braman, Margy Horowitz, Nili Isenberg, Josh Jacobs, Yoni Kollin, Monica Yudovich Kramer, Rob Kutner, Anne Kaplan Spar, Andrew Wallenstein, and Reyna Zack.

Morning Minyan and Megillah Reading

Thank you to Joel Grossman and Mickey Rosen for leading Shacharit and to Rabbi Michael Berenbaum, Yakov Ben Zvi, Mickey Rosen, and Joseph Schimmel for reading the Megillah.