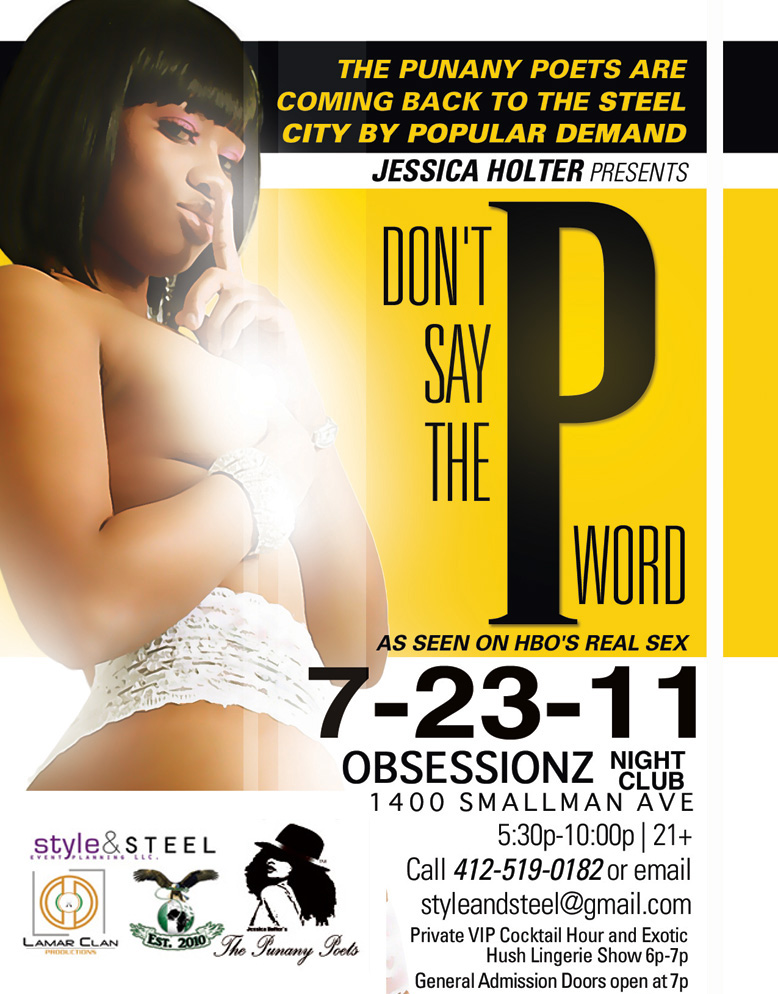 About the Punany Poets:
As seen on HBO's Real Sex, the Punany Poets create an intimate theatrical experience for guests to explore love, sex, and intimacy through Erotic Poetry and Dance.
Where:
Obsessionz Nightclub | 1400 Smallman Street
6:00p-10:00p | 21+
VIP Receives a PRIVATE Mixer from 6pm-7pm
General Admission Doors open at 7p
Purchase tickets in advance and save: ONLINE:
http://punanypoets2.eventbrite.com
General Admission Tickets are $20 | $25 at the Door
VIP is $35 | $40 at the Door
VIP Receives a PRIVATE Mixer from 6pm-7pm (INCLUDES ONE COMPLIMENTARY DRINK); an EXOTIC HUSH LINGERIE FASHION SHOW; PRIORITY FRONT STAGE SEATING; and a FREE RAFFLE TICKET for the Giveaway!
All guests will receive a FREE COPY OF FUDGIE SPRINGER'S (2011 PHHA Reggae Artist of the Year) Debut Album.
Tickets Locations: The Natural Choice, 720 Music, Clothing and Cafe, and The Royal Caribbean Restaurant.
Call 412-519-0182 or email styleandsteel@gmail.com for more information.