---
---
Mother's Day Cafe




Sunday Morning in Catherine Park - 9.30 to 12.00 (in Hall if wet)



A Fundraiser for our new Island Community Garden.



---
OFFSHORE YOUTH SAILORS VICTORY AGAINST HARBOUR'S ELITE





Pittwater High School's Team Sailors have won the 2012 NSW Interschool Teams Racing Championships

sailed on Sydney Harbour and have ended a 5 year stranglehold that Cranbrook School have had over the Title.


Team members, dominated by offshore sailors, comprise; Captain, Oscar Stranack, Angus Stranack from Little Lovett Bay, Xavier Kempton from Towlers Bay, Adam Bradley from Scotland Is, Travis Thorn from Elvina Bay, James Farquharson from Bayview & Harley Walters from Mona Vale.

Growing up & living on Pittwater gives all offshore kids a valuable depth of understanding & sixth sense when it comes to wind & water & this instinctive edge creates great sailors.

The State Titles were sailed over 3 gruelling days and 128 races, with the last days racing held in gusty 20 + knot southerly winds which is where the Pittwater Team really demonstrated their superior skill, strength and stamina.

The semi finals saw Pittwater grab a 2-0 win against old rivals Cranbrook and then outsail Scotts College 2-0 in the finals to take out the Title in convincing style.



The win was an awesome achievement for Pittwater High which was one of only 2 public schools entered in this prestigious event. The impressive field of 11school teams, saw the Pittwater Team racing against the best sailors from some of Sydney's most elite schools, including Scotts College, Cranbrook, Riverview, Aschem, Brigidine, Mater Maria, Abbotsleigh & Sydney High.

The victory was an emotional one for ex PHS teacher and Team Racing Coach, Stan Walters, who has assisted the team with coaching over the last 2 terms and whose grandson Harley is a team member. Team manager Leisa Stranack , whose 2 sons are team members, was also 'a little bit excited' with the hard earned win!

The PHS Team would like to thank David & Caro Adams from Towlers Bay who offered the beautiful " M/V Hove Too" to team & parents as a support boat for the event.

Results were;1st Pittwater High School; 2nd Scotts College; 3rd Cranbrook; 4th Riverview; 5th Mater Maria

Photos can be viewed here at the Offshore Photo Gallery
at
https://plus.google.com/photos/116179530093004854645/albums/5740329245571584817



---
SALVATION ARMY RED SHIELD APPEAL
SCOTLAND ISLAND & BAYS VOLUNTEERS NEEDED
(SAT 19TH/SUN 20TH MAY)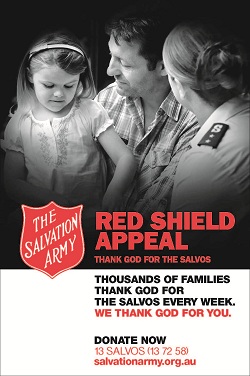 Hi everyone,

The

annual Salvation Army Red Shield Appeal is on Sat 19th/Sun 20th May

and I am keen to coordinate a doorknock campaign on behalf of our offshore community for this wonderful cause. I am hoping to hear from enthusiastic and energetic people from the Island and Bays, who would be willing to spare an hour or two collecting from neighbours and friends. This may also appeal to high school students participating in the Duke of Edinburgh Scheme, who are looking for community service opportunities.

Looking forward to hearing from you,
Cheers

Jenny Frazer
Phone: 99994460
Mobile: 0410533728





click image to load flyer




---
Local Artist Exhibiting in "Slick City Chicks"
Phillippa Thomas

Our Local artist, Phillippa Thomas, has been invited to exhibit four of her works in an Art Show in the City.


The Gallery," Space at 565" at the Sydney RSL Club, 565 George Street Sydney, is to hang works by 10 female Sydney artists, the show to be called "Slick City Chicks".


Opening night is Wednesday…6-8p.m.
All Welcome!!

Running until 27th.May,2012…a nice meal may be had whilst viewing!


In June the Show will be screened on buildings in Times Square,New York City.USA.

May we all say,"Well done,Phillippa".


click image to load flyer





---

Local Council Notices

Mona Vale Library display on Pittwater Council's 20 Year Birthday celebration - FREE



Come into Mona Vale Library and see Pittwater - Now & Then: Celebrating the first 20 years of Pittwater Council

.

The display contains photos, news clippings and memorabilia from the beginnings of the Council, the first new council in 100 years when it was proclaimed on 1 May, 1992 to present day.


---
Helping Learner Drivers Become Safer Drivers





A free workshop for parents and supervisors of learner drivers will be held by the Roads and Maritime Services with Pittwater Council at Mona Vale Library on Wednesday 16 May from 6.30pm.



The course, 'Helping Learner Drivers Become Safer Drivers', will offer parents and supervisors hands-on advice on how to provide the most effective driving practice for learner drivers.

The Council's Road Safety Officer Michelle Carter said licence conditions for learner drivers meant there was a minimum of one year on 'L' plates and 120 hours of supervised driving, including a mandatory 20 hours of night-time driving.

"A more rigorous driving test has also been introduced, focusing on hazard perception and driver reactions," Ms Carter said.

"Parents and supervisors of novice drivers have a crucial role to play in making our roads safer, and that is why the RMS has developed a course to better support them."

The free course will cover topics such as:

laws for learner and P-plate drivers
how to use the Learner Driver Log Book
how to plan on-road driving sessions
"Parents and supervisors who have attended this course found it boosted their confidence, helped them better plan driving sessions and allowed them to share experiences with other parents and supervisors," added Ms Carter.

The workshop will run from 6.30 to 8.30pm. Bookings for the Helping Learner Drivers Become Safe Drivers course are essential and can be made by calling Michelle Carter from Pittwater Council on 9970 1196 or by email at michelle_carter@pittwater.nsw.gov.au.

Michelle Carter, Pittwater Council
Ph: 9970 1196



---
TRIVIA NIGHT SATURDAY 16th JUNE 7.30pm
SCOTLAND ISLAND COMMUNITY HALL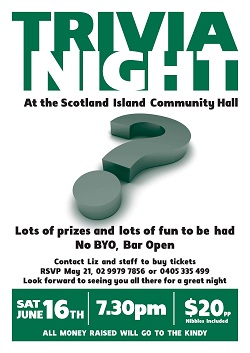 Bar open $20 includes nibbles.

Lots of prizes to be won from;

$100 Toni and Guy Voucher
Meal for two at Pittwater RSL
$50 Beauty Voucher
Massage
Ferry Tickets
$90 Glenworth Valley horse riding vocher
And many many more.

Please contact Liz and staff at the Kindy on 02 9979 7856 or 0405335499 to buy tickets or to buy a table of 8.

Please help support the Kindy all money raised will go towards new resources and equipment.
Look forward to seeing you all there.

Regards
Liz


click image to load flyer




---
House Wanted to Rent


SHORT or LONG TERM - OFFSHORE



We are looking for a short or long term offshore rental property ASAP.

We would prefer a long term 3 bedroom offshore house we can call HOME.
Would equally be happy to consider a short term rental (furnished) in the meantime.

So if your heading overseas, have business to attend elsewhere and need the cats or dogs fed and walked or the plants kept alive on a more short term basis, then I would love to hear from you too!

Short or long term - I assure you I would call your house my home and would nurture it and care for it, as if it was my own.
Will pay bond and more than happy to negotiate an advance payment amount, which would dependent on the lease period.

We would prefer:
2 - 3 Bedroom plus - long term
2 Bedroom plus - short term
Though open to any and all possibilities.

Cheers
Donna
0423 413769
donnaleamoran@yahoo.com.au



---
For Sale




COMMUTER BOAT FOR SALE - $1,500


3.95m aluminium Quintrex Runabout (1980's model) with 4yr old 15hp Yamaha motor. Lights, bilge pump, engine guard & registered until January 2013. Logbook & receipt for motor available. No leaks - fully functional for commuting. Owner is leaving the Island on 19 May 2012.
Call Janet on 0417 002 568.


---



Missed out on a Newsletter?




Go to the archives to download previous notices



A complete set of past electronic newsletters since May 2000 can be found and read at https://ymlp.com/archive_gesgjgm.php


---
The Online Local Contact Guide

Click HERE to load
The views expressed in this newsletter are not necessarily the views of the Scotland Island Residents Association (SIRA), or the Western Pittwater Community Association (WPCA)
---