DAN E-NEWSLETTER | MARCH 2012
Thank you to everyone who has renewed their 2012 Dialogue Australasia Network Membership.
W
e greatly value the support of our 350 member schools, organisations and individuals who share a committment to developing Values, Philosophy & Religious Studies in Australasia with intellectual rigour and contemporary relevance.  
Please contact the Executive Officer if you are interested in becoming a member of DAN,
or would like a copy of your 2012 invoice to faciliate payment.
LAST WEEK TO REGISTER FOR DAN PD WORKSHOPS - TEACHING MIDDLE SCHOOL RE
Melbourne 26/3, Adelaide 27/3, Sydney 28/3, Brisbane 30/3
There is a great representation of teachers from Catholic & Independent schools registered for these workshops.  It is not to late to be part of this valuable opportunity to reflect on the challenging and exciting area of
Middle School RE (Yrs 7-10).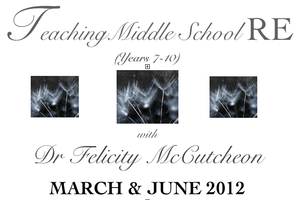 Overcoming the credibility gap is one of the biggest challenges facing Religious Education teachers today. Many of our students tend to be suspicious of religion, and think religious concepts, language and the claims made in religious texts are irrelevant to their lives. If we are to help our students encounter the deep truths that lie within religious traditions and texts, we need to meet these challenges head-on.
This full day workshop with Dr Felicity McCutcheon (Head of Philosophy and Religious Studies at Melbourne Grammar School), will explore ways of making religious concepts accessible and meaningful to students. It will model units of work that are academically rigorous and existentially relevant to the deep concerns of our students, and provide opportunities for participants to develop units of work together.
This is an important workshop for teachers, Chaplains and of particular relevance to those looking to develop interesting and rigorous RE programs for students in 
years 7-10
.
Further workshop information including details of venues can be found on the DAN website.
..............................
Registered participants:  Programme and venue details will be emailed to you by 19 March.
Please note that registrations for June workshops in Tasmania 26/6, Canberra 27/6, Perth 29/6 close on 16 June.
1 MARCH 2012

 - CHANGE OF PASSWORD FOR DAN ONLINE TEACHING RESOURCES
 

Member

passwords

t

o access teaching resources on the DAN website

changed

on 1 March 2012. New passwords are advised when your 2012 membership is renewed.  If you do not know your password, or encounter any difficulties accessing resources, please contact the DAN EO. 
Please note
:  There is no member section on the DAN website. However, when you try to access certain documents (most of which are filed under RESOURCES), you will be prompted for a password.
 

 

 

RESOURCES to check out...
The current Festival, THE GOOD LIFE, will be of particular interest to teachers of VCE Unit 3 Philosophy, and any teacher of secondary RE and Philosophy planning a unit around an examination of The Good Life.



In this focused study of five short films, Dr Poulton provides a teaching unit to study the philosophy of the Good Life, exploring what it means to live well, with reference to Aristotle, Simone Weil and Nietzsche.




Dr Poulton is the Education & Innovations Officer of  VAPS

, President of 

FAPSA

 and Secretary of 

ICPIC

 -

three organisations that support Philosophy teachers.

 
Part 1: An introduction to the Blake Prize and observations from history including the challenges and issues faced each decade and the changing nature of public debate around spiritual art.
Part 2: Looks at Themes and Artists from the Blake Prize, with material shaped around 4 key areas:

Searching for the Spiritual in Art 

What is the place of religion and spirituality in Australian culture?

What does justice look like?

The social role of the artist

Classroom activities, downloadable image files and research questions with references and bibliography have been written by the wonderful Dr Rod Pattendon (Chair, Blake Society).

 
 

A key text for exploring this material is

The Blake Book

: Art, Religion and Spirituality in Australia, by Rosemary Crumlin. This 220 page volume, with 280 colour illustrations, provides a rich visual resource for exploring questions of belief and the religious imagination.  The book explores Australian culture through the visual diversity of some of the finest artists of the last sixty years.

 

Special Promotion:  

Purchase The Blake Book for $50 + $12 postage



TACKLING TOUGH QUESTIONS

- 1/2 price until 4 May 2012!




We've showcased this great resource from RE Today before - and what better time to check it out than now, when it is 1/2 price.  




Tackling Tough Questions is aimed at secondary students and centres on an 85 minute DVD debate between two young people exploring the big questions of religion and philosophy on the subject of evil, suffering and death.  The usefully segmented episodes are supported by a comprehensive book of classroom materials, discussion and lesson ideas.  This is a most accessible, ready to use resource which your students will readily engage with.




NOTE - this is an RE Today newsletter special valid until 4 May 2012.  To order online at the special price through RE Today, you must quote code TTQ0312




 

There is a reason we can't stop talking about the excellent film and teacher resources from EthicsOnline.  
Quite simply, it's because of their engaging, intelligent and balanced perspective on key ethical issues including

 

Environmental Ethics, Sexual Ethics, War & Peace and Abortion.
Check out a preview of each series, including a sample of the accompanying teacher's notes and classroom activities.  
DAN is proud to act as distributor for these films within Australasia. 
| | | |
| --- | --- | --- |
| |   | OPEN CULTURE:  An amazing way to access 55 Philosophy Courses from the world's leading universities.  Download audio and video courses to your computer or mp3 player.   |
NEW:  THE TABLET - STUDENT ZONE

Another great (free!) web resource designed specifically for secondary students and teachers of Religous & Philosophical Studies.  

 

 
Philosophy of Religion (Language, Nature of God, Arguments, The Problem of Evil, Faith & Reason)
Ethics (Meta ethics, Natural Law, Kantian ethics, Utilitarianism, Applied ethics, Ethics & Religion)
 

 

VEA advises they have 5 new programmes that will be of interest to secondary teachers of RE, Philosophy & Ethics.  The DVDs include videos with comprehensive Teacher's Notes.  Please order directly from VEA.
The medical profession is uniquely placed to make decisions that can create, transform and sometimes even end other people's lives. Because of this, acquiring a strong framework of moral and scientific thinking is vital when dealing with the complex issues surrounding Euthanasia, IVF and Genetic Engineering. This series explores these three areas from the perspectives of practitioners, patients, families and religious and philosophical experts, using a wide range of interviews, real-world examples and opinions from around the world. 
Designed for students who are tackling the subjects of evil and suffering in relation to the existence of God, this film offers examples of what could be perceived as 'suffering' in the world today and explores the meaning of 'suffering' from a religious point of view. Comment from eminent ethicists and professional journalists discussing some of the more controversial incidents in recent years makes this resource the starting point for informed and stimulating debate.  (Note: to order, email VEA Enquiries) 
PROFESSIONAL DEVELOPMENT March-May 2012   
(for more detail see What's On)
 

 

 

Newington College Centre for Ethics (Stanmore, NSW)

Monday 12 March ( In Partnership with the Greek Festival of Sydney)

Introducing Greek Philosophy


Dr Peter Vardy (philosopher and educationalist)

Thursday 29th March


The Ethics of Hunger: How our Actions Impact the World's Poor


The Reverend Tim Costello, AO (CEO of World Vision Australia)
 

 

 

March, April, May 2012

A Moral Maze (

Student Conference)

with Dr Peter Vardy and Charlotte Vardy

 Towards Rigour & Relevance in Teaching Christianity Today (Teacher Conference) with Dr Peter Vardy and Charlotte Vardy. Read more information…
 

 

 

2012 AHISA PASTORAL CARE CONFERENCE

1-4 April Novotel Twin Waters, Sunshine Coast, Queensland

 

The AHISA Pastoral Care Conference is an important professional learning opportunity for school leaders and other staff tasked with building community around values, and with the wellbeing of their students, including spiritual development.

The Pastoral Care Conference is held biennially and is the only national conference dedicated to pastoral care in schools, addressing the needs of pastoral care staff across junior, middle and senior school levels.



 

 

 

7-18 May 2012

Gifted & Talented Student Study Day

 with Julie Arliss
Contact the DAN Executive Officer
T|  08 9367 8903
A|  34 Douglas Ave  SOUTH PERTH WA 6151