---
SIRA

Notices
The SIRA Committee received a letter from Mark Ferguson, General Manager, Pittwater Council dated 16 February outlining a plan to introduce a dedicated Wharf Ranger.

This Ranger will cover the entire Church Point Precinct (extending from Rostrevor Reserve to Thomas Stephens Reserve, Church Point carpark and associated foreshores) and other wharves and boat tie-up facilities across Pittwater in order to tackle the many compliance issues. This initiative is in response to a number of complaints received from Offshore community members about the lack of compliance enforcement.

From Monday 23 February 2015 there will be a full time Ranger on duty on a 12 month trial basis. The first month will be an education exercise, after which infringement notices will be issued.

SIRA has been advised that this is being funded from the existing Ranger budget and using existing staff resource and no funding is being taken away from the Church Point carpark fund.

Download the full letter here

We encourage residents to join the discussion on the Scotland Island Community Website, or on Facebook.


---
IMPORTANT NOTICE: Roadworks on Richard Road Update

This week Council will start major works on Richard Road where the "sink hole" appeared in the culvert located above 37 Richard Road between Cecil Street and up the hill towards Carols.

The restoration will take a couple of weeks.

A walking track for pedestrians will be available, however, there may be times when the road will need to be closed completely. Please be prepared to use another route for access at these times.

There will be no vehicular access during the duration of works. Please use Cecil Street and Thompson Street to access Harold Avenue.

Enquiries should be addressed to Mark Shaw, Manager Urban Infrastructure, Pittwater Council mark_shaw@pittwater.nsw.gov.au



---

Local Council Notice
$1.4 million in boating facilities improvements
20 Feb 2015
Pittwater's waterside recreational facilities are about to get a boost, thanks to a $1.4 million injection from the State Government.



The funding for boating infrastructure, announced earlier today at the official Palm Beach Wharf opening, will see major improvements to Church Point commuter wharf; Rowland Reserve's boating launch facilities, Paradise Beach Clareville dinghy storage and Bayview Wharf.

Pittwater Mayor, Jacqui Townsend said that Council is very pleased that the State Government has responded to its advocacy for better waterside facilities.

"It's great to be partnering with the State Government in delivering better facilities that will benefit the many recreational users that both live in and visit the area," Cr Townsend said.

"Our boating facilities are integral to the lifestyle in Pittwater with many residents relying on them on a daily basis,' she said.

"We look forward to working with both the State Government and the locals to make these projects happen.

"Wear and tear and the changing needs of our growing community all come at a high cost, and I'm thrilled that we can share the financial burden to upkeep these facilities with the state, avoiding Council having to pass on all the cost to our community through its rates," she added.

Contact: Community Relations
Phone: 9970 1119



---


CLEAN UP AUSTRALIA DAY IS HERE AGAIN!

SUNDAY, MARCH 1, 2015
This event encourages and inspires thousands of Australians to take to their local park, beach, bushland and streets and really help make a difference to their local environment.

If you would like to help out, either by grabbing a bag and filling it, or helping to supervise activities, please email cassgye@spin.net.au to put your name on the list.

Come down to your nearest Wharf to collect a bag between the hours of 9am and 12.00pm.
Bring gloves, sunscreen, hat, sensible clothes and footwear – and don't forget to bring some water too!
Toby and his crew will be out on the Laurel Mae to collect material.

Here is a link to the Clean Up Australia Day website if you want to know more:
Mission and vision - Clean Up Australia Day
Business Clean Up Day –Tuesday, February 24, 2015
Schools Clean Up Day – Friday, February 27, 2015

5465 Clean Up Sites registered as @ February 2015



---
International Women's Day Event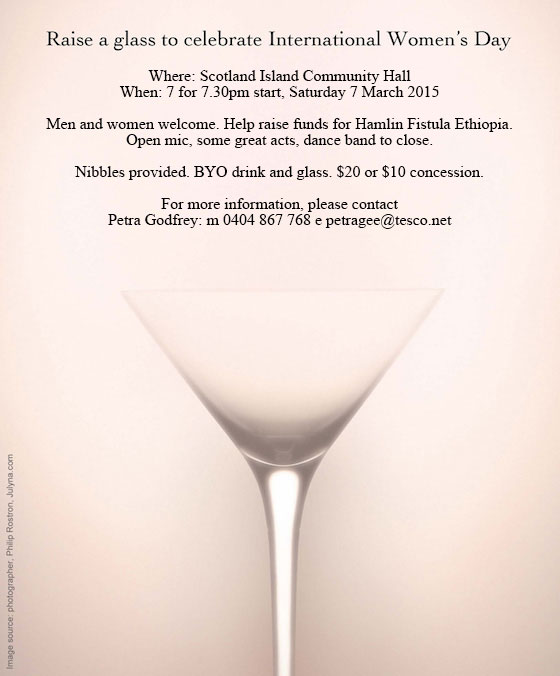 ---
Ticks...
Catalyst on the ABC had an interesting documentary on Ticks



DOCUMENTARY


Mammalian meat allergy is on the rise in Australia and the surprising cause is a tick bite. Dr Jonica Newby meets Dr Sheryl van Nunen, the clinician who discovered the link.

The document which was filmed here on the offshore has some excellent advice on how to get them off without spreading toxins into bloodstream.

This can bee seen on http://iview.abc.net.au/programs/catalyst
With more details here...http://www.abc.net.au/catalyst/stories/4177191.htm



---
Carpenter available for odd jobs on the island
Qualified carpenter available for odd jobs / handyman work around the island.



No job too big or small.

Contact Jimmy Quintal on 0400 380 545 or hill_cardo@hotmail.com.



---
Looking for granny flat to rent or a house-sit
Soon-to-be granny, with a daughter and family who live on the island, is looking for a studio/granny flat to rent or a house-sit (can garden, look after pets etc…) for three or four weeks, or longer if need be, from about last week of April.

Please call Nicole: 0410 701 643



---
Removal of Fibro Roof
I have an old fibro cottage on the eastern side of the Island and need to replace the fibre roof with galv iron.

Can anyone recommend any contractors who have had experience on the island with this kind of work.

Cabby Vial
cabbyvial@yahoo.com



---
Lounge and Armchairs for Sale
Make an Offer !
Chesterfield lounge and 2 x armchairs for sale.
Could do with recovering, but would clean up well with a steam clean and the armchairs would need casters.




Very comfortable, all re-upholstered, re-strapped, sprung etc when we refurbished originally.



Make an offer!


Jo Smith
0414 280 300
jo@pinkwatertaxis.com.au



---
Boat for Sale

Quintrex 5.7M Freedom Sport with Mercury 115HP4 stroke Outboard – Only 125hours

Price $26500 negotiable



Price Reduced For Quick Sale 2009 Quintrex 5.9metre Freedom Sport Bowrider with 115HP Mercury 4 stroke outboard.
Motor has done only 125 hours & recently had its 100 hour service. It is fitted with a stainless steel propeller & Fast-Tail for quick planing. Boat is in near new condition and comes with a host of extras including full storm covers, walk through to bow, GX600 VHF Marine transceiver, Lowrance fish finding & depth sounding sonar, 12V plug for MP3 player, full safety equipment including life jackets, 2 anchors, rod holders etc.
The hull has been anti fouled but has also been kept for long periods on a boat ramp to minimise fouling. A brand new boat trailer is available in nearby Mona Vale for $3700 if required.

This is an ideal offshore fishing boat or a family boat able to carry 7 adults. It can be viewed by arrangement either at our private wharf near Bells Wharf or at The Quays Marina.

Contact John at 0419 432 626 or 9997 7469
email : jthixton@hotmail.com



---
For Sale

Electric Recliner



Electric recliner in excellent condition

.
Scotchguarded.

$1500 chair for $500.



Can help with transport.

Graeme 0419460331





---
Packing boxes
Packing boxes (cardboard, used) - 24 large/tea chest size, 7 book boxes - $2 each or $50 the lot.
Packing paper (used, folded) - 1 large packing box full - $10 or free to anyone who takes all of the boxes.

Contact Cat on 0415 430 609 or catherine.heller99@gmail.com



---
Wanted
Space on Jetty
Does anyone have space on their jetty/wharf near cargo or tennis wharves for my 3.85m qunitrex tinny whilst I am temporarily on the waitlist for both Tennis and Cargo tie-ups?

Happy to pay reasonable 'rental' charges.

Contact Cat on 0415 430 609 or catherine.heller99@gmail.com





---
---
Missed out on a previous Newsletters - HERE
A complete set of past electronic newsletters since May 2000 can be found and read at https://ymlp.com/archive_gesgjgm.php


---
To Contribute
If you would like to contribute to this newsletter it's easy!. Send an e-mail to the editor (editor@scotlandisland.org.au) or by clicking here. Type your contribution (100 words or so would be fine) and assuming it is of general interest to the community, does not include matter of a political nature and is not offensive, it will appear next month.


Subscription Information
To get on and off this newsletter, click here

or got to:

http://www.scotlandisland.org.au/signup .


To change your address, click the 'modify' link at the bottom of this newsletter or send an email to the

editor@scotlandisland.org.au


---
Follow the PON
---
The Online Local Contacts Guide
Click HERE to load
---
---
The views expressed in this newsletter are not necessarily the views of the Scotland Island Residents Association (SIRA), or the Western Pittwater Community Association (WPCA)
---