---
Editorial



A number of disturbing incidences of island dogs being poisoned by rat poison have occurred just recently.
The Savages have done a great deal of research following their ordeal and have written a very useful document that all pet owners should read.

Looking Back Thinking Forward Fair Day on Sunday 12th Sept. is speeding towards us in a hurry, and Emmie and all the others involved are working non stop to make this something really special and memorable. A call for photos and postcards is out as the deadlines are closing soon - contact details are available at the bottom of the article below.

Next Sunday at 8 am SIRA are having a CHURCH POINT PARKING FEES Q & A / INFORMATION SESSION. If you have concerns regarding this issue then this is your opportunity to get a clear understanding of just what is being proposed. Make sure you mark your calendars!

Speaking of calendars check out Gwyn's contribution this month.

Enjoy!

---
Contents
---
Gwyn's April 2010 Calendar

To download a full version (A4 size) of this months calendar, ready for printing, just click on the calendar image.

You can contact Gwyn Perkins by email at g.perkins@gwyn.com.au


The file is quite large and in PDF format. To view PDF documents you will need the Adobe Acrobat Reader installed on your computer.

To download Acrobat Reader please

click here
---
Dogs Poisoned with Rat Poison on Scotland Island


Rat Bait Kills Pets



My Wife Lyn and I have recently experienced an anxious week during which we almost lost our two little dogs to rat poisoning. I won't detail the events of our experience, just that we have no idea where they might have found the poison and both dogs ended up spending time in hospital, Silas had to have a blood transfusion or he would have died and the vet bills amounted to almost $4 000 dollars. Believe you me, the money is nothing compared with the heartbreak that Lyn and I would have suffered if we had lost our precious Silas.

During this ordeal I did a lot of research on rat poisons (as is my wont) and I would like to relate what I discovered for two reasons:-

1) To implore the community not to use rat bait.
2) To warn pet owners of the dangers and symptoms.

There are many rodenticides on the market, all work in the same insidious and environmentally hostile way. They all take a while (a few days to as long as over a week) to take effect, presumably the idea is that a healthy rat doesn't "smell a rat" when he sees other dead rats at the poison site. The poisons act by destroying the enzymes that create vitamin K1, which is essential for blood clotting. The victim dies by bleeding to death, usually internally, possibly by additional complications such as drowning with lungs filled with blood.

The latest poisons last longer in the system and can remain effective for as long as 4 weeks. Worst of all, there is a secondary effect, where any wildlife or pet that eats a dead or dying rat or mouse will in turn get sufficient poison in their system to kill them. So owls, eagles, hawks etc. will be effected as well as dogs and cats. And it's no surprise that the rat bait is formulated to be tasty to all animals. Our little dogs love a bit of cheese so no doubt also love the taste of rat bait.

Of course we can't stop people with rat problems from using rat bait, though I hope that reading this makes these people change their minds about it and investigate other more humane and environmentally friendly methods (traps etc.). What we can hope for is that households who continue using rat bait in the community let your neighbours know about it and perhaps put up a sign so that pet owners can be sure that their animals don't stray onto your property.



Symptoms Immediately after Eating Rat Poison


There are very few obvious signs that your pet has eaten rat poison until a few days or even a week later. Do NOT make the mistake of seeing signs they may have eaten it and not doing anything because they seem fine, this will cost your pet and will end up costing you much higher vet bills.

One symptom appears to be bright grass-green coloured poo, so if you see this then the alarm bells should ring. Vomiting may occur, but often not.



Later Symptoms


When you start seeing any of these symptoms your pet is close to death, maybe a couple days, maybe a few hours. Get it to a vet immediately.

1) General depression, lethargy, dead eyes, not the same animal as usual.
2) Blood in poo or urine.
3) Blood in eyes, ears or nostrils.
4) Painful reaction to picking up or touch, stiff stance due to pain.
5) Out of breath, puffing.



What to do


If you see your pet eating poison then the first thing to do is try to induce vomiting for example by forcing it to drink salty water. In any case phone the vet and they will tell you what to do and get the animal to the vet. If it's possible to identify the source and brand of the poison it will help.



What the vet should do


The first thing the vet should do is give the dog Vitamin K1. The only good thing about rat poisoning is that the treatment is well-known and always works (thank God). The vitamin takes about 24 hours to kick in and heal the clotting deficiencies so the sooner it is administered the better. It has no negative effects so the worst case is the dog didn't have rat poisoning and you spent a little on vitamins. Mind you, they need to stay on the K1 for at least 3 to 4 weeks.

The primary confirmation of rat poisoning is a blood test to measure the clotting factors. This will obviously only show when the poison has started taking effect. Also this test is not cheap, costs around $150 and takes a while to get the results. It is also the definitive test that the dog is better (a few days after stopping the vitamin K1).

A much quicker and cheaper blood test is a Packed Cell Volume (PCV) test which the vet should be able to do while you wait. This test is basically a red blood cell percentage which for normal dogs should be somewhere in the vicinity of 35 to 40%. Periodic PCV tests may show a declining red blood cell count which is a sure sign of internal bleeding (or some other horrible auto-immune system disease, but that is another story). Silas had his PCV reduce to a critical level of 14% which was when the vet decided on a blood transfusion.

Fortunately when the vitamin K1 kicks in the prognosis for the animal is very good provided they stay on the vitamin until all the rat poison is out of the system (might be 3 to 4 weeks). 2 Days after his near-death experience our Silas was just about back to his normal lovable and annoying self and April's eye swelling had reduced right down. They now seem 100% and our only problem has been restraining them from too much physical activity. The final test of their full recovery will be when they go for a final blood coagulation test a few days after coming off the vitamin K.


Hi Islanders, I'm sure that by now many of you have heard that my dog Rubin, a golden-haired kelpie cross and at least two other dogs on the island nearly died after eating rat poison. These three dogs were bleeding from their orifices, had to be rushed to the vet and have emergency blood transfusions or they would have died.

While I am not sure where my dog ate the poison, I just wanted to bring it to the attention of all islanders that this is not a pleasant or humane way to rid your property of rats, neither is it very environmentally-friendly. What about all the cats, native marsupials and goannas who could also be poisoned too as well as dogs? You can get traps that catch rats alive so you can release them elsewhere.

Please think again before you use rat poison and its affect on our domestic and native animals!!!

Melinda Ham


---
Fire Shed Dinner - Italian Indulgence…
Live Music by Joes Garage!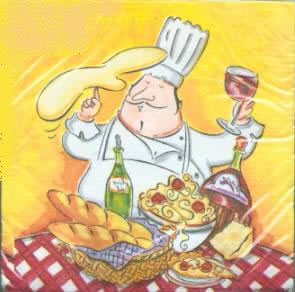 Your indulgence will include:

Spaghetti Bolognaise
Spaghetti Carbonara
Spaghetti Primavera
Home made garlic bread



Saturday, 14 August at 7.00pm


Cost: $15
Buy your tickets at the door
No BYO, licensed bar operating




BEST DESSERT CONTEST


Bring along your favourite dessert and test your culinary skills against the rest of the island. We will select the judge from the attendees of the night. The judge will sample each of the desserts and select the most scrumptious as the WINNER! The winner gets a bottle of bubbles!

So come along, relax with your friends and enjoy the fine food, a glass of wine or two and a little boogie – to the sounds of Joes Garage!

Spread the word, we look forward to seeing you all there.

Don't forget to bring your dancing shoes!
Bring the Kids - $7 dinners



---
Looking Back / Thinking Forward Festival


During the holidays our energetic volunteer Emmie Collins ran Lantern workshops for lots of our kids.


Emmie with a few volunteers worked tirelessly to build some very exciting and creative lanterns that will be one of the features of the finale for our Looking Back Thinking Forward Fair Day on Sunday 12th Sept. It will be a very full and fun day so keep you eye open for details of more events.





Calling all Offshore Veterans …


Bring out those Photo Albums!
Tell those Tales!

For the Looking Back, Thinking Forward celebration of the Island on Sunday, 12th September, we are preparing an exhibition of historical photos and memorabilia. We can get photos of the Island and bays in1899 from the public archives, but the history that we have made ourselves over the last half century is sitting in your shelves.

So if you were here in the last century, have you got photos of people, places, events to share with the rest of us? Here are a few ideas -



Gone but not forgotten

– photos of those who have departed in one way or another


Those were the days

– parties, plays, events, fun in the park


Progress (?)

– wharves, roads, buildings, Church Point, boats, ferries


Community groups

- at work and play


Second Generation

– Island childhoods, how about a baby/toddler competition for older second generation living here?

It would be great if you could scan them or get us a copy as we'd prefer not to handle originals. Or if you've got lots and aren't sure which will be needed, contact me by email or phone and one of our eager team will come and peruse your past. Professional photographer Chuck Bradley will even restore them to looking better than ever!



PHOTOS NEED TO BE SUBMITTED BY SAT AUGUST 14TH AT LATEST.





TELL US A STORY!

– A couple of people will be presenting longer talks about different phases of the offshore history, but we'd also like to have an informal session for anyone to tell a tale of the past. So let your memory drift back … is there a story you'd like to tell? It would be great to have some starters booked, as well as the chance for people to pipe up on the day. No need to be a polished performance – just a time to remember days gone by or a particular episode that stands out for you. If you would be willing to tell a tale, great – again, contact me.

Jenny Cullen : 9997 8536 amjmcullen@spin.net.au




'Postcards from Pittwater' Exhibition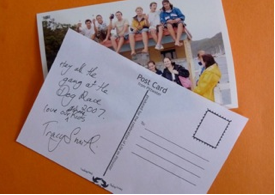 Opening: 6pm SAT. SEPT 11th
Scotland Is. Community Hall

(after acapella choir "Isingonthecake" in the Fire Shed @ 4pm)



OPEN ALL DAY SUN. 12th SEPT – FAIR DAY



Everyone (children, artists and non-artists) can submit photos or artworks that explore the nature of our place and community, past and present, to be exhibited in the Scotland Island Community Hall on Festival weekend, Sat 11th & Sun. 12th September, 2010.

Blank postcards with sticky backing can be purchased from the Post Office, Waterfront Café or PMC Hill Real Estate for just $1.00 from Monday 2nd Aug

Send some to Ex-residents and have them send them back for inclusion. It can be a photograph or artwork of any aspect of living off shore. It could be historical or contemporary. It's up to you to interpret!

Mount the image for presentation on card write a little something on the back and return them to a designated box at the post office. I would like to have them a week before the exhibition so we can prepare them for hanging.The completed postcards will be for sale at the exhibition for $5 each .We will put a stamp on them and post them back to you. All proceeds to be divided into local NFP organizations.

ANY ENQUIRIES: CONTACT- TRACY SMITH –
0400 3113157/tracysmith@estudioeditions.com.au



---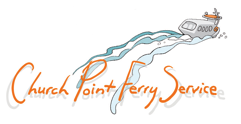 Church Point Ferry Service Survey



Just a reminder that if you would like to have your say on any improvements we can make to the Ferry Service, please complete the quick online survey.

The last question is open ended so that you can cover any issues or requests you have.

Please respond by the 3rd of August. Go to http://www.surveymonkey.com/s/J5MZ6QC

Penny Gleen
Church Point Ferry Service
www.churchpointferryservice.com
penny@churchpointferryservice.com



---

Local Council Notices

GET CREATIVE AT WINTERVAL



Pittwater Council is celebrating the creative arts this winter at Mona Vale Library with its new Winterval art competition.

The inaugural competition theme is 'Faces in the Street' and entries are invited from a range of categories, including creative writing, photography, painting and recycled artworks.

The competition is open to all residents of the northern beaches, with entries to be submitted at the customer service desk at Mona Vale Library with an attached entry form. Entry forms can be downloaded at www.pittwater.nsw.gov.au/library

Entrants to the writing competition can be poetry or prose, fiction or non-fiction with a word limit of 500, with painting entries to be no larger than 1 metre square and delivered ready to hang.

The competition will culminate with a 'viewer's choice' event at the library on Saturday 11 September, with the winners presented with their prizes by local Member for Pittwater Rob Stokes.

Mayor Harvey Rose said Winterval was a new opportunity for Pittwater residents to show their artistic talents.

"We are encouraging as many participants as possible by opening the competition up to the three age groups of primary aged children, secondary aged children and adults," he said.

"The winning entries will be chosen by members of the public, " Mayor Rose added.

For more information about the competition visit www.pittwater.nsw.gov.au/library or call 9970 1600.

Media contact: Cathy Howie, Library Manager Ph: 9970 1601


---
Pittwater Stitchers


Most of you will be aware that the library hosts a group called Pittwater Stitchers. The ladies meet each Friday morning and knit, stitch up and crochet blankets for Wrap With Love.

The group have asked me to put out a plea for donations of wool. Supplies are running very low and they are hoping for a helping hand. If anyone has a stash of unwanted wool, any ply but 8 preferred, or would like to make a donation of a ball or two, the ladies would be very grateful, preferably bringing in any donations on Friday mornings, or alternatively leaving at the Service desk any other time, marked "attention, Jane Smith".

Catherine Buddin
Events & Promotions Librarian
Mona Vale Library
Park St
Mona Vale NSW 2103
tel 9970 1600 or 9970 1605 fax 9979 1465
catherine_buddin@pittwater.nsw.gov.au


---
Church Point Post Office - New services available



After an upgrade at Church Point PO, we are now able to offer all the available services offered by Australia Post



You can now pay your bills quickly and easily using EFTPOS or credit (where allowed)

Deposits and withdrawals for more than 70 banks are available
Prepaid phone recharges are possible for most service providers
Stamps and postage can be paid for using EFTPOS or credit
Money transfer facilities are now available
Passport Processing will commence at a later date
All services offered at Mona Vale PO are now here at Church Point



---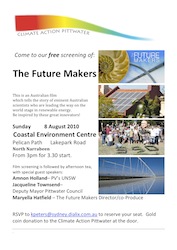 The Future Makers


Be inspired by these great innovators!



This is an Australian film which tells the story of eminent Australian scientists who are leading the way on the world stage in renewable energy.




Sunday 8 August 2010





Coastal Environment Centre Pelican Path





Lakepark Road North Narrabeen




From 3pm for 3.30 start.





click image to load flyer




---
Yoga at Scotland Island Community Hall




Katya is back!



Gentle yoga for all ages and all abilities.
De-stress and feel rejuvinated, focused, peaceful, calm while toning
and strengthening your body.

Tuesday 9-10.30am at Scotland Island Community Hall

$17 drop in class
$60 for 4 week booking

Katya Marden 0414 187916



---

Author Talks at Mona Vale Library
The Drovers: Stories behind the heroes of our stock routes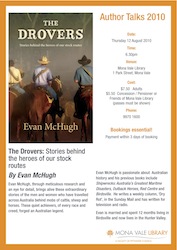 By Evan McHugh



Evan McHugh, through meticulous research and an eye for detail, brings alive these extraordinary stories of the men and women who have travelled across Australia behind mobs of cattle, sheep and horses. These quiet achievers, of every race and creed, forged an Australian legend.



Date:Thursday 12 August 2010




Time: 6.30pm




Venue: Mona Vale Library 1 Park Street, Mona Vale




Cost: $7.50 Adults $5.50 Concession / Pensioner or Friends of Mona Vale Library (passes must be shown)



Phone: 9970 1600
Bookings essential!
Payment within 3 days of booking


click image to load flyer





---
Northern Beaches Youth Orchestra
Jazz trumpeter James Morrison and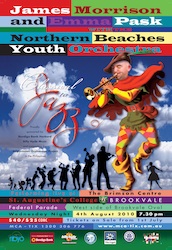 Blues singer Emma Pask



This is a wonderful opportunity to see the amazing Jazz trumpeter James Morrison with the wonderful Blues singer Emma Pask live in concert with The Northern Beaches Youth Orchestra (NBYO) on Wednesday 4th August at St Augustine's College , Brookvale.

The NBYO is our own community orchestra and plays to a very high standard, it depends on community support for its existence.

The off-shore community is well represented with six off-shore musicians in the orchestra.

This is definitely a night not to be missed, so come along and listen to great music while supporting a local community group.



click image to load flyer


Fiona Deegan
0410567459


---
Your Say..





Dingy Found


I found a small white dingy, painted blue inside, snap clip on the end of a bowline, no oars & no engine, adrift in the main traffic way south west of Carols last Wednesday night. It's now on a mooring just off the shore outside our house. Would the owner like to contact me & collect it.

Marie Minslow
"Ironbark Cottage"
5 jetties north of Bells Wharf
0411 253438




House Exchange


I was wondering if one of the residents on Scotland Island might be interested in exchanging their house for my house here in East Ballina during the month of January 2011.

My house is very comfortable with plenty of sleeping accommodation, large living area, decks and an in ground pool. It is five minutes walk to the Serpentine Beach and Shaws Bay Hotel. Two minute drive into Ballina CBD.

Ten minutes drive to Lennox Head and twenty minute drive to Byron Bay.

Lesley Van Biljon
(H) 66866802
(M) 0421277992



---
For Sale
If you have something for sale that you think locals would like - let us know and we will put an entry in the PON at the beginning of each month..

---
The Local Guide
Community Information
What's On in Pittwater - Self Editing Event Calendar

click to go to the Calendar

Scotland Island Community Vehicle -

0404 103 700
Number, Usage & Charges

Scotland Island Rural Fire Brigade -

9999 4404
http://www.sirfb.org.au

West Pittwater Rural Fire Brigade

- 9997-3795
www.westpittwater.rfsa.org.au

Offshore Photo Gallery

http://picasaweb.google.com/offshoregallery/
Scotland Island Residents Association (SIRA) Membership Application

- click here to download
West Pittwater Community Association (WPCA)

- http://www.wpca.org.au
Scotland Island Water


SI Emergency Water Contacts and Guidelines for water: click here for information and contacts
Scotland Island 'Water Agreement' - click here to download
Scotland Island Children's Centre

- (SIOCS - Scotland Island & Offshore Childrens Services)
Catherine Park (Long Day Care Service) 8.30am - 4.30pm (Tues, Weds & Thurs)
Playgroup @ Children's Centre every Monday, 10.00am - 12 midday
Other services include: School Holiday Programme / Facility & Equipment Hire
For information call 02 9979 7856 or email: siocs@comcen.com.au
Scotland Island Community Hall Bookings:

Kez on 9999 4092 or kezborthwickbolton@gmail.com
---

Transport
---
Real Estate
---
Services, Clubs & Accommodation
---
Island Classes (Fitness, Dance, Art etc)
Pilates, Meditation and Group Fitness with Patrice

- 0408 707 679 patrice.corrie@gmail.com
Personal Training with Samantha Moore at Inspire PT

- 0415 543 131 InspirePittwater@gmail.com
Ballet & Modern Dance Classes for children

with Sophia Holland - 0412 851 890
Anusara Yoga

- Thursdays - 0421762236 dominiquemarill@gmail.com or floydcbg@ozemail.com.au
Art with Max

- Watercolour classes. Phone Max on 9997 4527
---
Groups
Gurdjieff / The Forth Way

- Call John on 9979 5584, Marion on 9979 3993 or Anne on 9999 3478
Green Group For Catherine Park

- Run by SIOCS - Emmie Collins on 0405 330 781
WOW - Women on Water

- second Wednesday of the month - contact Kerry on 9999 4092
Parents & Kids Groups Playgroup

- Run by SIOCS - email Emma trysemz@tpg.com.au
Scotland Island Players

- contact Bob or Kez on 9999 4092
Catherine Park Bush Care Group

, 2nd Sunday @ 9.30am, Sharon Kinnison @ 9997 6017
Elizabeth Park Bush Care Group

, 1st Saturday @ 9 am, Bob Bolton @ 9999 4092
---
Government Organisations
---
Airlines, Buses and Railways
---
Weather
Scotland Island Tides, Moon phases, Sun rise & set
Local Weather Forecast

Radar weather for Sydney (128k circle)
---
Emergency Contact Numbers
| | |
| --- | --- |
| ALL EMERGENCIES (Police - Fire - Ambulance) | 000 |
| Police Assistance Line & Information | 13 1444 or 9281 0000 |
| Broken Bay Water Police | 9910 7899 or 0412 162 093 |
| Scotland Island Rural Fire Brigade | 9999 4404 |
| NSW Fire Service General Information 9265 2999 | 9265 2999 |
| Rural Fire Service General information | 9450 3000 |
| State Emergency Service, Warringah/Pittwater SES | 9486 3399 |
| National Parks & Wildlife Service: 000, general information | 9457 9322 |
| Dept of Community Services: general information | 9977 6011 |
| Sydney Water | 132 090 |
| Energy Australia | 131 388, (ah) 131 909 |

---
Join SIRA
You can now join the Scotland Island Residents Association by
clicking here.
Please print the page and return the completed form to SIRA at this address:
The Treasurer, SIRA, PO Box 70, Church Point 2105.
Please NO CASH.

Contact SIRA at
sirapittwater@gmail.com
Join WPCA

To join the Western Pittwater Community Association, contact Michael Wiener at
m2wiener@bigpond.net.au
---
Archived Newsletters


A complete set of past electronic newsletters since May 2000 can be found and read at https://www.ymlp.com/pubarchive.php?sira or by clicking here or by visiting the Mona Vale Library.

The Island website is at www.scotlandisland.org.au


---
To Contribute


If you would like to contribute to this newsletter it's easy!. Send an e-mail to the editor (editor@scotlandisland.org.au) or by clicking here. Type your contribution (100 words or so would be fine) and assuming it is of general interest to the community, does not include matter of a political nature and is not offensive, it will appear next month.

Subscription Information


To get on and off this newsletter,

click here

or got to:

http://www.scotlandisland.org.au/signup .


To change your address, click the 'modify' link at the bottom of this newsletter or send an email to the

editor@scotlandisland.org.au


---

---
The Local Guide - Community Information

Click HERE to load
The views expressed in this newsletter are not necessarily the views of the Scotland Island Residents Association (SIRA), or the Western Pittwater Community Association (WPCA)

---