Mundelein Community Connection (MCC) is a not for profit organization dedicated to the economic development, historic preservation and healthy community spirit of Mundelein's central business district. Working together we provide an atmosphere where new and established businesses can grow and where families find the hometown they always wanted.
A Message from the Executive Director
It is fair to say that 2021 was a "rebound" year for MCC.  In spite of having to cancel the Mundelein Craft Beer Festival for the second year in a row, we succeeded in returning our other signature annual events—the Farmers Market, Park-on-Park Cruise Nights, and the Mundelein Fine Arts Festival—with great success.  

Plus, we brought back Festival Fiestas Patrias, Hispanic Music Festival over the Labor Day weekend; staffed the beer tent at the first annual Mundelein Grand Prix Bike Races in July; expanded Bingo at Tighthead Brewery from two dates to four; and attracted a variety of new business partners.  

This year we also added a new Farmers Market manager—Becca Merkau—to our team; brought on board two new Board Members—Frank Mahar (Area Coffee); and Mark Yarbrough (Tighthead Brewing); and added a new Board President—Mike Flynn—to join long-standing Board Members Ray Mullen (Century 21 Affiliated Real Estate), Nancy Piasecki (NorthSide Community Bank), Chris Piazzi (Mundelein Community Bank) and Gerry Brin (retired CPA).

I am pleased to report that Santa's Cottage will return in December in a "drive-thru" format, like last year, with Santa on-site and a convenient mailbox for mailing letters.   MCC is partnering with the Village of Mundelein to sponsor the children's train rides at the Holiday Tree Lighting Ceremony on December 3, 2021 at 5:30 pm
Final Bingo Night at Tighthead Brewery

MCC, in partnership with the GLMV Chamber of Commerce and Tighthead Brewery, will host its final Bingo Night at Tighthead Brewery on Tuesday, October 26th from  5:00 pm to 7:30 pm.  

Originally, MCC planned to have two bingo nights this year—one in June and another in October.  However, after the success of the June event, the MCC Board added dates in August and September. 

The events have been very well received.  Attendance has averaged about 40 people.  Seating is arranged so players can sit either inside or on the outside patio. The cost is very reasonable ($5.00 entry fee includes 2 cards, and $1 per card thereafter).  The setting is relaxed and fun.  Mark your calendar now!
Park-on-Park Cruise Nights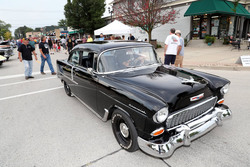 The 21st season of Park-on-Park wrapped up on October 13th.  Normally held May through September, this year's events were delayed until June because of Covid.  
Ray Mullen, chairman of the event, explained the popular event will return again in 2022.  "We are not sure yet whether we will start in May or June.  In May the weather is frequently rainy.  October is better weather-wise, but the early sunset is an issue. The schedule will depend on the feedback we get from the participants and our sponsors."  
"All-in-all, it was a very good year," Mullen added.  "Hundreds of classic cars participated each month.  We had good attendance, plenty of manpower each month from the local Triumph Club, Mundelein CERT and loyal volunteers, plus fantastic support from our sponsors."
Nearly 40 area businesses provided financial support, including Sudden Impact Collision Center (dash plaques); Flatout Group, LLC (posters and flyers); Mundelein Automotive and Matco Tools (DJ).
For a full list of sponsors please visit:  
www.parkonpark.com
. 
How Can You Support Mundelein Community Connection?

There are a variety of ways you can support MCC and help promote our goal to make Downtown Mundelein a great destination for fun, family-focused community events.  
First
, become an MCC member.  Annual memberships are available for businesses ($200); individuals/families ($45); and not-for-profit organizations ($35).  MCC currently has 25 business members, 10 not-profit members and individual members.  A full list of members is available on our webpage:
www.mundeleincommunityconnection.org
.  Membership in MCC shows a support for keeping downtown Mundelein a focal point of our community.
Click here for a membership form application
.
Second
, volunteers at an MCC event.  Volunteers are the backbone of every MCC event.   They all require a lot of help.  Jobs and time-commitment vary depending on the event.  Next time you attend an event watch for the volunteers, ask them about what they do.  From the Craft Beer Festival to Bingo Nights, the work is for a good cause, and always fun.
Third
, become and event sponsor.  To be successful, every MCC event relies on many community-minded business sponsors to make it successful.  Each event has a variety of sponsorship packages with corresponding levels of promotional opportunities.  In 2021 over 63 local businesses supported MCC events.  Special thanks to our sponsors who contributed $1,000 or more: McDonald's of Mundelein, Mundelein Community Bank, Tighthead Brewery, and Consumers Cooperative Association.
Finally
, each year some businesses choose to go beyond the event sponsorship level and make a larger investment in MCC.  These are a select group we call our Benefactors.  These are large corporations that make contributions in excess of $1,500.  
In 2021 we welcomed Amcor Cares, the Charitable Foundation of Amcor Flexibles on Butterfield Road, as a Benefactor for their donation of $2,500 to MCC which helped support a number of events including the Mundelein Fine Arts Festival, Santa's Cottage and the Tree Lighting festivities.  Previous Corporate Benefactors have included: The Medline Foundation; MacLean-Fogg Company, and Grainger Inc.  
For more details on sponsorship opportunities and membership please contact Executive Director, Terry Skriba at
847-980-9235
.
Annual Short Story Contest
The Mundelein Arts Commission's annual short story writing contest is now open! This year's theme is "Weather." The deadline for stories is November 1, 2021. Prizes of $50, $30, and $20 are awarded to the 1st, 2nd, and 3rd place winners, respectively.
Winning stories and honorable mentions are published in the anthology, "Mundelein Writes: Weather," which is available for free to all visitors at the Village Hall. The contest is open to adults age 18+, and anyone who lives or works in Lake County. Participation instructions and the entry form are available at 
www.mundelein.org/MAC
.