PRESS STATEMENT
South African Christians being denied entry to Palestine and the Holy Land by Israeli regime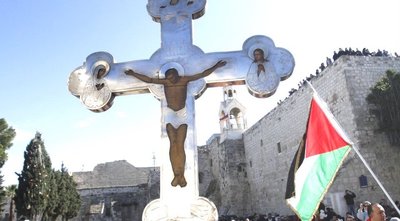 An alarming number of South African Christians en-route to Palestine and the Holy Land are increasingly being denied entry by the State of Israel. In particular, South African Christian volunteers, part of the World Council of Churches EAPPI program, are being denied entrance by Israel into Palestine. Last week Siphesihle Dlungwane was the most recent South African Christian volunteer to be denied entry (
click here for an IOL article
).
Even though the South African church volunteers are visiting Palestine (and not Israel) they still have to travel via Israel becuase Israel is illegally occupying Palestine. Israel completely (in violation of international law) controls access into and out of Palestine. It can be compared to, for example, South Africa controlling who will enter and exit Lesotho, or the USA controlling who will enter and exit Canada.

There are several important and historic holy sites for Christians located in Palestine including the Church of Nativity where Jesus was born (which is in Bethlehem in the West Bank of Palestine) and the Church of the Holy Sepulchre (which is in East Jerusalem, capital of Palestine).

Over the last decade, several South African human rights activists and volunteers from various religious organisations have been refused entry to Palestine by the Israeli regime, often after being bodily searched, held in detention and mistreated. Little to no assistance has been provided by the South African Ambassador in Israel or the Embassy in Tel Aviv. Those deported or denied entry into Palestine by Israel have included high profile individuals including Archbishop Desmond Tutu and South African Minister of Higher Education Blade Nzimande.

----------
AUDIO PODCAST
Meanwhile the South African Council of Churches has slammed Israel's "Apartheid" policies and the deliberate conflation between the Modern State of Israel (created in 1948) and the Biblical Land of Israel. This confusion is sometimes used by the the Israeli regime with many forgetting that, for example, Bethlehem, Jerusalem and other holy towns and sites are, actually, Palestinian towns - that some of the first followers of Christ are, actually,
descendants of the Palestinians.

ISSUED BY KWARA KEKANA ON BEHALF OF BDS SOUTH AFRICA

For information or interviews contact Ms. Dudu Masango (+27 (0) 817730232) the South African coordinator of the World Council of Churches EAPPI program.

BOYCOTT, DIVESTMENT AND SANCTIONS AGAINST ISRAEL IN SOUTH AFRICA (BDS SOUTH AFRICA)
5th Floor | Mishumo House | 77 De Korte Street | Braamfontein | Johannesburg
PO Box 2318 | Houghton | 2041 | Johannesburg
T: +27 (0) 11 403 2097 | M: +27 (0) 74 054 3826 | F: +27 (0) 86 650 4836
BDS South Africa is a registered Non-Profit Organization. NPO NUMBER: 084 306 NPO
BDS South Africa is a registered Public Benefit Organisation with Section 18A status. PBO NUMBER: 930 037 446