---
---
Service Notice
Updated Notice
SCOTLAND ISLAND COMMUNITY TRANSPORT VEHICLE
THE COMMUNITY VEHICLE WILL BE OUT OF SERVICE AND OFF THE ISLAND DUE TO  MECHANICAL REPAIRS
FROM: FRIDAY, FEBRUARY 5, 2010
TO:  WEDNESDAY, FEBRUARY 17, 2010
PLEASE RING IN ADVANCE TO CONFIRM VEHICLE HAS RETURNED
EMERGENCY MEDICAL EVACUATION ONLY CALL SCOTLAND ISLAND FIRE BRIGADE
9999 4404
APOLOGIES FOR THIS INCONVENIENCE
---
PLEASE DON'T PARK AT THE OLD WHARF STEPS AT CHURCH POINT!

Lately, boats are being parked at the old wharf steps at Church Point, and increasingly they are big ones which are hard to shift.  We only still have this traditional wharf because a dedicated group of Church Point and offshore residents fought to retain it. Besides adding to the charm of the Point, it is really useful. 

The solid steps, except at dead low tide, are easier to use to from a small tinnie than the pontoon which is too high and has nothing to hold onto.

Last year, Tony had weak legs all year and we depended on the steps for him to be able to get in and out of our boat. The pontoon was just too big a jump for him.

Many other people have told me they use the steps with people who are less stable.

Even for the able bodied, the wharf steps are often safer as they are away from the ferries and taxi and offer something to grab in a high wind.

(Shhh! - it's also illegal to tie up at a public wharf.)



PLEASE SHARE THE STEPS !



If you also like using wharf steps, keep your eye on Council's plans to progressively remove them and speak up. The current plans for Tennis Wharf have "Remove Steps" on them, to happen when they next need replacing. 

Jenny Cullen


Image courtesy David Wardman




---
Scotland Island Children's Centre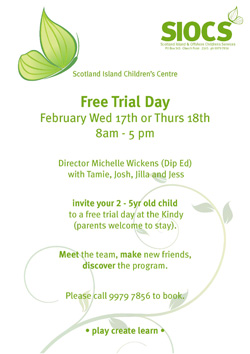 Free Trial Day





February Wed 17th or Thurs 18th




8am - 5 pm



Director Michelle Wickens (Dip Ed) with Tamie, Josh, Jilla and Jess invite your 2 - 5yr old child to a free trial day at the Kindy (parents welcome to stay).


Meet the team, make new friends, discover the program.


Please call 9979 7856 to book




• play create learn •







---
World's Greatest Shave




Fund Raiser for Leukemia Foundation


Every hour of every day, at least one person in Australia is diagnosed with leukaemia, lymphoma or myeloma.
Every two hours, someone loses their life to blood cancer.

You can view Carla's Profile Page by clicking this link:
 http://my.imisfriendraising.com.au/personalPage.aspx?SID=93090

Donations to Josh's shave can be made at:
 http://my.imisfriendraising.com.au/personalPage.aspx?registrationID=317816&LangPref=en-CA

Tim's Donation Link is:
 http://my.imisfriendraising.com.au/personalPage.aspx?registrationID=327848&LangPref=en-CA

We are participating in the World's Greatest Shave to raise funds for the Leukaemia Foundation.
For the readers who don't know us by name, our photos are attached.
Josh is a carer at the Scotland Island Kindy, Tim drives the ferries and taxis.


The World's Greatest Shave official dates for this year are Thursday 13th – Saturday 14th March.
Venue and time is yet to be decided, but we will keep you informed.

Please help us raise as much as I can for the Leukaemia Foundation.

Their vital work provides patients with practical support during their long and tough treatment, as well as funding important research.

Please email us if you need any further information - tcbyrne1@bigpond.com.

Thanks for your support!
Carla Byrne


---







Local Council Notices




Calling American Car Enthusiasts!

 
Local car enthusiasts have a treat in store with the American Car Sunday event to be held at Pittwater Rugby Park on Sunday 28 February.

This one-day event will see close to 400 American cars on display and is hosted by Pittwater Rotary Club.

Organiser Bob Radnidge said the public would be able to feast their eyes on some American classic automobiles, including Cadillacs, Corvettes, Chevrolets, as well as a pristine 1927 Stuz, the American version of the Rolls Royce.

"There will be also be a 1956 Lincoln Continental at the event, so popular that even Elvis owned one," said Mr Radnidge.

The event is open to American-made vehicles only, with entry by 'gold coin' for exhibitors. All proceeds from the event will be donated to charities, with last year over $11, 000 raised.

Last year the event attracted car enthusiasts from as far away as Victoria and Queensland, with trophies on offer for the best exhibits. Local owners of American cars are also invited to participate.

The event is suitable for the whole family, with a free kid's jumping castle, barbecue and drinks.

This year money raised on the day will go to buy items off a 'wish list' for the Children's Hospital at Westmead.

Pittwater Rotary will also have part of the proceeds for their 'shelter boxes', that offer emergency shelter for people affected by disasters around the world such as Haiti.

Gates open at 8am. Admission is $15 for a family, $8 for adults and $5 for concession.

For more information about displaying a vehicle, call Bob Radnidge on 0407 186 430 or Kevin Monk on 9971 8225.


---
You Asked..




Boat/Car Pool Opportunity


Professional parent with 11 year old daughter staying alternate weeks near Tennis Wharf seeking boat/car pool opportunity to Mona Vale by 8am or to Collaroy by 9am.
Phone Robin 0424 100 045.




Hello Fellow Islanders!


Do you need help to shed those extra holiday kilos? Come and train with me at my commercial grade studio on the island! Full shower facilities available.

Call or email now for your first complimentary session!
But be quick because my spots are filling fast!
 
See you soon!
Sammy
Inspire PT
0415543131
inspirepittwater@gmail.com




Tapas on Friday Evenings at Q CAFÉ - Quays Marina

 
Q Café at Quays Marina is holding Tapas evenings

each Friday

on the deck over the water, starts at 6pm going through to late.



"Tapas is held on the deck over the water, lit by fairy lights and lanterns (unless weather prevents-in which case it is held inside the marina complex) and starts at 6pm going through to late - the concept is to keep prices of food low enough to allow people to regularly attend and in turn help build a social club for locals and their guest. We can seat roughly 60 and accompany the evenings with live music from 6pm to 9.30pm."



The menu changes each week to offer regulars something exciting each time they attend.

Bookings are essential – call 9997 2800 and ask for the Café.

Please join us for an enjoyable evening!
Anton Constantine




Come and Enjoy DRU YOGA - Catherine Park, Scotland Island




Tuesdays, 9.00 to 10.30 am



Through graceful sequences of movement, pranayama asanas, relaxation and meditation, you can release tension and experience the full joy of life.

Suitable for all fitness levels and ages.
Bring a mat and blanket.

Ring Katya on 0414 187 916
or
just turn up for a complementary introductory lesson
or
ring Rosemary Haskell or Robyn Iredale to enquire.



---
The Local Guide - Community Information
 Click HERE to load
---