PRESS ALERT
Mandela on historic trip to Palestine this week (26 to 29 November 2017)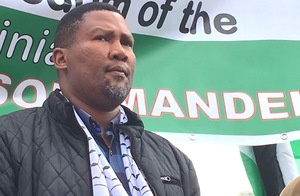 Nelson Mandela's grandson, Chief Mandla Mandela MP, is on a historic visit to Palestine. Mandela, who arrived in Palestine this morning (Sunday 26 November), will hold several meetings with Palestinian leaders including President Mahmoud Abbas.
Chief Mandela will also visit the Holy Towns of Bethlehem and Jerusalem, both located in the occupied Palestinian West Bank, as well as the mausoleum of Yasser Arafat in Ramallah. Chief Mandla Mandela's grandfather, Nelson Mandela, was a close friend of Arafat having explained in his famous Ted Koppel interview that: "Our stand is that Arafat is a comrade in arms and we treat him as such" (
click here
).
Chief Mandela, who is a senior Member of the South African Parliament, is a close ally of the BDS movement and Palestinian struggle against Israeli Apartheid. On Thursday evening in Amman (Jordan), prior to his entry to Palestine, Chief Mandela had a meeting and received a briefing from Palestinian leader, Omar Barghouti, of the Palestinian BDS National Committee.

Following his meeting with Mandela, Barghouti commented that: "Chief Mandla Mandela is exceptionally inspiring, not only for carrying forward Madiba's legacy of justice and internationalism, but also for seeing solidarity with the struggle for Palestinian liberation as a South African ethical obligation. Palestinians are proud of and deeply grateful for this solidarity from Madiba, Chief Mandla Mandela and from the great people of South Africa." During his meeting Barghouti reiterated Palestinian support for the shut down of the SA Embassy in Tel Aviv.
To arrange an interview with Chief Mandla Mandela while in Palestine or for further information on his itinerary contact: +27 (0) 74 054 3826
ISSUED BY KWARA KEKANA ON BEHALF OF BDS SOUTH AFRICA
BOYCOTT, DIVESTMENT AND SANCTIONS AGAINST ISRAEL IN SOUTH AFRICA (BDS SOUTH AFRICA)
5th Floor | Mishumo House | 77 De Korte Street | Braamfontein | Johannesburg
PO Box 2318 | Houghton | 2041 | Johannesburg
T: +27 (0) 11 403 2097 | M: +27 (0) 74 054 3826 | F: +27 (0) 86 650 4836
BDS South Africa is a registered Non-Profit Organization. NPO NUMBER: 084 306 NPO
BDS South Africa is a registered Public Benefit Organisation with Section 18A status. PBO NUMBER: 930 037 446