---
Enrolments for 2013 - Scotland Island Kindy.
Dear parents, we are starting to take enrolments for next year.


If you are interested in enrolling your child (age 2-6) into our beautiful kindy with qualified staff, please complete the enrolment form and give myself or any staff member a call on 02 9979 7856 to discuss further.
Please contact us soon as places are limited.
Looking forward to hearing from you soon.
Opening Tuesday to Friday from 7.30am to 5.30pm
(With the possibility of opening Mondays if there is enough interest for that day)
Kind regards
Liz Power - Director
Download Enrolment Form HERE
---
Pittwater High Willamette Exchange program




Fundraiser



Four year 10 students have been chosen to represent Pittwater High in the Willamette exchange program next year and two of our Island students have been chosen, Ryan Marshall and Rosalind Hardy.

They are raising money to send them along with providing funds to keep the program running for future Pittwater high students.

A fund raiser night has been organised at Pittwater High school on the 24th November.

Flaming Dog House

will be playing as they did for the Band fundraiser. They were a huge success so don't miss this night.

Tickets are $25 and can be organised through Melanie Marshall 99994902 on the Island. Tables of 10 so best organise a table and money for that table and Melanie will take to the school for the tickets otherwise pop to the school office to book.



Fantastic prices for Raffles and Silent Auctions so DON'T MISS OUT.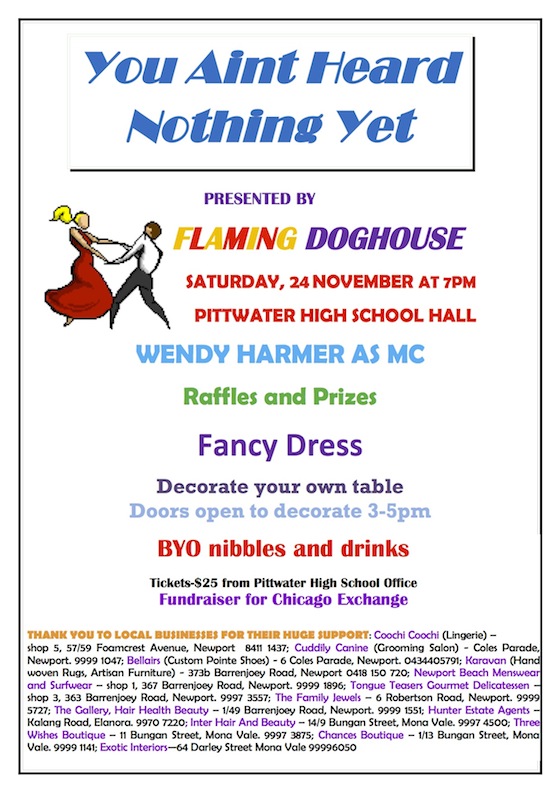 ---
Looking for preferably, long-term rental property.



Marion and Michael Edols have been renting on Scotland Island and in the Bays for the last 14 years.
We would like to be able to move before Christmas though we can move earlier if necessary.
If you have a property or know of a possible property, please call either Marion on 0431 457 431 or Michael on 0402 95 96 97.



---
For Sale
One White Wooden Cot: "Kingparrot Alice", made by Boori.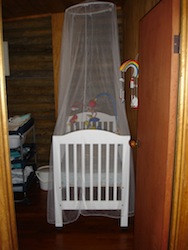 Standard cot size. Beautiful condition, including instructions – currently disassembled.

Safe, smooth mechanism to lower and lift cot side (drop side panel with in-built runner) – no risk to little fingers.

Side comes off to make a junior bed.
$150

Angelcare Sound and Movement Monitor in box
$50

Call
Derry
0416 206 546



---
Wanted




Mooring for 34" boat at Xmas



My in-laws are coming up from Melbourne to join us for Xmas in Elvina Bay and we are a bit tight for space. We've rented a 34" foot boat and are planning to stay aboard with our two young children.

If anyone has a mooring in Elvina Bay or nearby which is suitable for a 34" boat I'd be interested in renting it for 8-9 days from around 20th December to 28th December.

Cheers,
Sean King
seandking@mac.com



---
Missed out on a Newsletter?




Go to the archives to download previous notices



A complete set of past electronic newsletters since May 2000 can be found and read at https://ymlp.com/archive_gesgjgm.php



---

The Online Local Contact Guide

Click HERE to load
The views expressed in this newsletter are not necessarily the views of the Scotland Island Residents Association (SIRA), or the Western Pittwater Community Association (WPCA)
---