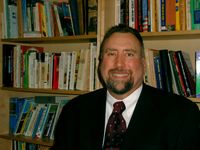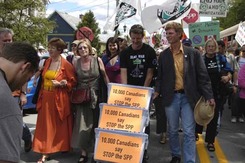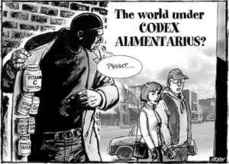 John in the IAHF Office..................Canadians Protesting Against the "Security & Prosperity Partnership of North America"
IAHF List:
Most of you realize that the biggest threat to American access to dietary supplements stems from ongoing efforts to scuttle America as a nation and to usher us into a planned North American Union Dictatorship via which FDA would make an end run around the Dietary Supplement Health and Education Act through their Trilateral Cooperation Charter with Canada and Mexico. (See http://www.nocodexgenocide.com/page/page/3113337.htm
Via that mechanism, FDA, Health Canada, and their Mexican equivalent have already created one harmonized set of food and drug regs as if a NAU Dictatorship were already in place, and its waiting in the wings. This is how the genocidal ruling elite seek to usher genocidal Codex standards into N.America, but we CAN STOP THEM! HERE IS HOW:

CLICK ON THE SITE BELOW TO SERVE NOTICE ON NWO
THAT WE'RE ONTO THEIR PLANS-
Below you'll find a letter I emailed to Mayor Gregor Robertson and the Vancouver City Council desiring the chance to speak for 5 minutes at their Council meeting this coming Tuesday at 2 PM about information we have that indicates the strong possability of a "false flag" attack on Vancouver during the Olympics in February.
Please click on this site
http://www.youtube.com/watch?v=7sa6_wBgxtw
and urge all your friends and family to as well!! The more traffic we can get to this link, the greater the likelihood the ruling elite will back off from their Olympic false flag plans.
No matter where you are in the world, you can assist us by helping to increase traffic to this youtube site where Sam Labrier of Montreal for 911 Truth and Sonia from the Montreal "Truther Girls" are making a noble attempt to sound an urgent alarm intended to prevent a false flag attack.
Such and attack would be used to bring US Military troops into Vancouver in order to help the Council on Foreign Relations achieve their planned timetable of 2010 for implementing a "North American Community" intended to dissolve Canada, US, Mexico so as to force the 3 countries together into a collectivist NAU dictatorship patterned after the EUSSR.
Our alert is based on solid documentation that Verint Info Systems, the firm providing security for Vancouver Airport, is a CIA, Mossad, MI6 cut out group that provided "security" for the London underground transit system when the 7/7 bombings occurred. The more traffic to this site, the better chance we'll have of getting the ruling elite to BACK OFF:
http://www.youtube.com/watch?v=7sa6_wBgxtw
As you can see from my letter to the Vancouver City Council, the ceo of Verint is a former Mossad intelligence officer who was indicted for fraud charges causing Verint, and their parent company to both be delisted from the NASDAQ Stock Exchange. It is not acceptable that the Vancouver City council would trust this firm givin their criminal history and terrible track record. (Ditto for the Montreal City Council)

As you can also see, Verint's supposedly "state of the art" surveillance cameras positioned everywhere in the London Underground failed to work on 7/7, and did not capture ANY video footage that could have led to capturing the bombers.This is what happens when you trust a CIA, Mossad, MI6 asset company to provide you with "security"- its like putting the fox in charge of the henhouse!

We think Verint planted the explosives in the London underground which they had unfettered access to, and we wouldn't put it past the ruling elite to orchestrate a similar psyop in Montreal where Verint provides "security" for their subway system, or in Vancouver, where they're providing alleged "security" for Vancouver Airport right now and during the Olympics!! We're sure not alone in our concerns!

On the video you'll notice that Prime Minister Harper has perogued (suspended) the Canadian government til after the Olympics. This move is highly suspicious because there were several "must have" bills that were on the verge of being pushed through to completion and now they'll have to reintroduce all of them and start again at square one.
This is NOT something Harper or the Canadian Parliament would WANT, and we think they were likely ORDERED by the ruling elite to suspend Parliament during the Olympics to make it easier to impose martial law via US troops in the event of an orchestrated false flag attack. The US & Canada have a reciprocal agreement that we document below whereby if a terrorist event happens in either country, the other can send its troops to the other country.

The elite are so arrogant, and think we're so stupid that we won't notice when they try to hide something like this "in plain site", so its IMPERATIVE that you assist in overcoming the media blackout on this story by urging everyone you know to click on this link http://www.youtube.com/watch?v=7sa6_wBgxtw and to write letters to the editor of your paper and anything else you can think of to draw attention to this!!
As you can see from my letter to Vancouver City Council we've got impeccable documentation to back our concerns, and you can see that we copied the mainstream media in on our message as well as a number of groups that have various concerns about the Olympics.Letters to the editor of the Vancouver Sun, the Province, the CBC, and to the Georgia Straight echoing our concerns would be very helpful!

If you live in or near Vancouver BC, I especially need your help! Please email me at jham@iahf.com with your phone # if you can come to City Hall on Tuesday at 2 pm.
If they don't let us speak before their Council Meeting, we'll protest in the street and get footage to put on Youtube of our protesting, but either way, we're not going to take this laying down.
I'm from New Jersey and 9 people from my home town of Summit perished in the World Trade Center on 911 including Todd Rancke, a guy I went to high school with. So this threat is not an abstraction to me, not when hundreds of New Jerseyans died on 911.
Many Canadians are so divorced from reality that they don't think a 911 could possibly occur in Canada. People who think that way are living in la la land and need to pull their heads out of the sand and pay attention to the information in my letter to the Vancouver City Council which I need very widely forwarded especially to media.
DONT CAST IAHF ADRIFT- WE'RE IN YOUR CORNER AND NEED YOUR HELP!
See the letter below sent to Vancouver City Council with all the documentation attached and you will realize I put hours of work into this in an effort to help make the world safer and better, and I'm really sticking my neck out to confront the CIA head on.
If you appreciate IAHF's dogged efforts to stop the next planned 911 psyop, please let me know it with a badly needed donation so my phone & electricity don't get turned off: you can donate via paypal at http://www.iahf.com/index1.html
or by sending a check or M.O. to
IAHF 556 Boundary Bay Rd.,Point Roberts WA 98281
USA If you want to discuss anything I'm saying here please call me at 800-333-2553 Pacific time, H&W. Please forward this to everyone you know and urge them to sign onto the IAHF list at
www.iahf.com
IAHF's LETTER (WITH DOCUMENTATION) TO VANCOUVER CITY COUNCIL
REQUESTING EMERGENCY MEETING ON TUESDAY 1/19

Our Group Seeks 5 Minutes To Make an Emergency Presentation Before Vancouver City Council on Tuesday January 19th at Your 2 PM Meeting: http://vancouver.ca/ctyclerk/councilmeetings/meeting_schedule.cfm?selOption=NextMeetings&selYear=2010&cmdSearch=Search



VERINT INFO SYSTEMS

- A

HEAVILY DISCREDITED FIRM

WITH DOCUMENTED TIES TO

INTELLIGENCE AGENCIES

PROVIDED "SECURITY" FOR THE

LONDON UNDERGROUND TRANSIT SYSTEM DURING 7/7 BOMBINGS

, IS PROVIDING ALLEGED

"SECURITY" for YVR- VANCOVER AIRPORT RIGHT NOW

, IS PROVIDING

ALLEGED "SECURITY" FOR MONTREAL SUBWAY

RIGHT NOW.... DO YOU REALLY FEEL OK WITH THIS and if so WHY???

to: Mayor Gregor Robertson & The Vancouver City Council:
cc CBC, Vancouver Sun, Vancouver Province, Georgia Straight, Poverty Olympics, BC Civil Liberties Assoc, Professor Chris Shaw- World Olympic Watch, Montreal for 911 Truth, Vancouver for 911 Truth,Olympics Resistance Network, Coop Radio

In 2005, the

Council on Foreign Relations

published a White Paper titled

"Building a North American Community"

. In this paper they stated their timetable for completion was "2010" www.cfr

.org/content/publications/attachments/

NorthAmerica_TF_final.pdfThe only way they could adhere to that timetable would be via additional "911" type psyops. Is one planned for the 2010 Vancouver Olympics???

Verint Info Systems is providing security for YVR (Vancouver Airport).
http://verint.com/corporate/releases_view.cfm?article_level1_category_id=7&article_level1_id=245&pageno=1&year=2002



We have documentation that this firm (and its parent company) were both delisted from the

NASDAQ Stock Exchange

due to their principal

(formerly a Mossad Intelligence Officer)

being

indicted on fraud charges

. (see below)

We have documentation that this firm provided "security" for the

London Underground

when the

7/7 Bombings occurred

, yet failed to get any videotape whatsoever that could have identified any perpetraitors. (see below)

We have documentation that this firm has very strong ties to the

CIA

, the

Mossad

, and to

MI6

. (See below)

Verint is also providing "security" for the

Montreal Subway System

. (See below)

Does Mayor Robertson and the Vancouver City Council

REALLY

feel comfortable with this firm, and if so,

WHY???

Sam Labrier of Montreal 911 Truth

made an attempt to

alert the people of Vancouver

to the possible threat of a false flag attack on Vancouver via

Verint Info Systems

providing "security" for Vancouver Airport via the Truther Girls highly trafficked You Tube Channel at

http://www.youtube.com/watch?v=7sa6_wBgxtw Montreal for 911 Truth

has made a

documentary film

expressing their concerns about

Verint

. It can be seen at

http://www.mtl911truth.org/?page_id=1952

We have reviewed all their extensive documentation and share their strong concerns.

Sam Labrier has also discussed these concerns on

Alex Jones TV Show

:

http://www.youtube.com/watch?v=1ZIRVfPmTAc http://www.youtube.com/watch?v=-785cmpGcKk&feature=related

Sam is working with us, and can get on Alex Jones to discuss the Vancouver City Council's reaction to this information about Verint.

Montreal for 911 Truth made two presentations before their

City Council

expressing strong concerns about

Verint Info systems

providing "security" for the Montreal Subway that can be seen on the web at:

http://www.youtube.com/watch?v=qv4PtC-PicU

Harper has perogued the government until March 3rd. With the government not in session, there is no precedent by which to gauge what the government response might be in the event of a terrorist attack on the Olympic games however we can document that Canada has signed reciprocity agreements with the US whereby in the event of an terrorist attack, US Troops could come into Canada and vice versa. (See Below)

Nine people from my home town of Summit New Jersey died in the World Trade Center on 911 along with hundreds of people from my State. Several Canadians died in the WTC. I live in Point Roberts WA, USA.

Several Canadians including Vancouver residents who share my concerns wish to come to the Council meeting with me on Tuesday

. I can't in good conscience turn a blind eye to this information, and neither can the Vancouver City Council or the Media.

If the Vancouver City Council turns a blind eye to what we're saying, and a terrorist event happens in Vancouver during the Olympics, no one will believe the news spin, no one will believe it was "Al Qaeda"

We strongly question the wisdom of allowing

Verint Info Systems

, a heavily discredited company with a terrible track record, and well documented ties to the

CIA, Mossad, and MI6

to provide security for YVR during the Olympics. We want information about who is providing security for the Vancouver sky train and if Verint also has an involvement there in light of what happened in London where they provided "security" for the London Underground when the 7/7 bombings occurred. We urge the media to explore this as well.

John C. Hammell, President
International Advocates for Health Freedom
556 Boundary Bay Rd.
Point Roberts WA 98281 USA
800-333-2553 H&W N.America

DOCUMENTATION:


verint delisted from nasdaq
http://verint.com/corporate/releases_view.cfm?article_level1_category_id=7&article_level1_id=724&pageno=6&year=2007
comverse (Parent Company of Verint) delisted from NASDAQ.
ceo /jacob alexander fromer israeli military intellince officer
jacob alexander and 2 of his executives facing criminal charges
comverse infosystem penetrated by israeli crime syndicates and israeli intell
verint signs deal with london,england
16,000 police, military and private security officers in Vancouver for Olympics:
http://no2010.com/node/1034



Also, under a deal signed one year ago, if a national emergrency is declared in either Canada or the U.S., the armed forces of the other nation during a civil emergency. So if there is a terrorist attack in Vancouver and Harper declares a state of emergency, the U.S. military will have the full authority to enter Canada and implement martial law until "order is restored."
http://www.globalresearch.ca/PrintArticle.php?articleId=8551

http://www.northcom.mil/News/2008/021408.html

http://www.journal.dnd.ca/vo4/no1/policy-police-01-eng.asp


only photos made public of london bombera(no video shots of bombers boarding trains)
http://64.233.169.104/search?q=cache:ZCMhoolRPLIJ:www.guardian.co.uk/gall/0,,1530933,00.html+all+photos+of+london+bombers&hl=en&ct=clnk&cd=3&gl=ca
dauphin's quote from verint's website (3rd paragraph)
http://verint.com/corporate/releases_view.cfm?article_level1_category_id=7&article_level1_id=362&pageno=1&year=2004

-------
part 1
jacob alexander charged with fraud along with two of his asociates
verint and comverse delisted from nasdaq , same as above
biggest spy ring ever uncovered on u.s. soil involving israelis, per newsmax article
d.e.a. memo june 6, 2001 with picture of dossier
comverse infosystem penetrated by israeli crime and intel
and newsmax follow-up article, comverse denys wrongdoing
claude dauphin, paul martin's top adviser in quebec (on #16 paragraph)
dauphin's quote from verint's website (3rd paragraph)
http://verint.com/corporate/releases_view.cfm?article_level1_category_id=7&article_level1_id=362&pageno=1&year=2004
-------
part 2
enixum
enixum vice pres./daniel jeanson
verint directors, minihan, safir and demarines/u.s. intelligence
http://verint.co.uk/contact_center/releases_view.cfm?article_level1_category_id=39&article_level1_id=614&pageno=1&year=2004
PICTURES OF THESE GUYS COULD BE SEEN HERE. CLICK ON THEIR NAMES AND VOILA
Verint's work in several areas including delivering actionable intelligence to the FBI and the U.S. Justice Department in the War on Terrorism....Verint has impressive list of sites now being monitored by its digitized building security systems including the U.S. Capitol Building, the Pentagon, ...
Verint systems also monitor the Mall of America in Bloomington, Minn., the world's largest shopping mall with 4.2 million square feet of interior space, and the international airport in Vancouver, Canada, among other facilities.
Verint provides back door for telecommunications companys so that fbi could snoop around
and
verint's subsidiary's offices hold a facility security clearance from the Defense Department, and are located in Chantilly, Virginia, a stone's throw from most of America's intelligence agencies.
comverse leading provider of multimedia
jacob alexander/ceo of comverse found the company in 1984
(it's been hi-lighted)
http://64.233.169.104/search?q=cache:iN9QsxC34FEJ:www.answers.com/topic/comverse-technology-inc+COMVERSE+founded+by+jacob+alexander+1984&hl=en&ct=clnk&cd=1&gl=ca
jacob alexander/former israeli intel officer
comverse works closely with israeli govt...(transcript from fox news report)
http://64.233.169.104/search?q=cache:H9Ot1qyy9RIJ:www.informationclearinghouse.info/article6480.htm+COMVERSE+WORKS+CLOSELY+WITH+ISRAELI&hl=en&ct=clnk&cd=1&gl=ca
verint fully owned subsidiary of comverse until going public in may 2002(see 2nd paragraph)
http://verint.com/corporate/releases_view.cfm?article_level1_category_id=7&article_level1_id=607&pageno=3&year=2006
but
even after going public as recent as jan 2007 comverse still owned 57% of verint(3rd paragraph)
http://64.233.169.104/search?q=cache:Qad-RXWuNDQJ:globaltechforum.eiu.com/index.asp%3Flayout%3Drich_story%26doc_id%3D8714%26categoryid%3D%26channelid%3D%26search%3Dsurveillance+james+bernstein+comverse+verint&hl=en&ct=clnk&cd=3&gl=ca
dan bodner ceo and president of comverse infosystem(7th paragraph) during time of scandal
http://64.233.169.104/search?q=cache:RXLX3FSFGSUJ:www.allbusiness.com/technology/software-services-applications-information/6104186-1.html+dan+bodner+ceo+comverse+infosystem&hl=en&ct=clnk&cd=1&gl=ca
and
http://64.233.169.104/search?q=cache:-uG7IwtGNIgJ:www.answers.com/topic/verint-systems-inc+2002+DAN+BODNER+CEO+PRESIDENT+COMVERSE+INFOSYSTEMS&hl=en&ct=clnk&cd=3&gl=ca
comverse infosys changes name to verint system 2 months after fox news breaks scandal
as of today dan bodner is ceo and president of verint
---------------------------------------------------------------------------------------
part 3
Verint signs on with the city london 1 year prior to the london bombings
http://verint.com/corporate/releases_view.cfm?article_level1_category_id=7&article_level1_id=360&pageno=1&year=2004
SIMON!!!! PLEASE HIGHLIGHT THE 2ND PARAGRAPH OF THE ARTICLE BELOW. INFORTUNATELY, I HADN'T REFERED TO
THIS ONE ON THE FILM. THIS ISRAELI ARTICLES SAYS ''''CAMERAS WILL BE INSTALLED IN THE ENTIRE UNDERGROUND
WILL MONITOR PLATFORMS.''''' SO WHERE ARE THE VIDEO CLIPS OF THE BOMBERS ON THE PLATFORMS VERINT?
(2ND PARAGRAPH)
Simon, when i refer to the times of the trains you could show Nafeez Ahmed's book and if you want the follwg
news articles with the times.
Nafeez Ahmed's book with quotes from john pilger and Gore Vidal: http://www.independentinquiry.co.uk/
taking train at 07h40: http://www.telegraph.co.uk/news/main.jhtml?xml=/news/2005/07/14/ubombings.xml&sSheet=/portal/2005/07/14/ixportaltop.html
bombers arrive at kings cross at 08h30 according to Head of the MPS Anti-Terrorist Branch and National Co-ordinator of Terrorist Investigations.
POLICE TO VIEW 2,500 CCTV VIDEO TAPES. WHERE ARE THE BOMBERS BOARDING THE TRAINS ON THE
PLATFORMS?
POLICE TO VIEW 2,500 CCTV VIDEO TAPES (ON 3RD PARAGRAPH)
only photos made public of london bombera(no video shots of bombers boarding trains)
http://64.233.169.104/search?q=cache:ZCMhoolRPLIJ:www.guardian.co.uk/gall/0,,1530933,00.html+all+photos+of+london+bombers&hl=en&ct=clnk&cd=3&gl=ca

this is the only photo shot of the bombers together. time reads 07h21 and again this is not A shot oF bombers boarding
trains from platforms
Tony Blairs govt wants no inquiry:
Peter Power states on tv about terror drill
http://video.google.ca/videoplay?docid=2642456870256356055&q=peter+power&total=1653&start=0&num=10&so=0&type=search&plindex=4
Peter Power walks away when questioned by british activists
http://video.google.ca/videoplay?docid=4302837650832619957&q=peter+power&total=1653&start=0&num=10&so=0&type=search&plindex=0
about Peter Power
Giuliani states at 9/11 commission about preparations for bioterror drill to take place on sept 12/2001
Giuliani heckled by families at 9/11 commission (video)
http://video.google.ca/videoplay?docid=468144809468879448&q=giuliani+9%2F11+commission&total=36&start=0&num=10&so=0&type=search&plindex=0
No testing of wtc debris. biggest farce according to former editor of fireman engineerg magazine
Rudolph Giuliani near location when LONDON bombs blew
Finance Minister Binyamin Netanyahu forewarned of LONDON attacks
Giuliani under fire from firemen's union
Giuliani hired Howard Safir as his national chair for first responders
Howard Safir first jewish ny police commissioner
(8th paragraph to the left)
Howard Safir defending Giuliani on Video
http://video.google.ca/videoplay?docid=5361362156455181159&q=howard+safir&total=1&start=0&num=10&so=0&type=search&plindex=0
Howard safir appointd by giuliani in 1994 as fire commsnr and 1996 as police commisnr
Howard safir profitg from 9/11 and war on terror
,no bid contract with Bode Tech.,
choicepoint, 10 000 shares in Verint, Safir Rosetti
(tons of excellent info on Safir throughout the article)
here are the websites of the company names I mention when refering to Safir
Bode technology: http://www.bodetech.com/
Choicepoint: http://www.choicepoint.com/
Safir Rosetti: http://www.safirrosetti.com/

Silverstein contacted by Benjamin Netanyahu, Ariel Sharon,and Barak after 9/11.
and mentions he bought wtc property shortly before 9/11 (first 2 paragraphs)
http://www.haaretz.com/hasen/pages/ShArt.jhtml?itemNo=97338&contrassID=3&subContrassID=0&sbSubContrassID=0
Silverstein profits from 9/11:
February of 2002 Silverstein Properties won $861 million from Industrial Risk Insurers to rebuild on the site of WTC 7. Silverstein Properties' estimated investment in WTC 7 was $386 million. (the quote above is in the middle of the text. it's been hi-lighted below)
http://64.233.169.104/search?q=cache:Nnsn8PAhi2EJ:www.scoop.co.nz/stories/HL0501/S00116.htm+February+of+2002+Silverstein+Properties+won+%24861+million+from+Industrial+Risk+Insurers+to+rebuild+on+the+site+of+WTC+7.+Silverstein+Properties%27+estimated+investment+in+WTC+7+was+%24386+million.&hl=en&ct=clnk&cd=10&gl=ca
------------------------------------------
ODIGO AND COMVERSE
JAN 9, 2001 COMVERSE BUYS STAKE IN ODIGO, AN ISRAELI INSTANT MESSAGING SERVICE
cOMVERSE THEN BUYS UP ODIGO, MAY 20, 2002
ODIGO EMPLOYEES WERE FOREWARNED OF 9/11 ATTACKS
----------------------------------------------------------------------------------
PART 4- conclusion
As I question the necessity of security/surveillance, maybe you could add clips of surveillance
cameras, symbols of NSA, CIA/CSIS, Mossad,DARPA(Total Information Awareness), Homeland Security,
9/11 families disapprove of the 9/11 commissions performance in uncovering the truth behind 9/11
and are demanding a new and independant investigation
and
Seven cia veterans challenge 9/11 commission report
25 US military officers challenge official account of 9/11
US govt behind the attacks, Bob Mcllvain,father of a 9/11 victim



Ex-Italian President: Intel Agencies Know 9/11 An Inside Job
Man who blew the whistle on Gladio tells Italy's largest newspaper attacks were run by CIA, Mossad
link to the italian article with cossiga's photo
http://www.corriere.it/politica/07_novembre_30/osama_berlusconi_cossiga_27f4ccee-9f55-11dc-8807-0003ba99c53b.shtml
Professor Daniel Ganser's website and photo
photo of book cover of nato's secret armies
photo shot of the bbc's 1992 docu film on gladio
gladio on wikipedia