Why not bookmark this AMPS Newsletter and read at your leisure!

AMPS Newsletter September 2014
AMPS 25th Anniversary Party 'change-of- date', detail on AMPS EGM & BECTU meetings, Sound PRO 2014, Stuart Wilson & Tom Cruise, Andre Jacquemin & Python, Delivering the King's Speech, Hot Shot Jules Woods and a handy Pro Tools Expert tip…
Who's done what, where and more interestingly… how?
AMPS member Stuart Wilson has recently written an article published in 695 Quarterly with detail of his work on Edge of Tomorrow.
"The first challenge for us was keeping up with the man! He doesn't waste a second; he walks onto the stage, barely breaks step to have a mini-pit stop where he sits on a wooden box (no artist's chair for him) while hair, makeup, costume and sound all do their finishing touches and bam!—he's off again onto the set and straight into the scene. We needed to be there, like coiled-springs ready, to wire up this man or be left behind."
AMPS 25th Party Celebration - date change!

IMPORTANT UPDATE!
Due to the BECTU meeting on 7 September (see below), we felt compelled to change the date of our 25th celebration party. The new date is Sunday 26 October 2014. 
Doors open - 12.30pm
Knife & Fork Buffet Lunch 2.00pm
Followed by entertainment, awards and… cake!
(Vegetarian Option available - please contact the organisers via the Eventbrite page.)
The Association of Motion Picture Sound, The Association of Professional
Recording Services & The Institute of Professional Sound are once more jointly promoting SoundPRO 2014.

This year it has moved into west London, to an easily accessible venue with great tube and rail links - is on many bus routes and has good local facilities and parking.
It is the same popular professional business and networking event with an Expo area, where many manufacturers, distributors, dealers and service providers will display their equipment and meet users and customers in a relaxed atmosphere.
Ealing Town Hall, New Broadway, London, W5 2BY
Saturday 27 September 2014 - 11:30 until 17:30.
Free priority access if you register on-line before the event.
Who's done what, where and more interestingly… how?
No. 2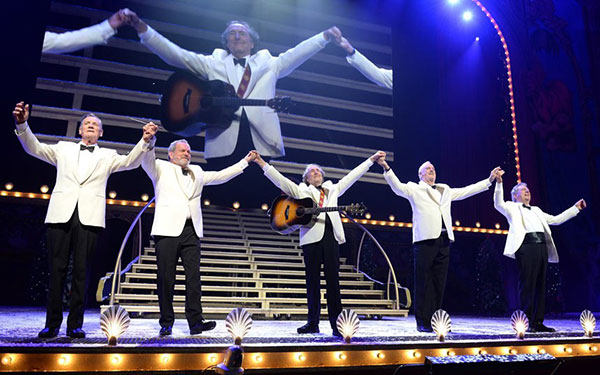 AMPS member Andre Jacquemin gives us a brief peek into his work getting the audio together for Monty Python Live (mostly) at the 02 Arena.
The recent O2 Monty Python shows went really well and we had a great sound team on board that Rory Maddon organised from
Sonalyst
. It was a complicated show in so much that Python not only had the mics to contend with, but video playback and firing in SFX! As well as having 20 dancers on stage, all of whom sang miked up, plus a live eight-piece band and four singers in a vocal booth.
I started back in January getting the music tracks produced for the show with John Du Prez who was working on new material with Eric Idle as we had to also get an album prepared for the re-release of Monty Python Sings (again).
The hard part was actually getting the original video clips into 'broadcastable' audio for the O2 performances as the original audio was in mono and had been mixed with the audience laughing which sometimes made the Pythons' voices inaudible. Thanks to
Izotope
for those great plug-ins which helped enormously to clean up the sound and made it presentable.
On all accounts the show went brilliantly and made the No 4 spot in the UK BFI box office chart for the final live broadcast round the world on July 20th so not bad for us oldies!
BECTU Sound Branch Meeting

As you may have seen on Connect and elsewhere, there are serious concerns about the proposed BECTU/PACT agreement and we need to encourage as many AMPS/BECTU members as possible to attend the Sound Branch Meeting on the 7th September. It is scheduled to take place from 10.30am at the BECTU offices at 373-377 Clapham Road, London, SW9 9BT. Please do your best to attend.

If the proposed agreement is allowed to go through it will seriously affect the production sound crews working on features and in the longer term will also have a detrimental effect on television drama crews. Also, the proposed down-grading of a number of sound skills will lower the status of Sound across the board.
AMPS EGM: Constitution Rule Changes
AMPS Council is proposing a number of changes to the Association's Rules at an EGM to be held on Tuesday 7 October 2014, 7.30 pm at
WarnerBros De Lane Lea
, 75 Dean Street, London W.1.
A copy of the existing Constitution is available on the AMPS website 
http://amps.net/about/constitution
Council believes that these amendments are important and will benefit the Association and its members and recommends that members vote FOR the amendments.
In accordance with Rule 11 of the Constitution, and to ensure maximum participation of those unable to attend, proxy voting will be permitted. You can vote on the resolutions either in person by attending the EGM or appointing a representative to attend and vote on your behalf. This can be either the Chairman of the Meeting or your own named representative.
If you are unable to attend, but would like to appoint a representative you are confident will be able to attend, please complete the Proxy Transfer Form at -
http://tinyurl.com/myypjlh
Please ensure that your representative has details of your proposed voting intentions in advance of the meeting.
 

 

In accordance with the rules for AMPS inaugural Film Awards, the adjudication panel have identified four AMPS members who qualify for Certificates of Merit in recognition of their valuable contribution to the AMPS Award winning soundtrack 2013 – Gravity.

Very many congratulations to Steve Finn, Paul Munro, William Towers and Nick Watson.

Presentations of Awards and Certificates will be at the AMPS 25th Anniversary Celebration Party on 26 October.
Delivering the King's Speech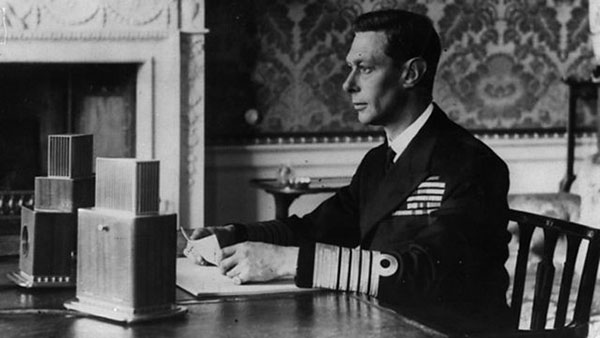 TBI Media's first ever documentary for the BBC World Service, Delivering the King's Speech marks the 75th anniversary of King George VI's declaration of war against Germany. Presenter Louise Minchin hears the untold story of the King's Speech and discovers how it reached the entire world.

Inspired by the discovery of the original pressing of the speech in the EMI Archives – bound in goatskin leather and signed by the King himself – Louise uncovers how the King's words reached the furthest corners of the British Empire. Starting with the fascinating history of royalty releasing records, and incorporating rare material from the EMI archives, the documentary explores how the British Empire was united by vinyl.

Louise examines the recording of the speech – not from the point of view covered in the 2010 Oscar-winning film, but from the perspective of the EMI employees who have located previously unpublished letters and production notes from the original sessions.

Delivering the King's Speech delves into the earliest days of the BBC Empire Service – later to become the BBC World Service – to find out how the King's message was sent across the globe and how it enabled the Empire Service to win the fight against the anti-British propaganda broadcast by the Germans.
Courtesy of TBI Media & BBC.
Jules Woods named as one of Broadcast Magazine's Hot Shots of 2014!
 

We're extremely happy to announce that AMPS Council member Jules Woods has been confirmed as one of Broadcast Magazine's Hot Shots of 2014 - in the Craft & Post category.

 

AMPS Chairman Peter Hodges comments, "I would like to congratulate Jules for his selection as one of the 'Hot Shots' for 2014 and wish him every success."

 



Pro Tools Expert - Being Partially Sighted and
Did you know that the Directory pages on the AMPS website are some of the most frequently visited?

 

Make sure that your profile is up to date - you never know where your next work enquiry will come from!

 

 
Can we help with your Professional Development?
We're keen to hear from you with ideas for seminars and training sessions which would contribute towards Continuing Professional Development.
We're very aware that keeping up with techniques and updates can be a full time job in itself, so if there's any way that AMPS can contribute towards maintaining and developing your industry knowledge and skills, please get in touch.
Change of AMPS Address & Phone Number
Please note that AMPS postal address and telephone number have changed. New contact details to use are -
27 Old Gloucester Street
London
WC1N 3AX
Tel: +44 (0)1753 669111
AMPS 25th Birthday Celebrations

26 October at The Cinema Museum…
A Practical Introduction to Location Sound: Recording & Mixing

25-26 October 2014
The seminars are aimed at those working in screen-based media, and offer three further perspectives on the use of sound and music in filmmaking.
Game Music Connect Symposium - 24 September

Game Music Connect celebrates and explores the amazing music of video games the extraordinary talent behind it.
Bristol Social

Date and venue to be confirmed.
… and finally, on the first Tuesday of every month

Make sure that you attend the AMPS Social at the De Lane Lea bar in Dean Street - be social with your AMPS members! Next event on Tuesday 7 October will be combined with the EGM mentioned above.
AMPS, 27 Old Gloucester Street, London, WC1N 3AX
www.amps.net / +44 (0)1753 669111