Look for our El Paso County float in the December 3rd Festival of Lights
Parade. Check out PeakRadar.com and VisitCOS.com for the latest events and tourism attractions.

Check out our fabulous holiday and off-season specials. Whether you're seeking romance, relaxation, shopping, cultural experiences or just a rest from the everyday grind, we've got something for you!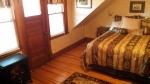 Holden House will soon be opening our newest "Pikes Peak" suite. Bed and breakfast package reservations in this suite are just $165 per night plus tax. Our extended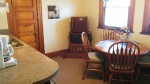 stay rate for 5 or more nights, is $100 single or $125 for two persons (without breakfast). An optional breakfast package can be added to the extended stay rate for an additional $10 per day/per person. Afternoon wine social is always included for all stays. This beautiful 800 square foot suite of rooms features hardwood floors, a living room with electric fireplace, large work desk, free WiFi, kitchenette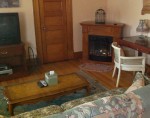 with microwave and refrigerator and a lovely bedroom with queen size bed and private balcony. The private bath includes a standard tub/shower. Plenty of space to spread out and relax in Victorian splendor whether traveling on either usiness or pleasure.
The Christmas season and the holidays are just around the corner...
"El Paso County, Colorado, which was founded in 1861, is known for its western heritage. This simple breakfast dish is a western treat that looks beautiful and spices up the breakfast table. Served in ceramic ramekins with a tortilla accent, it's a delicious impression that will leave guests asking for more."
Holden House 1902 Bed & Breakfast Inn's
SouthWestern Eggs Fiesta
Ingredients: Needed: 12 Individual Soufflé' Dishes (5- 8 oz.size)
Serves: 12
24 Eggs (2 Eggs/person)
12 oz. Cheddar Cheese (1 oz. per person)
Bacon Bits or Crumbled Cooked Turkey Bacon
Sour Cream for topping
Mild Picante Sauce for topping
6 Snack Size Flour Tortillas (1 tortilla/2 persons)
Parsley for garnish
Cilantro (fresh if available)
Directions: Well grease soufflé' dishes with non stick spray and break two eggs into each dish. Slice tortillas in half and place in dishes with flat edge down and outside eggs to form a U shape around outer edge of dish. Top with 1 oz. slice of cheddar cheese and crumbled bacon or bacon bits & sprinkle with a dash of cilantro.
Temp. and Time: Bake at 375 degrees for 30 minutes or until eggs are done, cheese is melted and tortilla is slightly brown. Top with a dab of sour cream and tsp. of picante sauce. Sprinkle a dash of cilantro on top and serve on a plate. Garnish with additional parsley if desired.
Number of Servings: Makes 12, but can easily be adapted for more.