Celebrating B&B Hospitality Since 1986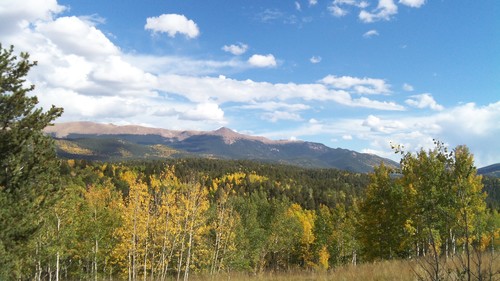 Enjoy a leaf peeping trip up to the mountains in the Pikes Peak Region. This view was captured when Innkeepers Sallie and Welling Clark took a hike in the nearby Mueller State Park.
Now is the perfect time to book a stay at Holden House 1902 Bed & Breakfast Inn located in Colorado Springs. Treat yourself to a stay in this romantic and historic Victorian bed and breakfast inn. For more information on Holden House 1902 Bed & Breakfast Inn and to make a reservation, visit
www.HoldenHouse.com
---
We're Very "Social" at Holden House!
BEST B&B IN TOWN - "The Holden House has thought of everything from cookies, all day coffee and tea bar, delicious full breakfast and great rooms. I stayed in the Aspen suite with a cathedral roof over the bed and hand painted sky with clouds and it was so cool. It was a good place to rest my weary head after a day of meetings as I was on business. The bathroom was the cleanest I've ever seen. I'll be back with my husband for a romantic getaway soon. You won't want to stay anywhere else in Colorado Springs. I really liked it and it made me feel home like which I don't get very often when I'm on business."
---
Take a Colorful Colorado Fall tour with Holden House Innkeepers
According to Colorado Parks and Wildlife, Mueller State Park is a popular watchable wildlife area, Mueller is home to abundant wildlife including elk, black bear, hawks, and mule deer.
Mueller State Park has over 5,000 acres of spring-fed meadows, forested ridges and massive rocks of Pikes Peak Granite with several ponds that dot the landscape.
The park supports a variety of plant-life ranging from native grasses and wildflowers to stands of spruce, fir, pine and aspen. Along with the elk, mule deer and bears, many small mammals and birds share the park's habitat.
Visitors can enjoy year-round recreational opportunities including camping, picnicking, trail use, fishing and nature studies. Winter activities include sledding, snowshoeing and cross country skiing.
Every season is a photographers delight. See why this is one of Holden House' favorite spots to enjoy leaf peeping and moderate trails to hike.
For more ideas on what to do and see, visit the Colorado Springs Convention and Visitor's Website
For online availability, visit
www.HoldenHouse.com
and feel free to call 888-565-3980 toll-free for more information.
Reservations can be made personally by phone or 24-hours a day on our website.
Built in 1902 by Mrs. Isabel Holden, the widow of a prosperous Colorado Springs businessman, the
Holden House
is a lovely Victorian inn featuring three adjacent homes decorated with family heirlooms and elegant antiques. We're located on a quiet tree-lined residential street, just a mile from downtown, near historic Old Colorado City and just a few minutes from quaint Manitou Springs.
The inn features six luxury guest suites, and various room features include queen or king beds, sitting areas, private baths, in-room fireplaces, color/cable TV, WiFi, hair dryers, iron/ironing boards, snuggly bat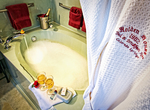 hrobes, private label amenities,
oversized bubble bath tubs for two,
and refrigerators. Our Pikes Peak suite offers a separate living room, kitchenette and private balcony off the bedroom. We also offer 24-hour coffee/tea service and our famous bottomless cookie jar in addition to our delightful afternoon wine social served between 5-7 p.m. each evening. Our full gourmet breakfast includes fresh fruit, freshly baked muffins and a main gourmet entree which include
s one of our award-winning signature dishes such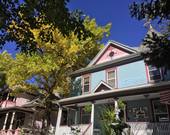 as German Puff Pancakes with Spiced Apples, Southwestern Eggs Fiesta, Ruffled Crepes Isabel or one of our many specialty recipes. We're happy to adapt to special dietary needs if notified in advance. Your breakfast is included in your room rate and served in our elegant formal dining room at 8 or 9 a.m. An optional breakfast en suite is available for an additional Romance package charge and our "early risers" breakfast can be made available for those with an early morning schedule to meet.
We look forward to hearing from you soon!
Sallie and Welling Clark, Innkeepers
Heather, Tracy, Jenny, Sahouda and Connie, Assistant Innkeepers
Holden House offers great packages and specials

throughout the entire year. Whether you're celebrating something special, joining us for a holiday or looking for adventure, we have a package for you!
1102 West Pikes Peak Avenue
Colorado Springs, Colorado 80904
719.471.3980 888.565.3980