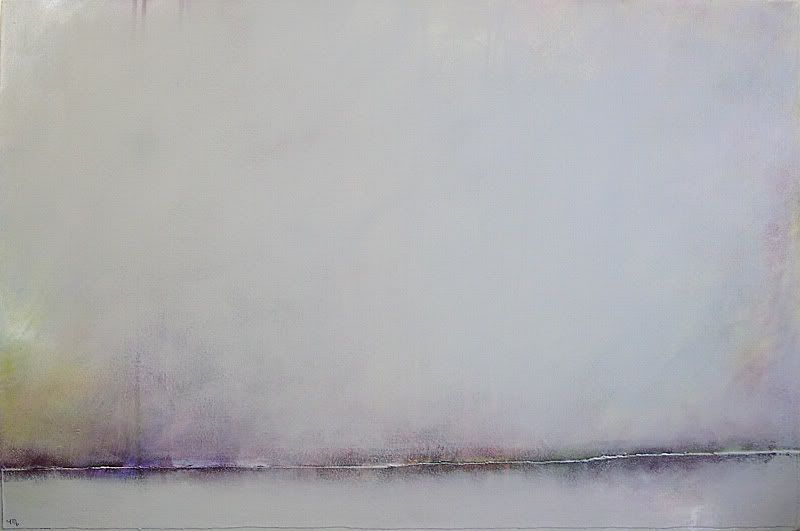 Cold Water, acrylic on canvas 24"x36"  

I rarely stay somewhere more than 4 years, tops. Something from childhood - we moved often. 5 years was the longest that I remember in one place, my high school years home. So now going on 4 years in this house in Greenwich, I'm itching for change! Even the studio falls prey to the itch. Right now all I can think of is a change... a studio back at home is impractical, or another studio at home maybe (like a greenhouse in the garden) is disruptive for my housemates. So my mind roves to moving to the seaside, to anything new and different. A new home...
When I think of home two artists who always come to mind are Lisa Call and Tracy Helgeson - their lovely paintings included here. I'm drawn to their bright bold warm colours. But interestingly whenI paint "home" it's the landscape, while they create houses or buildings. My painting Cold Water is a "home" painting - Chicago by the lake in winter.
This itch is making me think of a building though - a static caravan! Having browsed them for years, bit of a distraction from London house prices, I realised that some areactually suitable for me. The right places, 10 months residency means I can travel the coast or home to Chicago for 8 weeks, and mortgage free if I can save up (because no one would give me one anyway, no doubt). And I'd actually own something. With my proclivity for moving, it means I can move again and still have it to move back for the next itch. Half the space would be the studio (rip out any living room fittings), a bedroom for me, a second bedroom for a sitting room. Call me crazy, but then I can do new "home" paintings of a bit of sea. And even have space to hang the Lisa Call artworks I own and hopefully buy something from Tracy!
So to kickstart the project I'm offering Cold Water, one of the few Lake Michigan paintings left, exclusively to you as a newsletter subscriber! Over 25% off - only £800 (instead of £1100) and that includes international shipping. Click here to buy.
---