Visit Perugia Press at the Book Expo
Sunday, March 29, 2015
1:00 - 5:00 PM
Calling book lovers of all ages! The Festival Book Expo offers a special opportunity to mingle and talk with outstanding authors, publishing companies, writing programs, and booksellers in the Berkshire region, along with other related businesses and vendors. Join us for what is sure to be one of the most memorable events of the 2015 Fifth Anniversary Festival Season, complete with readings, children's activities, raffles, and lots of great books!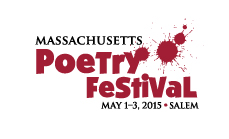 Perugia Press will be at the Book Fair
Saturday, May 2, 11:00 AM till 4:00 PM
Pedestrian Mall between the Peabody Essex Museum
and the Salem Museum Place Mall
(If rain: Old Town Hall at 32 Derby Square)
From Zero to One:
First Books and What We Wish We'd Known
Panel discussion moderated by Karen Skolfield
with Amy Dryansky, Susan Kan, Sarah Sousa, and Michelle Valois
Saturday, May 2 at 12:15 PM
Peabody Essex Museum Library
This event is of special interest to writers submitting a manuscript or about to publish a first book. We discuss the happy but often bewildering aftermath of acceptance: book design, publicity, the vulnerability of being newly published, postpublication contests, second and beyond books, and the importance of continuing to write after a manuscript has been assembled or even published. We also talk about prepublication editing, researching presses, and contests, realistic publishing expectations, and dealing with a difficult publisher. Although the panel focuses on life after an acceptance, we also address the business side of preparing a manuscript. Panelists include a publisher/editor, poets, and a prose writer in various stages of their careers. Discussion is audience-driven—bring your questions!
_________________________________________________
Perugia Press Poets at the MA Poetry Festival
Sunday, May 3
10:15 AM
"Grief & Poetry: Crafting Loss"
 Old Town Hall, 1st Floor
1:00 PM
"From Sappho to Sapphire: Woman Poets on the Sphere of Woman Poets"
    Peabody Essex Museum, Bartlett Gallery
Melanie Braverman
"Teaching as Witness and Transmission: How Poetry Can Be Taught"
   Salem Five Community Room
Gail Thomas
Saturday, May 2
9:30 AM
"Unvarnished: Telling the Truth about Aging"
Hawthorne Hotel Library
2:00 pm
"Queer as Family: The F Word"
Hawthorne Hotel, Essex Room
Winner of the 2015 Perugia Press Prize
Grayling

by  Jenifer Browne Lawrence

Set in the temperate rainforest of Southeast Alaska and the Pacific Coast, Grayling explores the interior wilderness of a woman shaped by and inhabiting the rough country of her upbringing. These trim, lyric poems, structurally and syntactically fresh, follow a compelling narrative thread, as the poet writes back into her circle a father who was both threat and savior, a sister who died too young, and herself as mother. 

 
The specific northwest coastal landscape, memory, and experience weave together as Grayling straddles the faultline between past and present.
One reader likens the poems to "a singing cemetery."
Throughout, Lawrence's voice is confident and patient.
Jenifer Browne Lawrence was raised in Alaska, and works as a civil engineer technician on the Puget Sound. She edits the Seattle-based Crab Creek Review. This is her second book. 
Grayling is due to be released in September 2015.  To order this book or any other Perugia Press title, please visit our Web site.
Perugia Press Prize

: A prize of $1000 and publication by Perugia Press is given annually for a first or second unpublished poetry collection by a woman.
PO Box 60364, Florence, MA  01062