Networking Reception
Thursday evening from 6:00 - 7:30 p.m. join us at "Crave" located by the Mall at Millenia for a great time of hors d'oeuvres, networking and conversation. 
Vendor Corner
Meet and explore new opportunities for curriculum, assistive technology, and more at our Vendor Breaks. 
2010 Distinguished Service Award Recepient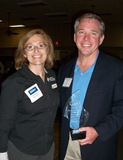 The Coalition of McKay Scholarship Schools, Inc.
5246 Centerville Rd
Tallahassee, FL 32309
Tel: (850) 893-2216
Fax (850) 893-2440
Email:
info@mckaycoalition.com
Expanding Our Horizons
October 14
Fall Conference
Great opportunities abound for you to "Expand YOUR Horizons" at the Fall Conference! 
Information Packed Sessions:
Understanding 504 Plans and How They Fit into the McKay Scholarship;

Helping Our Students Transition to Post-Secondary Life - The College Track or The Vocational Track;

Understanding the Matrix and Helping Prospective Parents Know if They Have the Correct Level;

Becoming a Voice in Your Community for McKay Scholarship;
Nova Southeastern University
4850 Millenia Boulevard, Orlando, Florida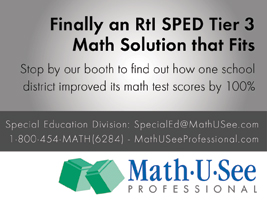 Math-U-See Professional is an RtI Special Education Tier 3 math solution. It covers Kindergarten through Calculus and features manipulative-based instruction through Algebra 1.  Math-U-See focuses on whole numbers, math fluency, pre-testing and progress monitoring.
   Visit the Math-U-See booth for a short demo and a sample packet detailing our case study on how the School District of Albuquerque saw 100% improvement in their SPED department. Visit our booth, 
www.MathUSeeProfessional.com
 or call 800-454-6284.