Being

planned

for March 2022 (Tutors have priority).  Peter Genet will take names of interested parties.
Skillshare

April 2022, Three Trees, Chiseldon
Bike Ride-Outs  on the 3rd Saturday of every even numbered month and the 3rd Sunday of every odd numbered Month. Email will be sent out to Bikers and added to the Forum.
Do you have a topic you would like discussed, or know of an interesting speaker?  Please contact Les Brown at
speakers@wiltshireroadar.co.uk 
Congratulations to the following members who have passed their Advanced Tests recently:
Please welcome the following to the Group
:
Don't forget that we have a range of clothing available to purchase. 
We also offer a range of books, such as Roadcraft, Motorcycle Roadcraft and the Highway Code, and these are available at discounted prices.

For more information visit the Merchandise page of our web site at www.wiltshireroadar.co.uk.
We are always looking for more articles, ideas and news for the newsletter. Have you been somewhere interesting recently that would make a good story? If you attend any group events then take a camera and send us your pictures!

Please forward all contributions to newsletter@wiltshireroadar.co.uk
We're now on
Facebook
AND
Twitter!
Given the increase in the transmission of COVID we have taken the difficult decision to postpone face to face meetings until further notice.  The number of COVID infections is still very high and as of last week 1 in 56 of the population was infected.  Moreover those who are double jabbed are less likely to display the usual symptoms and so can spread the virus without knowing they are themselves infected.
I suspect this will last until the Spring as we are expecting Flu to return over winter and we certainly do not want to contract flu and COVID as I understand this is a very bad combination.  The Committee will continue to monitor the situation and to follow the latest guidance but for now the prudent path is to minimise unnecessary meetings which, I am sad to say, includes our Group meetings.
We will continue to conduct training but please stick to the protocols which are reproduced later in this newsletter.  Please remember if either party is not happy to go ahead with a training session, then there is no pressure to do so.
The Clocks have fallen back an hour at the end of October and I ask you all to be more vigilant.  There is evidence of an increase in Road Traffic Collisions and serious injuries and fatalities amongst vulnerable road users.  The combination of reduced visibility and adverse driving conditions combine to make driving and riding more hazardous.  RoSPA are arguing for all round British Summer Time and their paper can be found
here
All a bit gloomy but it is not all bad.  We continue to have good results in driving and riding tests and we have had a steady influx of new members.  The Committee is also working closely with the Gloucester Group who have a new Chairman and are undergoing a bit of a rebirth.  We are helping, amongst other things,  with car tutor training and Bike advanced tutor training.   Working to our mutual benefit and I am excited about some of the opportunities this will provide.
Bob
Things are changing quickly and so we need to re-think how we tutor, espeically car tutors. The protocol below is being developed, but the main point is to only tutor if you feel comfortable, and to take precautions you feel necessary for your personal safety.
Wiltshire RoADAR COVID Secure Car Tutoring Protocol – As at 27 Oct 2021
T
his is a voluntary activity and both parties (Tutor and Associate) must be content to be in the same car as each other (normally the Associate's car).  It is recognised each individual has their own circumstances and acceptance of level of risk.  There will be no judgement of individuals who do not wish to conduct car training.
Wiltshire RoADAR have a written risk assessment which is available on request.  The mitigation factors listed below are to minimise the risk of coronavirus infection for the Tutor and the Associate.  These are the absolute minimum required and if individuals wish to add their own factors the this is up to them.
Essential Mitigation Measures
No training if either party has displayed COVID 19 symptoms within 7 days or is self-isolating in line with Government guidance (including Test and Trace protocols).

Associate and tutor to have conducted a lateral flow test within 2 days of the training session.  A positive test should be treated as per Government guidelines and precludes training.

Face covering to be worn by both tutor and associate.  These must be in place prior to entering the vehicle.

Ensure hands are clean (washed for 20 seconds and/or alcohol gel as a minimum) prior to fitting face covering.

Tutor and associate must not touch their face when in the vehicle or prior to washing/sanitising hands/ or removing gloves if worn.

Vehicle ventilation system to be on and drawing air from outside the vehicle (NOT on recirculation). Ventilation enhanced by opening rear windows to allow air flow over tutor and associate to go out of the vehicle.

Avoid face to face activity and conduct discussions outside the vehicle where safe and legal to do so.
Recommended Additional Mitigation Measures
Tutor wears disposable gloves when in the vehicle.

Any equipment taken into the vehicle by the tutor to be sanitised post the session (alcohol wipes or a bleach solution)

Associate to ensure vehicle interior is cleaned with sanitiser prior to tutor entering the vehicle.
Wiltshire RoADAR COVID Secure Bike Tutoring Protocol – As at 27 Oct 2021
We must ensure the safety of both the Associate and the Tutor.  The following protocol is to be followed:
Both parties must be happy to partake in the tutoring session – there is no penalty for not wishing to partake provided communication is clear.

No tutoring if either the Associate or the Tutor have displayed symptoms within the last 7 days or are told to self- isolate by the Government Track and Trace protocol.

It is strongly recommended both the Associate and the Tutor conduct a lateral Flow test no sooner than 2 days prior to the session.  A positive test should be treated as per Government guidelines and precludes training.

All must follow Government guidelines on self-isolation and shielding.

Appropriate Social distancing must be rigorously applied. 

Follow Government guidelines for hand cleansing and personal safety – hand sanitiser useful at all times.

Avoid busy locations for meeting, follow the latest Government guidelines for the use of cafes and/or take own refreshments. 

Associates to be encouraged to bring their own copy of Roadcraft and the Highway code for ease of reference during briefing and de-briefing sessions.

Tutor explanations and diagrams to be suitable for understanding from 2 metres.
Advice will be updated as and when it is recieved. But, please follow government guidelines.
AGM - Monday 11 Oct - have your say
Our  AGM was held on Monday October 11.
The link to the minutes can be found here:
AGM 2021
10 tutors from the bike section attended an "Emergency First Aid at Work with Helmet Removal" course on the 24th October! Proudly showing off our certificates after a day of learning and relearning how to deliver basic first aid with a motoring focus.
The day was filled with lots of banter and storytelling of our own first aid encounters.
Having come across several motoring incidences over many years of driving and riding, it is important to know how to deal with a possibly life changing, or life ending, situation. As bikers, we are more prone to being hurt if we come off our bikes simply because we are less well protected than car drivers. Its a simple fact.
This course reinforced things we may have already known, but also provided a lot of updates and changes in how to manage an incident scene and who to look after first.
As well as identifying someone who is suffering from a heart attack w
e also got to practice CPR, how to stop someone from choking and the Heimlich manouvre too.
Thanks to Peter Milner and his two "sisters" at the UAV Centre in Norton St Philip for hosting and providing the venue and superb lunch.
More courses to follow for tutors next year, and any interested members. There will be a small fee for non-tutors.
Travelling in the EU ? you need a new nationality sticker
From 28 Sep 21 if you are travelling in the EU please be aware of the following:
If your number plate includes the UK identifier with the Union flag (also known as the Union Jack), you do not need a UK sticker.
However, you will need to display a UK sticker clearly on the rear of your vehicle if your number plate has any of the following:
a GB identifier with the Union flag
a Euro symbol
a national flag of England, Scotland or Wales
numbers and letters only – no flag or identifier
If you're in Spain, Cyprus or Malta, you must display a UK sticker no matter what is on your number plate.
You do not need a UK number plate or sticker to drive in Ireland
Have you been up to anything to do with Riding or Driving lately? If so, then please let us know as we would love to include it here; photos would be great too!

Mark Sealey took the challenge!
200 Mile Wiltshire Challenge to raise money for Blood Bikes

(Open to car drivers aswell)
A 200 mile circular ride on scenic tarmac roads around the County boundary of Wiltshire in aid of Freewheelers'
Wiltshire & Bath Advanced Motorcyclists extended an invitation to Members, Associates and friends to participate in the 2021 Wiltshire 200 Challenge in aid of the Freewheelers blood bike charity.
https://www.freewheelers.org.uk
The Challenge is a circular route of up to 200 miles, which follows on tarmac roads, the county boundary of Wiltshire. The route takes in the New Forest, Cranborne Chase, the Fosseway, the Cotswolds, the Cotswold Water Park, Lambourn Downs and the Wallops, using a mix of A, B and minor roads.
OnSaturday 23rd October I rode the Wiltshire 200; an initiative from WABAM to raise funds for Freewheelers.
I made a £10.00 donation and received a "roadbook". I had never used one of these before but I know the serious adventure types use them. They look like this:-
Every turning on the whole 200 mile Wiltshire boundary was indicated with details of what the direction post (DP) would say, a picture of the direction to take and the distance from the last turn. 
I clipped it to my screen with bulldog clips and it worked a treat.
I left Cricklade at 9am and followed a route which traced the Wiltshire boundary as closely as possible using tarmac roads. It was a superb route. It included the Lambourne Downs; the New Forest; a stop for a cheese and ham toastie at Wolvercroft Garden Centre (near Fordingbridge); Cranbourne Chase; Zig Zag hill; Bradford on Avon Tetbury. Back to Cricklade at 3pm with 196 miles covered.
I hope to use this as a full day ride in the future.
Mark Sealey
 Driven Ohm Racing
October has been a quiet month for racing for us, as the Combe season has drawn to a close. We have not been idle, however. 
After the issues with the car in August, we now have new wheel bearings and drive shafts fitted, and the car has been checked out when we had an engine remap done early in the month.
The remap which was done on a rolling road and tuning specialist in deepest Somerset, has allowed us to have the fuelling optimised for the set up we have, and we have squeezed another 20 horsepower out, but more importantly we have boosted the mid range power by maybe 20 percent too. This will make the car more punchy out of corners and with the new Limited Slip Differential should improve the drivability of the car and help to continue the lap time improvements we are chasing.
We have our last race of the season booked for November 6th at Silverstone.
As part of the Walter Hayes Trophy, which is a festival for formula Ford cars, they are staging a one hour closed wheel production race. Our Mini is eligible for this, and the event is fun to attend. We ran in the sprint race there last year in the R50 Cooper. It's going to be a challenging race with a pitstop and optional driver change - although we will run one driver for the full race on this occasion.
Keep an eye of our Facebook feeds for updates, and if you have time, why not come along to watch? We should also be allowed to have visitors through the paddock, so come by and say hello.
Follow  progress on Facebook @Driven.Ohm.Racing.
Please check the series website for the lastest details:
Looking forward to the dates for next year
Gary Franks
October Group ride - led by Ruth Mitchell
It was with a small amount of trepidation that I pulled into the meet point for the September group weekend ride out. This was my first time as group lead and I had invited both my lovely associates to come along. I was honestly expecting 4 or 5 to attend so was really pleased at seeing a row of bikes parked up ready – along with a couple of 'significant other' pillion riders.
We were heading over to my current favourite spot; the Podium Cafe in Newbury, for in-house roasted artisan coffee and a spot of super-car window shopping. Honestly, what is there not to love about Podium Café? Add in a varied route with some stunning views across the Lambourne Downs and it is the perfect weekend ride out. 
The weather behaved, with dry roads and fantastic views from the downs. There are some lovely sweeping bends with excellent forward views between Lambourne and Wantage (plus a 50 speed limit to practice impulse control!!) then some enclosed, twistier roads heading into Newbury through Snelsmore Common. For me, this route has everything necessary for a very enjoyable, satisfying ride with plenty of opportunity to challenge riders of every ability.
I think I can safely say we all enjoyed refreshments, chat and some 'if I won the lottery' thoughts in the car showroom. The ride home was a little frustrating as the roads from Newbury – Hungerford had a high traffic load due to the M4 being closed. 
I had a great time and hope that everyone who came along did too. If you've not yet joined one of the monthly group rides please do. It is a great opportunity to experience safe, progressive advanced riding with a friendly group of like-minded people. 
Thanks so much to everyone who came along!
Camping in Wales - in October!!
A well planned trip by Steven Hyde, saw two of us head to Pencelli Castle camp site one Friday evening in October. Trouble was the two were Mark Sealey and Peter Genet! Mr Hyde couldn't make it in the end!
Mark arrived first at the site and after pitching his tent, he took off for a ride around the area. Then, around 6.30pm, Peter arrived just in time to pitch before darkness fell. After learning the local pub was closed due to a Covid ping, we decided to walk the two miles along the canal path to Taly Bont for dinner.
The next day we rode all the way to St David's; along the A40 (which is actually a very nice road), to Newcastle for a tea and cake stop. Meandering along the Gwaun Valley - another narrow single track road which Mark has a knack for finding, we ended up at Dr Beynon's Bug farm for lunch!  We sampled a bug burger and a plate of Chilli con Cricket!! You really do have to try this!!
After lunch, we posed outside St David's Cathedral, before heading back home. 
The ride was around 4.5 hours to get there; 
It was only a single night away, but good to get probably the last camping trip in for this year!
Thanks for organising Steven. Hope you can come on the next one you organise - which is already in the planning stage!
Peter Genet
Please let us know of any plans you may have; any road trips, any places to drive/ride to; maybe you have plans to unicycle the length of the UK - if you are planning this, please let us know as this would be great to read about!
Books!
Updates to Roadcraft are here!
Motorcycle Roadcraft is the police handbook for rider training. It's used by all the emergency services and forms a key reference for riding instructors.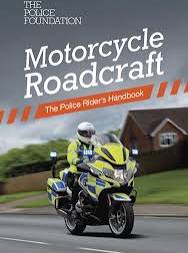 Updates for this new edition include a new overtaking chapter with separate sections on passing stationary vehicles, single stage overtakes, and multi-stage overtakes and new explanations of advanced concepts, such as limit points on left-hand bends. Guided by a working group of experienced instructors, Motorcycle Roadcraft is essential learning for police officers preparing for the demands of operational riding.

Roadcraft is the police handbook for driver training. It's used by all the emergency services and forms reference for driving instructors.
Updates for this new edition include a new overtaking chapter with separate sections on passing stationary vehicles, single stage overtakes, and multi-stage overtakes and new explanations of advanced concepts, such as limit points on left-hand bends.

Guided by a working group of experienced instructors, Roadcraft is essential learning for police officers preparing for the demands of operational driving.
We do have a few of the old Roadcraft books for both Cars and Bikes - if you would like one, please get in touch with the membership secretary. For these books we would appreciate a donation of £5 to the group which is less than half price. 
The Results of Advanced Training - research results

Transport behaviour and safety consultants Agilysis were commissioned by IAM RoadSmart to investigate the benefits of advanced training for motorcyclists.  Given the results I think it is safe to say the same would be true of car training as well as it refers to the attitude mainly as opposed to just the skill increase.  In short, although not completely conclusive, advanced motorcyclists:
Have fewer collisions per mile
Are less likely to be hostile to other road users
Are more likely to stick to a posted speed limit
Are less likely to approach a bend too quickly
Tend to ride faster and have better judgement on appropriate speed- may be due to more confidence
Are more likely to be involved with their local community
Are less likely to be involved in right turn "loss of control"  and rear end collisions.
They have more single vehicle collisions although the reasons for this were inconclusive.
Please see the report
here
Promotional activities
Wiltshire Police have proposed dates or BikeSafe:

Plan for 2022 on way! 7 dates to be announced!
We will be supporting Wiltshire Police with BikeSafe both with tutors to make up the instructor numbers and to help promote the Group.  We do this in conjunction with WABAM so it is a great way to reinforce advanced riding and to gather new members.
I
f you have any ideas for events, then please get in touch with the committee using the committee email address
:
Look forward to hearing and discussing your ideas.
A generic set of slides has been created for use if you are asked about Wiltshire RoADAR and have the opportunity to present. This could be at a local club, workplace etc. Please send a mail to committee@wiltshireroadar.co.uk  
and the slides will be sent over to you.
We also have flyers and business cards so ask for these via the same means

This was held on 24 Oct and was a success. Tutors will still have priority, but the next one is in planning for next year, hopefully in March. Dates to be decided. 
Please message Peter Genet if you are interested on petergenet@btinternet.com 
Media coordinator - Help us to broaden our reach

To help promote the group we have a variety of online media platforms, FaceBook, YouTube, Instagram and Twitter. To help make the most out of the opportunities that these outlets provide, we could use some help from someone who has experience of using such tools. Drop me a line at secretary@wiltshireroadar.co.uk  if you would be interested in helping promote our group.
Committee minutes 
These are available from the Group Secretary if any member wishes to see them. If you are interested in reading the minutes, then please send a mail to the Group Secretary whom will promptly forward them onto you.
Forum
Please could all Members use the Forum on the Website which can be used for any purpose but particularly coordinating events, hints, tips and general conversation.  It is easy to register on the website so please do log on and chat away.
Test results 
Reminder to let the Membership Secretary and your tutor know when you have taken your Advanced Driving/Riding Test and result. This is so our database is kept up to date; there is no need or pressure at all to have the result published on the website or in this newsletter if you wish to keep your result confidential.