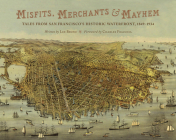 LEE BRUNO
Misfits, Merchants & Mayhem: Tales From San Francisco's Historic Waterfront, 1849-1934
Thursday, February 22 at 7 PM

Join us for an evening with Lee Bruno, author of Panorama, who, in his new book, explores nearly a century of San Francisco's waterfront history, ranging from the Gold Rush to the Jazz Age. Hear the tales of enterprising entrepreneurs; reckless financiers; tireless reformers; visionary architects and city planners; and bohemian artists, musicians, and poets who all heeded the call of promise – creating the institutions, corporations, and cultural fabric of this great city.
---

LOUISE NAYER
Poised for Retirement: Moving From Anxiety to Zen
Wednesday, February 28 at 7 PM

Writer and educator Louise Nayer shares her journey as she makes the big decision to retire. Her new book will appeal to anyone about to retire or has recently retired. She will discuss financial planning and practical advice for retirement, and share interviews and exercises that can help readers find happiness and calm during this huge life transition.
---