Laser Training Cabarete

Cabarete, Dominican Republic

.

September 2018
In this issue:
* Measure yourself against the fastest Laser sailors in the world.
* Clinic dates and coaches, Winter 2019.
* Separating the tactician from the helmsman on a Laser. Guest expert.
* Preventing the foot from flapping on the MKII sail.
* The perfect traveling bag for a Laser sailor.
* Laser is the fastest growing sailboat class in the world.
* Why Cabarete?
---
Measure yourself against the fastest Laser sailors in the world.
The fab four AKA British Laser squad including Elliot Hanson ranked 6th, Nick Thompson 7th, Lorenzo Brando Chiavarini 9th and Micky Beckett 11th will be training in Cabarete in early January 2019. In the past, the British sailing squad included gold medal winners Sir. Ben Ainslie
and Mr. Paul Goodison, and having four sailors from one nation so high in the World Sailing ranking today is a continued proof of excellence.
Watching Laser medal races on Youtube is a helpful tool to improve, but all ten sailors seem to be rather equal. If you ever wanted to sail right next to top sailors in a friendly, and casual environment, the
17th Caribbean Laser Midwinter Regatta
taking place on January 18th-20th, 2019 is your opportunity. You will be right next to these stars in their pre-start routines, feel how fast they accelerate off the line, and understand the kind of
concentration
needed to elevate your level.
On Saturday, after two days of racing, the GBR team coach Chris Gowers will host a Q&A session. Chris's CV is as impressive as it gets, having coached world champions Ben Ainslie, Paul Goodison, Nick Thompson, and Alison Young.
---
Clinic dates and coaches Winter 2019.
Nick Thompson, two time world champion:
January 3rd to 7th, 2019.

January 9th to 13th, 2019.
Nick's ability to break complicated aspects of boat handling, strategy and tactics to simple one-section-at-a-time is unparalleled. Every clinic includes on the water

demonstrations

by Nick for easier understanding and "copying". Video analysis and medal race reruns complete this all-around opportunity for growth.
The best way to summarize this opportunity is by quoting last year's participant Peter Hurley (USA), who repeatedly said: "even if this is the only new thing I learned here, it was worthwhile coming". Peter came for the first clinic and stayed for the second as well.
Clinic including coaching and charter of Laser hull, blades, spars, and dolly.
Ice-Blue boat with composite upper mast $1,690.00
White boat with new upper and lower alloy masts $1,390.00
Under 25 years old? Enjoy our youth grant and pay only $1,190.00
Coach Rulo:
January 14th to 17th, 2019. Pre-race clinic.

February 12th to 16th, 2019. High performance Wave clinic.
Taking a break from traveling the world as a coach of the very

successful

U.S. Olympic Youth Development Program, Rulo will bring the latest

approach

of tactics and strategy in Laser racing. His on the water attention to detail makes it clear why Rulo is such a sought after top level coach.
December 26th to 30th, 2018. Christmas clinic.

January 24th to 28th, 2019. Master's clinic.

February 5th to 9th, 2019. Master's Clinic.
By public demand Judith Krimski is coming for a third year of coaching. She loves sailing, loves coaching and according to her dedicated followers makes them feel as if it's a private clinic even though they are sailing in a group.
---
Separating the tactician from the helmsman on a Laser. Guest expert.
What goes through your mind when having to decide in a split second whether to duck or tack on Port?
Psychiatrist and champion sailor Dr. Bruce Wallerstein will be a guest expert in our clinics this coming January. Dr. Bruce plans to focus on the inner turmoil which struggles to interact between different elements of the personality. He will look at the schizophrenic nature of the problem and how it develops the role model for the two crew members, the helmsman and the tactician of singlehanded racer.
Dr. Bruce in his own words: "essentially I will be looking at the preparedness for a race from a different aspect from that of checking on the boat's stability and stoutness to assessing the mental stability and makeup of the racer. To understand that at some point in a singlehanded racers' life it is ok to have a schizophrenic as your crew.
I won't be presenting as a sport's psychologist but as a psychiatrist with more than 40 years of sailing racing experience, working these two disparate parts to help the sailors enjoy the sport of sailboat racing and to stand in a better position on the podium if that is what they want to do."
Sounds deep and sophisticated? Probably is, but Dr. Bruce's explanations are very clear and communication with him is simple because he knows what goes through our minds during a race from his personal experience, and it reflects in the examples he gives.
---
Preventing foot flapping on the MKII sail.
Apparently

the MKII sail has been improved a few times since it was first launched. One of the issues sailors complain about is the foot flapping between tack and clew.
World champion Pavlos Kontides's (CYP) sail folds differently than the way the North Sails arrive. North Sails tend to come with a very deep crease in the

reinforcement

patch of the clew. Kontides's sail shows the crease on the tack

reinforcement

patch leaving a smoother leach.
The best solution we found so far for a better looking MKII sail is to keep it rolled for at least two months before use, to allow it to "forget" the factory folding. Then fold it wide with no fold at all below the window. (This means the sail will not fit in the original blue bag the sail currently comes in).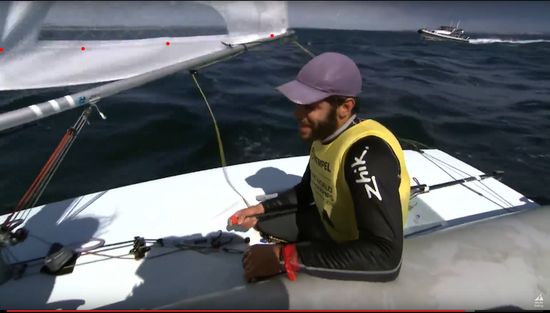 ---
A perfect traveling bag for the Laser sailor.
The best bag we found for a Laser sailor who travels to races is one that is originally made for inflatable paddle boards. Not only does it fit a wider folded sail as

recommended

above, it fits all sailing clothing, lines, and most importantly the tiller. Why the tiller you ask? Because one can easily board a plane with just the carbon extension claiming it's a walking cane. Walking canes are generally allowed through security, and can board planes.
The inflatable SUP bag can fit the rudder, but not the daggerboard.
Such bags with wheels

usually

cost $190.00, but we have them in Cabarete on sale right now for $69.00. One more reason to come and sail with us.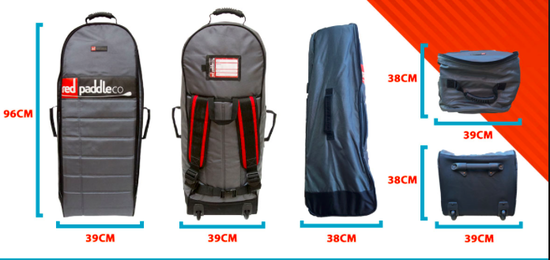 ---
Laser the fastest growing sailboat class in the world today.
Dublin, home of the first ever one-design racing sailboat,
the Water Wag circa 1887,
was the perfect setting for one of the best Laser Masters Worlds ever, that ended on September 15th, 2018.
The class never looked so strong. Over 300 participants from 25 countries, and most importantly -- a lot of new faces. Ninety nine races were held for all age groups, Radial, full rig, and not one protest was filed.
Although the Laser is almost 50 years old, it is still the fastest growing sailboat class in the world with over 2,000 new boats sold every year.
World champion Steve Cockerill (GBR) owner of Rooster Sailing and a very important sponsor of the Laser Master Worlds shared his take on what makes the Laser so special and challenging: "The rudder blade is too small which makes steering difficult in stronger winds, the main sheet can easily get stuck on the stern when jibing and the boat is so hard to sail it feels as if one is pushing water". In other words, one has to be a very good sailor, agile, strong and fit to make the Laser happy.
We used this newsletter in the past to voice our frustration with ILCA, but feel it is time to give credit where credit is due for such incredible growth. Chapeau also goes to the Irish hosts of the Laser Master Worlds, or as the new inductee to the Laser hall of fame Jeff Martin likes to say: "Hip Hip Hurray!"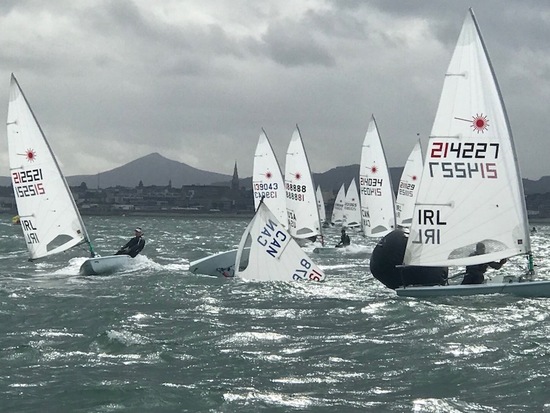 Dublin bay is one of the most challenging places for a regatta due to sudden shifts, gusts, tide, chop, and cold weather.
Photo by David Kelly, Chairman 2018 Laser Master Worlds, Dun Laoghaire, Ireland.
---
Why Cabarete?
If you wonder why top Laser sailors keep on coming to Cabarete, the answers are simple:
1. Every day offers different conditions thus never allowing sailors to get comfortable or bored.
2. Cabarete conditions are similar to the next two world championship venues at Sakaiminato-City 2019, and Melbourne 2020, and most importantly the Olympic sailing venue in Enoshima Japan.
3. No waste of time. The boats are ready to go at the water line, the sailing is immediate with no need to get out of a channel or a marina.
4. New Ice-Blue Lasers with composite tops.
5. Kiteboarding and windsurfing rule the waters. Seeing 300 kiteboarders on the leeward side of the bay makes a very impressive setting.
6. Learn to surf before sailing, and other family trips and

activities

near-by.
7. Easy flights to Puerto Plata (POP) and Santiago (STI).
8. Many different accommodation options such as all-inclusive resorts, beachfront hotels, hostels, and Airbnb.
---