Adult pantomime or fractured fairy tale?

You'll have to buy a ticket to find out.

Come laugh at your friends: Jack B Nimble (Matt Bowden), Jill Goose (Lyn Savage); Billy Goat Gruff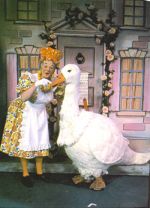 (Gordon Floyd); Butterfly (Shae Savage); Pussy in Boots (Lisa Macdonald); Pandora the Magic Goose (Kaitlyn Birkett); Simply Simon (Larry Woods); Georgie Porgie (Ian White); Fishe and Chippes (Andy Moy and Paul Burchall); Raggedy Ann and Raggedy Andy (Sophie Peet and Josh Elliott); Tiger Moth (Lizzie Brand); Mother Goose (Kez Borthwick-Bolton); Little Dog Who Laughed (Sassy); and the 'Orrible Squire (Brian Franki).

Five shows only: Friday 25 July, Friday 1 August and Saturday 2 August at 8pm; and a special G-rated kids matinee Sunday 27 July at 3pm.

Tickets available through Brian Franki at The Point, Lizzie Hazelwood on 9999 6871, or John and Melanie at PMC Hill, 9999 4902. Adults $15, Concessions $10. Special tickets for kids attending the matinee only $5.