This is the season of transitions. During this time of year we transition from Pesach to Shavuot, from slavery to freedom and redemption, from leaving Egypt with nothing we couldn't carry to receiving the Torah. We also transition from the cold of winter to the warmth of spring and summer, from short days to long.
And we watch as our children transition from one grade to the next, from middle school to high school, from high school to college, college to young adulthood — and from being our babies in the families we formed to forming families of their own.
All of these transitions are cause to celebrate and be joyful. So we will celebrate the middle school and high school graduates on June 3. We will celebrate another successful year of Torah Club on May 20, and we will look forward to celebrating aufrufs with the Saiger and Bernat-Kunin families as well as the bar mitzvah of Josh Weissman over the summer.
May we merit many more reasons to celebrate as a community together.
---
On Shabbat, April 29, we held our Library Minyan Annual Meeting. Thank you to everyone who attended, all who gave presentations, and especially everyone who offered their insights, ideas and questions.  If you have any additional insights, ideas or questions you would like to share, please feel free to contact me at
rosh@libraryminyan.org
.
Celebrate Israel through Poetry on
Thursday May 4
at 7:30 pm with Baruch Link
In this poetry reading, lecture and discussion, we will study how love and war are depicted in Yehuda Amichai's poetry. Amichai's poetry offers a compelling perspective on the national context of the time including the War of Independence (1948) and the Six Day War (1967). 
We will concentrate on how Amichai uses the modern Hebrew language to create his poems and express his views. The lecture and discussion will be in English, and we will also read and use the Hebrew texts.
—Baruch Link
Team TBA Cheered at JWW Walk/Run to End Genocide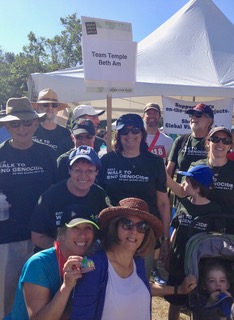 More than eighty marchers from TBA took part in the 11th
 annual Los Angeles Run and Walk to End Genocide on April 30
. Team TBA was cheered as the largest delegation in the event sponsored by Jewish World Watch. TBA's team organizer, Dianne Shershow, was recognized from the podium for her many years of service in helping to organize to the Run/Walk. Henry Morgen was also recognized for being an outstanding online activist.
Kol Hakavod
to all the Team TBA participants who participated in the 5K and 10K Runs and the 5K Walk!
Jewish World Watch sponsors this event each year to help raise vital funds and awareness about genocide and mass atrocities affecting the lives of men, women and children. In ongoing initiatives in the Darfur region of Sudan and the Democratic Republic of Congo, JWW works with qualified partners on the ground to develop projects that improve lives, increase safety and empower survivors to build a better future. People served by these programs include thousands of rape survivors, war-orphans and former child soldiers.
On a personal note, as a newcomer to Los Angeles and a new TBA member, I felt very proud to take part in this important event in which the Jewish community of Los Angeles reaches out in acts of gimilut chasidim towards needy populations around the world. I look forward to many years of participation.
It is not too late be part of Team TBA's fund-raising effort. Just click on:
walktoendgenocide.org/la/Donate
. 
Look for Temple Beth Am under the "Donate to a Team" button, and make your contribution. Or you can send a check to: JWW, 5551 Balboa Blvd., Encino, CA 91316. 
— Diane Herman
Shavout in the Park with Cheesecake
Our traditions help anchor us and keep us connected. So in the spirit of keeping a beloved tradition going, the Library Minyan Diaspora Potluck (DPL) team will once again be coordinating a potluck dairy picnic following services on the second day of Shavout, Thursday, June 1 at La Cienega Park.
Plan to bring a dairy lunch and a blanket, plus a dessert to share. Supervised childcare will also be provided. Please contact Michelle at
michellekwolfla@gmail.com
or Deborah at
deborahblum12@gmail.com
 if you have of a teen who wants to help out with childcare (and receive a small honorarium and community service hours). Also, we are looking for a volunteer to share a D'var Torah and also one or two people who can lead us in singing.
— Michelle Wolf & Deborah Blum
May 20 — Torah Club Celebration & Kiddush
May 31 — 1st Day Shavout combined service (chapel)
June 1 — 2nd Day Shavout service (chapel); picnic in La Cienega Park
June 3 — Graduation Shabbat 
July 22 — Kiddush honoring Lida & Paul before their Aliyah
The now-traditional Graduation Shabbat will take place in the Library Minyan on June 3. Both middle and high school grads are being honored on that date, and will participate in the service.
Parents of the graduates should contact Melissa Berenbaum, who is coordinating this year's event, at Melissa_Patack@mpaa.org.
Recently Henry Morgen contacted us to find out if he could find a new home for some Library Minyan material he no longer wants to store. I took it off his hands, scanned most of it (thanks to Alan Broidy for the use of his fast scanner) and posted the resulting PDFs on our website,
here
. 
I am happy to do this for any other archival material related to the Minyan that other members can provide. 
VISIT US ON SHABBAT
Mishna study 9:20
Tefillot begin 9:45
Temple Beth Am
Dorff-Nelson Chapel
1039 S. La Cienega Blvd, 90035