Den egensinniga Malmö kraut rock grunge surf power trion Toi Let har sina rötter i Sandviken och drar sig inte för att slänga bensin på rivaliteten mellan Sandviken och Gävle. Bensin uppviglar de även allmänheten att slänga på bocken i Gävle, som de nu hoppas äntligen ska brinna igen. Idag släpps den hårdaste och svängigaste jullåt du kommer höra i år.
Skivbolag: Adrian Recordings
Ljudbilden är skönt skitig. Hur jobbar ni för att hitta rätt känsla?
Vi jobbar inte stenhårt på det men ljudbilden är till rätt stor del upp till vår producent Emil Isaksson på Studio Möllan i Malmö. Han vet hur vi vill ha det och löser det.
7 jan: Mess on the Horn – Mässingshornet - Malmö
Det genuina med Toi Let är hur de fått verka i total avskildhet under de år de varit verksamma. Att i skymundan av alla andra band som medlemmarna är inblandade i YAST, Nightmen, Marcus Norberg and the Disappointments, DÖDEN etc, som alla kanske gått lite bättre, bara få spela och utvecklas på sina egna villkor, utan press, i total egenhet, det är få artister som gjort det så fullt ut. De är särarter. De väljer att spendera otaliga timmar tillsammans i en replokal bara för att de gillar det. De skriver musiken ihop och de har nu sammanflätats totalt. Det blir egensinnigt, monotont, gränslöst, humoristiskt, kompromisslöst. Det fulländade resultatet av detta kunde vi bl.a. höra på förra årets självbetitlade EP innehållande bl.a. låten "Leatherman" och The B-52's covern "Give Me Back My Man".
Vad är det som händer när Toi Let strålar samman i en studio?
Ja, det man gör mest är ju att vänta på att Emil ska ställa in ljud och skit så blir ju mycket mobilspel och sånt. Mycket tid går ju åt till att välja lunch också.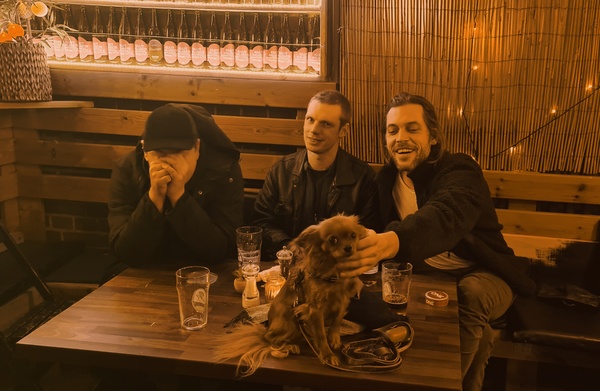 Ok, Boys and girls,
here's a christmas carol for all of you
Let me now tell you WHY it happened, and then HOW it all played out.
first of all, I have never been able to see their smug faces.
All they have have is their stupid goat and their posh mentality.
I mean, they took our hospital but they can never take our pride.
Me and they boys were drinking pretty heavily in Björksätra and then we started talking about how one brave person has tried it all before.
Back in 1869 we almost made the dream come true.
We thought why couldn't we do it? Why not tonight?
And let's start with that ugly goat!
So we packed some gasoline and cigarette lighters and stumbled our way out to our car
I was going to be remembered like forever.
I was gonna become the GOAT BURNER
I can't remember riks 80 at all but when I finally got up to the goat I drenched it in gasoline.
All of the sudden there were blue lights everywhere and I was in a hurry.
Get this piece of shit goat burning and the rest will follow.
I started the flame and then took of. Behind the library the pigs got to me but they didn't put ot the fire.
The fire within me.
(The fire within me.)
I am the GOAT BURNER