With the last race on the 4th of July marking the start of a 7 week break from racing I have been very busy with instructing work, split largely between Porsche at Silverstone and Mercedes at Brooklands.
Alongside this, Tom has had his work cut out at race HQ with a growing stable of Formula Ford drivers, and maintenance work on my race mini.
The July meeting was mixed for me. We did a day tyre testing a week or so before the round, and had found a good set up from there. We were confident of a strong performance. Tom and I have been discussing my need to get my elbows out a bit more in the races.
The first race went well, with me in a good battle amongst the other Cooper S cars. I gained another 4th place finish, but a much more confident performance, with some robust moves to overtake people and stick close on the heels of the 3rd place finisher.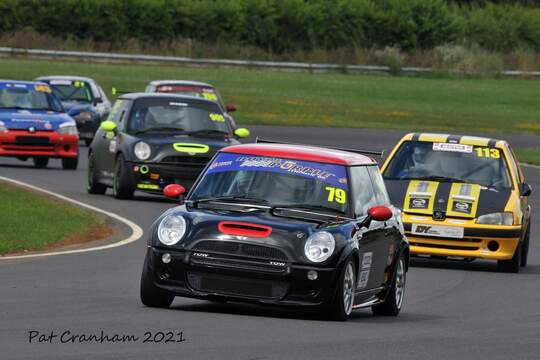 The second race started well, with me more determined not to yield quite so much pace especially when the leaders came by to lap us. However, as I gained confidence and pace, I allowed myself to get a little greedy. Chasing another R53 Cooper S I was pushed a little wide going into Camp, as another car made a late lunge to overtake. This is racing, and I continued on, but I had lost ground to my nemesis in the other R53.
At the next lap I watched the car who had passed me line up the other Cooper S in exactly the same way as he had lined me up a lap earlier. I knew what he would do, and that the other Mini would lose pace as I had a lap before, so I tried to close up to take advantage of what was unfolding in front of me.
Sure enough, as they turned into Camp, the other car dived inside the Cooper S and pushed him wide, as I expected. Unfortunately I mis-judged my corner speed and ran wide onto the grass on the exit of Camp. After a few hairy moments trying to control the car over the grass I rejoined the track, having lost touch completely with my opponent. 
I didn't notice the engine temp race up as the radiator was blocked with grass that I had picked up, but Tom signalled me to pit and we retired the car. 
Unfortunately the engine was seriosuly damaged, subsequent investigation has revealed a warped cylinder head.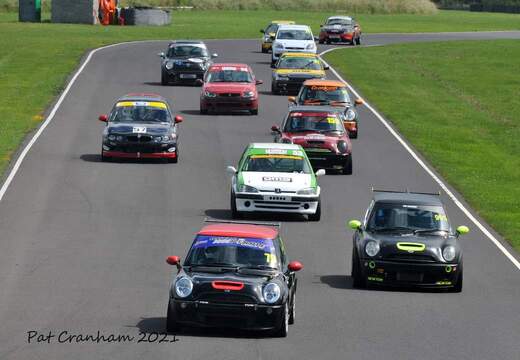 The summer break has been put to good use though, as we sourced a younger replacement engine and expect to be ready as planed for another race on Bank Holiday Monday, August 30th. Tom and Paul from Cotswold Motaquip have done a great job in getting my race car back up and running.
The final round will be on September 18th. I am on course to complete the season and have a top 3 finish in class firmly in my sights. I am happy with this prospect in my debut season in this class.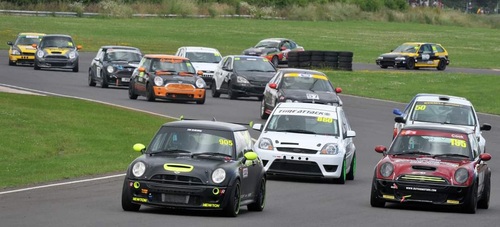 After the last Combe round we plan to enter the Walter Hayes Trophy at Silverstone late in October, perhaps with both Minis.
We already have an eye on 2022, with a few interesting developments we hope to play out. The quest for sponsorship continues, and we hope to host more arrive and drive customers in the spare car (or cars) as well as hosting guests at track days where normal licence holders can sample our race machinery under professional instruction.
Exciting times ahead, onwards and upwards!