Notices for Offshore Residents of Pittwater, Australia
September 2009
---
Author Talk@ Mona Vale Library

My Brother's Eyes.
The true story of surviving 16 years in a destructive cult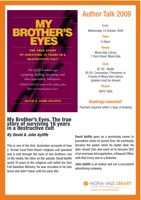 By David & John Ayliffe



Date: Wednesday 14 October 2009
Time: 6.30pm
Venue: Mona Vale Library
1 Park Street, Mona Vale

Cost: $7.50 Adults
$5.50 Concession / Pensioner or Friends of Mona Vale Library
(passes must be shown)

Phone: 9970 1600




Click Image to load Flyer


Bookings essential!
Payment required within 3 days of booking

---
Council Proposal to Prohibit Drinking at Church Point....




A point of view from a 'local'....


People have congregated at the point to associate freely, worship and eat and drink ever since white settlement and likely before. To describe this as 'historic' and then propose the annihilation of such freedom in the fresh air - on the basis of mere 'anecdotal' reports of minority misbehaviour is appalling.

Why, when the council is winding back such regimes elsewhere, out of respect for resident's ability to act like adults around their own homes, are we the exception? We, the most celebrated long-standing and unique community of all.

Take away the right to be adults - with all associated rights - at our one meeting place and you take away the heart of a good people.

Why should we – the majority - pay for any misdeeds of a few? Instead of criminalising the behaviour of citizens - who've already humbly adjusted to night-time limits - why not police such issues (should they, indeed, be real).

If you really are failing – with rangers and police – to prevent one or two individuals acting up, how will you manage to stop a community doing what it has for hundreds of years without ill effect? Will such disparity assist in yielding respect and integration amongst people, government and enforcement bodies?

And will this punitive regime suddenly be suspended on Christmas Eve as thousands of locals and tourists converge – with international media – for the dog race (entry cost and prize – food and BEER) that is such a brilliant example of our generous, playful and inclusive nature? How will that effect subsequent obedience if – at the one most potentially dangerous and important moment – no-one wishes to embarrass themselves acting like petty enforcers of a nanny-state?

This is not the Pittwater I thought I knew – the one I grew up in, proud. In tandem with absurdly onerous proposals to the (hitherto free) cost of make parking a tinny and a car out of reach of unpaid community workers like myself (and half the existing populace), you now seek to enact a cruel law that will cripple our communities' one place to come together and socialise.

I guarantee you there have been less issues of anti-social behaviour at the Point than in any pub. Yet it seems you'd rather herd our mob (via cars or very little public transport - and none, even water taxis now, after midnight) out of the fresh air and into faraway premises filled with impersonal gambling apparatus' and the like. God knows, the beaches has a bad enough drink-driving problem as is.

Shame on whoever proposed this in the first place and shame on any who have allowed it to proceed without raising these very issues. Should this get up you will have disenfranchised some of the greatest folks in the whole region – at great, ongoing, cost. Look at the Watermark Open Studios event last week! It did us – and Pittwater as a whole – proud.

Grow up, council, and show us some trust, leadership and respect.


---
Background


Council at its meeting September 7, 2009 resolved to place on public exhibition the proposal to prohibit the consumption of alcohol at Thomas Stephens Reserve, Church Point for 24 hours a day.

The closing date for comments on the public exhibition is

Friday, October 30, 2009

and submissions can be addressed to The General Manager, Pittwater Council, PO Box 882, Mona Vale NSW 1660

or, you can go to this link: Pittwater Council-Public Notice - Thomas Stephens Reserve

If you require any further information regarding the proposal please contact Mark Eriksson, Landscape Architect Principal Officer on 9970 1356


---
tracy smith
passages

opening night
wednesday october 21
6–8pm

exhibition
october 20–november 3


28 Queen St
Woollahra 2025
02 9363 9892

khp@galleryat28.com.au
www.galleryat28.com.au

GALLERY @ 28



Click Image to load Flyer
---

Dear Wine Lover!

Welcome to Spring! The Pittwater Wine Syndicate, in association with our experienced wine tasting experts around Australia, is pleased top bring you the Spring offering of fine wines. Another great selection for you to taste, carefully chosen to suit our climate and our pockets....

This tasting is at Paul and Joy's 'spacious' boatshed in Elvina Bay (three jetties around on the South side of Elvina Bay). It is on, rain or shine. After all, someone has to drink from the tasting bottles :)

Please download the tasting notes, PRINT them to bring with you, together with a tasting glass and some of your delicious nibblies for us all to share.

Please, download the list from here: CLICK

If you already have a copy of the tasting notes/price list/delivery instructions, remember to add 'Pittwater Offshore' as the place where you tasted the wines. We ask this because it means that at the next tasting we get a plentiful supply of tasting bottles...

We are looking forward to your company. One last comment - we may look professional, but the truth is the whole organisation, from the top down, is totally organised by volunteers.

But please pop an entry in your diary for

SUNDAY, October 18 2009

. If coming from Scotland Island or elswhere in Pittwater, please feel free to moor/raft up at Paul and Joy's Jetty.

Best Wishes - your committee

If you want further information, you could ring Greg Roberts

9979 5228, George Gaal

9979 9141, Julian Muir 9999 4449, Paul Purvis

9979 9667 or Alan Gaines

9979 2070

Want to tell your friends about our little private tasting? Go right ahead. Get them to subscribe to our notification newsletter by visiting:

http://www.wine.hostcell.net/


---