---
---
Contents

---
---
SIRA

Notices
Urgent

Submissions & Survey for the Pasadena PSA liquor licence (submissions close Jan 1, 2020)
The Present

- The Pasadena is a licensed restaurant with a capacity for up to 164 people



The Future

- The Pasadena has applied to Liquor and Gaming NSW for Primary Service of Alcohol (PSA) Liquor License with the capacity to

serve 350 patrons

, with extended hours Monday to Saturday from

5am to 12am (midnight)

and Sundays 10am to 10pm.



A PSA License allows patrons to purchase alcohol without needing to buy food and can be served both inside and outside the restaurant (similar to a beer garden)



What you can do
Do your own submission to the Liquor & Gaming NSW (most important) – see below
AND

Complete the 1-minute confidential survey NOW, so that SIRA can be better ascertain the views  of the community in order for SIRA to make a more informed submission itself
To make a submission either:
Email your comments to submissions.licensing@liquorandgaming.nsw.gov.au, referencing application 1-7616999608, ….

OR

If you wish to make a more formal submission click on this form, fill it out (referencing application 1-7616999608) and either email it to  submissions.licensing@liquorandgaming.nsw.gov.au, or mail it to "The Board Liquor and Gaming at GPO Box 2060, Sydney, NSW, 2001",  …. OR
Write your own letter to above address (referencing application 1-7616999608)
Please cc the following in your submissions:
If you have a view on this PSA application, it is important that you make a response by 1st of January
---
Bushfire Support
Vegetation Collection
Pick up is on Tuesday, 17 December, 2019

Residents of Scotland Island communities

Further to the work undertaken to reduce fine fuel in your community, Council is working with URM who will be
delivering a vegetation collection to Scotland Island next week.



What do you need to do?



Present your vegetation in tied bundles or a hard-sided container. (as per image above)


Material presented in plastic, hessian bags, cardboard or foam boxes and untied bundles, will not be collected.



Place your vegetation in the road reserve outside your property for collection


Ensure a three-metre gap is left on the road to allow trucks to collect the vegetation


Pick up is on

Tuesday, 17 December, 2019

.  Please put your vegetation out by the evening of Monday, 16 December, 2019.
Who can I ask for more information?



For more details contact Scotland Island Residents Association Cass Gye on 0418 220 107 or Northern Beaches Council Natasha Schultz 9976 1590.

For the latest information on the bushfires, visit www.rfs.nsw.gov.au

Kath Mckenzie
Executive Manager Community Engagement & Communications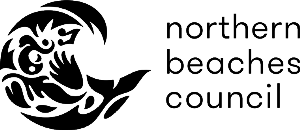 Community Engagement & Communications
kath.mckenzie@northernbeaches.nsw.gov.au



---


Dear Resident,

Bushfire risks for Scotland Island residents – being prepared
The Scotland Island Rural Fire Brigade is hosting a

Community Meeting

on

Sunday 15th December at 10am at the Fire Station

. All residents are invited to attend.
We will provide an update on:

The outlook for the current fire season and bushfires currently burning that could affect our community
The importance of having a Bushfire Survival Plan
The triggers for enacting your Bushfire Survival Plan – emergency broadcasts, Fires Near Me, Social Media etc
How to prepare your family
How to prepare your home
How to prepare your pets
Relocation and evacuation options
This is an important meeting and we encourage all residents to attend.



In the meantime,

we strongly encourage all residents to make use of the collection service offered by Council.

This is an important opportunity to reduce the fine fuel load on your property and reduce the risk of bushfire. We recommend you act immediately to do this and place the bags out for collection on the roadside by

Wednesday 11th December

. Remember though, this is just one of many things you should do to prepare your property and it's not a once off activity!

This RFS brochure provides details of the other things you should also be considering. 

Bushfire and Your Home



We hope to see you and your family on

Sunday 15th December at 10am

at the Fire Station.

If you have any immediate questions please contact the station by email sirfb@sirfb.org.au or by phone 9999 4404.

Regards,

Peter Lalor
Captain



---
---
Community Vehicle Fare Notice
Revised Community Vehicle Fares for 2020
---
PERMIT FEES AND CHARGES/TRAFFIC MANAGEMENT PLAN
CASTLE TRIBE McCARRS CREEK RESERE
---
Offshore Climate Action Xmas Picnic
Catherine Park at 6pm on Wed 18th Dec
Join us for a Sustainable Picnic/BBQ in Catherine Park at 6pm on Wed 18th Dec.


Have a chat about climate solutions over vegetarian food and a glass of wine.
Zero single use plastic, zero food waste to landfill!
Bring a (reusable) plate, cup, cutlery....

If the smoke is super thick that day, we'll cancel.

For further info, or to get on the mailing list for the action group, call or text Jess on 0422474279.



---
Pittwater Carols Afloat
Thursday 19 December 7pm at

Lovett Bay,
then onto Church Point Wharf from 8.30pm
---
South West Lovett Bay Coastcare
Media Release

---
Scotland Island Fire Brigade Goodwill XMAS Lunch
LAST CALL !

December 25th from Midday at the fire shed

To help us with the catering please
RSVP by 18th December

at the latest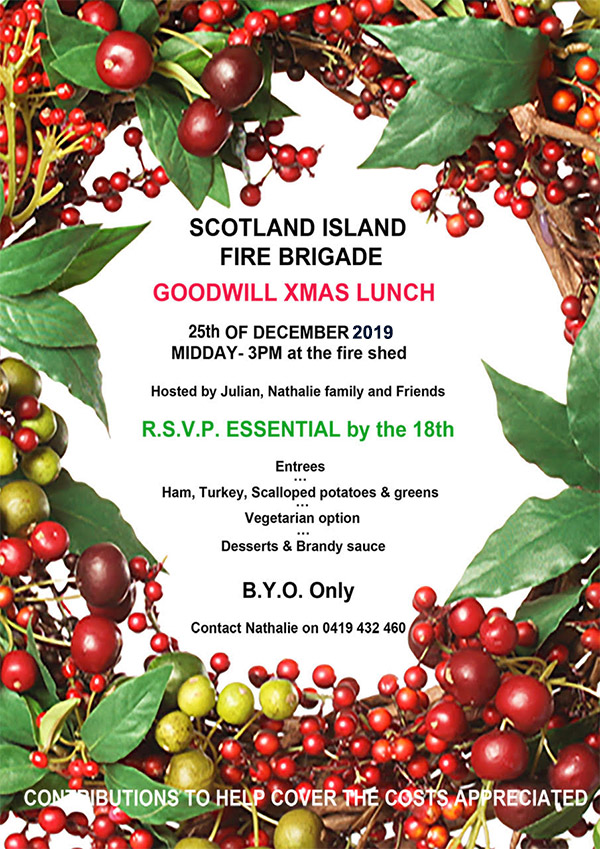 Booking is essential !
---
Sewpro Pty Ltd
Christmas Holiday Closure
Dear valued customer,

Many thanks for your support throughout 2019, I will be on leave from 21st Dec 2019 and be back on board 8th Jan 2020.

Merry Christmas!!
Steve Blackwood
sewpro1@bigpond.com



---
Interest in Green Commuter Boat at Tennis
Does anyone know whom does this boat belong to?
It has been floating around at tennis for a few months, looking like it has not been used since it was put there.
 
If you are the owner, would you like to sell it?

Please contact Quentin at this number: 0411 965 015



---
Please Keep Roadside Clear on RIchard Road - East of Bell Steps
Monday AM 16th December

Please

DO NOT PARK

on the roadside East of Bell steps on Monday morning as 2 removalist trucks will require access there,  and Hilda Ave road for turning.



Many thanks
Chuck Bradley



---
---
A complete set of past electronic newsletters since May 2000 can be found and read at https://ymlp.com/archive_gesgjgm.php  or by clicking here or by visiting the Mona Vale Library.



---

---
To Contribute
If you would like to contribute to this newsletter it's easy!. Send an e-mail to the editor (editor@scotlandisland.org.au) or by clicking here. Type your contribution (100 words or so would be fine) and assuming it is of general interest to the community, does not include matter of a political nature and is not offensive, it will appear next month.
Subscription Information
To get on and off this newsletter,

click here

or got to:

http://www.scotlandisland.org.au/signup .


To change your address, click the 'modify' link at the bottom of this newsletter or send an email to the

editor@scotlandisland.org.au


---
Follow the PON
---
The Online Local Contacts Guide
Click HERE to load
---
---
The views expressed in this newsletter are not necessarily the views of the Scotland Island Residents Association (SIRA), or the Western Pittwater Community Association (WPCA)
---