Having trouble reading this newsletter? Visit https://ymlp.com/archive_gesgjgm.php
---
ANZAC SERVICE
ANZAC DAY, THURSDAY 25TH APRIL
11.00 AM AT CHURCH POINT
The ANZAC DAY address will be given this year by Paul Purvis of Elvina Bay
---
Floating Landcare is coming to Scotland Island!



Residents are invited to join in and help tackle the weeds in Catherine Park on

Saturday 11th May

. This is an opportunity for residents to join with volunteers and be a part of Floating Landcare, a project being coordinated by the Hawkesbury-Nepean Catchment Management Authority in partnership with Pittwater Council and others, with funding from the NSW Environmental Trust.



Rebecca Mooy, Floating Landcare Coordinator said it's a great way for people to get directly involved in improving their local landscape, see new sites and meet like-minded people. Volunteers get a free lunch and snacks and it's really a chance to get out there and learn some new bush regeneration skills. We will work together on the day to manage the spread of weeds assisting the bushland in the Park to recover.


Willing residents should meet in Catherine Park at 9am. Others coming to the Island to help out should meet at Church Point Wharf at 8:30am. Volunteers need to bring along a bottle of water, wear long sleeves, trousers, enclosed shoes, hat, suncream and bug spray (RID or Bushmans). All tools, gloves and training will be provided. This is a FREE activity and includes the transport to and from the Island. The day will conclude at 1pm on the Island and for those returning to Church Point we anticipate returning by 1:30pm.

To assist with catering and ferry bookings your RSVP is essential please contact Rebecca Mooy on 02 4725 3055 or email rebecca.mooy@cma.nsw.gov.au by Monday 6th May 2013. Places are limited to 20 volunteers.

Can't make this activity but would like to find out more? There are another 7 Floating Landcare activities planned for the remainder of 2013.
To download a copy of the 2013 Floating Landcare Calendar visit
http://www.hornsby.nsw.gov.au/environment/bushland-and-biodiversity/floating-landcare



---
Chuck Bradley - Nostlagica




Manly Art Gallery & Museum



Details of dates and talks can be found in the accompanying poster....




---
Scotland Island Winter Fire Shed Dinner
Saturday May 11th, 7pm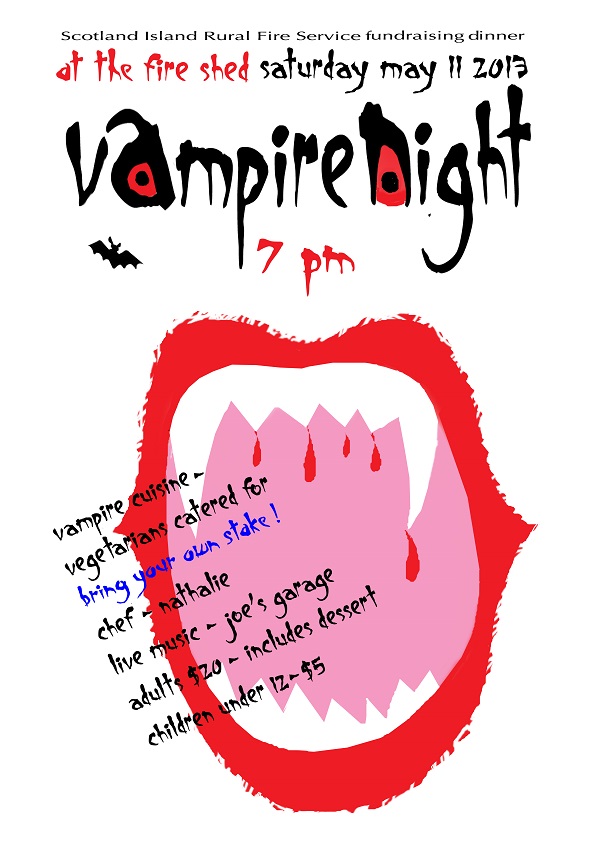 Cuisine by Nathalie & the Crew
Includes Dessert

Live Music Joe's Garage
Adults $20
Children under 12 $5
---
FLIP jazz quartet



Rhys Daher (Drums)
Lachlan Hamilton (Sax)
Harry Morrison (Bass)
William Morrison (Guitar)



Gig dates


Friday 19 April, Royal Motor Yacht Club, Newport, 6 to 8pm.

Sun, 21 April, Zubi Bar Newport 9.30am to 12.30pm

Sun, 5 May, Zubi Bar Newport 9.30am to 12.30pm

Fri, 17 May, Lizottes (supporting John Morrison), 7.30pm

Sat, 18 May Northern Beaches Music Festival TBA

Sun, 19 May, Zubi Bar Newport 9.30am to 12.30pm



---
Wanted




Punt




20 ft aluminium punt

no leaks, good condition.
With or without motor.

Please contact Graeme, 0419460331.


---



Wood Stove


We are looking for a wood stove - slow combustion, pot belly or anything else to keep her warm.
We are happy to pay for it and will pick it up.

Please contact me on 0418640910 or theresebakker@yahoo.com.au



---
For Sale



Life Gear treadmill, working perfectly and in very good condition.
Folds up and has a soft cover. $100.
Will help with transport on the Island.

Graeme 0419460331


---
Lost


A pair of glasses last week on the road between Tennis wharf and our home at top of Thompson Street (next door to Julie and Brian Rodgers ). They were on top of the roof of our car ( don't ask !)

Bev & Don Dwyer
bevdwyer@bigpond.com




---
The Online Local Contact Guide

Click HERE to load
The views expressed in this newsletter are not necessarily the views of the Scotland Island Residents Association (SIRA), or the Western Pittwater Community Association (WPCA)
---