---
Special Ferry Arrangements For Offshore

Residents
1 October 2015



Member for Pittwater Rob Stokes today announced that special ferry arrangements have been secured for Pittwater's offshore residents once paper-based Pensioner Excursion Tickets are phased out early next year.
The NSW Government has confirmed that eligible offshore residents who are registered with the Church Point or Palm Beach Ferry Service will be able to use a Gold Senior/Pensioner Opal Card to travel to and from their homes, and right across Sydney's public transport network, for a maximum charge of $2.50 per day.

Although Pittwater's private ferry services are not part of the Opal Network, special arrangements have been negotiated to ensure eligible offshore residents are not disadvantaged once paper tickets cease to be available in January 2016.

"This is a really significant outcome for offshore residents," Rob Stokes said today.

"There are plenty of new advantages with the Opal Card - but it's really important that we've also been able to secure the existing arrangements.

"Pittwater is a unique community with unique transport requirements and I'm delighted these are being accommodated.

"From 1 January eligible offshore residents will simply have to present their Gold Opal Card and Private Ferry Pass when boarding. Once they disembark they can then tap on at the nearest bus stop and continue travelling all day – all for just $2.50.

"Ordering a Gold Opal Card is very simple and can be done online at opal.com.au or over the phone by calling 13 67 25.

"Thank you to everyone involved in helping secure this important outcome," Rob Stokes said.



---
Scotland Island Women's Choir

Thursday 8th October 7pm

---
Southern Cross Wildlife Care
Critter of the Month- September 2015: Don't Beam Me Up, Scotty!
An 'overseas' rescue!




The destination: Scotland Island.




The patient: a gravely ill diamond python.



It's 8:30am and we get a call-out from a lady, Emma, who has noticed that one of the island's local pythons has been lying in the same spot beside the road for 3 days. We immediately set off for the ferry wharf. The ferries leave every hour so we have to get there quickly or risk wasting another hour before reaching our patient.

As we arrive, the ferry is blowing its horn and pulling away from the jetty. With an almighty leap across the water, we are aboard and on our way to rescue the poor little critter.

Scotland Island is bigger than anticipated and we are thankful that Emma provided us with a map. There are no road names, just landmarks on the hand-drawn map. And the entire walk is uphill - not just slightly steep, but 45-degree-angle-steep. Puff! Puff! We get to the section of the map marked "Devil's Elbow" and we know we are close...

Exactly as described, 20m from Devil's Elbow, we see the poor python lying half on and half off the road. We pick him up, expecting a bit of attitude, but he is deathly cold and his head lolls to one side. Are we too late?

We bundle him up into the snake bag and run for the return ferry. We try to keep "Scotty" in the sunshine to raise his body temperature.

We know that there is no point starting any form of treatment until his body temperature increases. Unfortunately reptiles do everything slowly...



Back on the mainland, we rush Scotty to the clinic and pop him into a hospital tub with a heat-mat.

Diamond pythons really are the darlings of the snake world. They are non-venomous, non-aggressive and extremely placid to handle. We've only ever had one or two that were feisty.

The average adult size is between 2m and 3m. They are predominantly black in colour with beautiful yellow diamond clusters on their dorsal side.

They are referred to as arboreal (tree-dwelling) but are often spotted coiled up in sheds, pool-houses, stables etc. Their diet consists of rats, possums, bandicoots and other small mammals.

Diamond pythons are plentiful all over Sydney and its surrounds.



When Scotty is sufficiently warm, Dr Ralph undertakes a clinical examination. Poor Scotty is so dehydrated that the first treatment Dr Ralph administers is warm parenteral glucose-saline infused with B-complex.

He has a disseminated bacterial infection which has resulted in erythematous lumps all over his body. Scrapings from one of the lumps confirms that pus cells, bacteria and fungi are present.

He also has stomatitis - inflammation of the gums.

Dr Ralph checks his vital signs and is not pleased with his patient's condition.

An injury which becomes infected and not treated can spread into the blood. From the blood, the infection can be disseminated to any part of the body. The result is life-threatening sepsis.

Scotty can hardly keep his head up for the examination.

We immediately administer pain relief as he must feeling pretty awful. Then a course of two different antibiotics to cover all gram-negative and gram-positive bacteria is begun.

Scotty needs to be wormed, too, but we decide to wait until the next day as he has had such an ordeal already.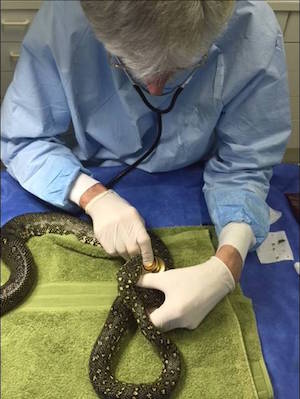 Scotty is currently in care and will be for many months. He needs to remain on constant heat, have daily fluid therapy and injections every 2 days. We are unsure if he will survive or not. If his sepsis is severe, the infection will disrupt blood flow to the brain or kidneys, leading to organ failure.

If he experiences septic shock, his blood pressure will drop significantly which can lead to respiratory, heart or organ failure and eventually death.

All our fingers and toes are crossed for you, Scotty!

By Lynleigh Greig
Southern Cross Wildlife Care



With thanks to Pittwater Online News




Reprint from October 4 - 10, 2015: Issue 234





---
Quad Bike For Sale On The Island
Yamaha Kodiak 450 Quad bike for sale on the Island.

For more information:
please email kathwykes@gmail.com.



---
Polycraft 4.5 Drifter Front Runner for sale
Polycraft 4.5m Drifter Front Runner Blue - 2008
Anchor well
Bow and hand rails
Front casting deck / seating
Two front hatches with storage
70 litre underfloor fuel tank
Evinrude 50hp 4 Stroke engine - serviced locally
Engine protection bar
Rear hatches with storage
Carpeted floors
Automatic bilge pump with controls
Manual bilge pump
2 anchors
Eagle Fish Mark 320 fish finder
$9900 ono

Contact Chris 0401170014



---
For Sale
4 Draw 800w x 480d x 1000h Malm (Ikea) chest of drawers, very good condition, 2 yrs old -$ 50neg
4 Draw 1000w x 400d x 1050h Ikea chest of drawers - $35 neg
3 x Malm bedside table, 2 draw 400 x 480 x 550 - $ 15 ea neg
4 full sheets + 1 in bits: 10mmx 1200 x 3000 Plasterboard from Boral (new) - $ 70 neg.
Set of 2 white glass sliding doors Ikea (similar to Faervik), fit 2000 x 2360 PAX wardrobe, perfect condition, assembled, (new A$ 435) - $ 250 neg
Andrea 99995828/ 0414922199/ andrea@novaliving.com.au



---
---
The views expressed in this newsletter are not necessarily the views of the Scotland Island Residents Association (SIRA), or the Western Pittwater Community Association (WPCA)
---
---