VIDEO: BISHOP MATEBESI ON THE PLIGHT OF PALESTINIAN CHRISTIANS
In this short video clip Bishop Daniel Matebesi briefly describes the plight of the Palestinian Christians living under Israeli Apartheid. Matebesi is the President of the National Interfaith Council of South Africa (NICSA) as well as a priest at the 130-year-old Independent Congregational Church of Southern Africa. Click here to watch online.
VIDEO: REVEREND THULANI NDLAZI ON THE CHURCHES SUPPORT FOR PALESTINE
The United Congregational Church of Southern Africa (UCCSA-SA Synod)
adopted
the BDS boycott of Israel in 2016. In this short video Reverend Thulani Ndlazi, UCCSA SA Synod Secretary, provides a short understanding why his church resolved to back the BDS boycott of Israel in support of Palestinians.
Click here to watch online.
M&G NEWSPAPER: REVEREND FRANK CHIKANE ON PALESTINE
In this Mail&Guardian newspaper article, Reverend Frank Chikane, the senior vice-president of the South African Council of Churches as well as a member of the Apostolic Faith Mission and Pentecostal Church shares a painful story from his visit to a Palestinian evangelical church in Bethlehem. The holy town of Bethlehem, the birthplace of Jesus Christ, is located in Palestine and is almost entirely surrounded by Israel's illegal 8m high Apartheid Wall as well as its illegal Jewish settlements. 
Click here to read online.
JOIN BDS SOUTH AFRICA'S EMAIL MAILING LIST
To join BDS South Africa's email mailing list (& receive these newsletters) send a blank email message to alerts@bdssouthafrica.com
BDS SOUTH AFRICA

BANK: First National Bank
NAME: BDS South Africa
NUMBER: 62273997943
BRANCH NAME: Rosebank
BRANCH CODE: 253305
SWIFT CODE: FIRNZAJJ
 
BDS SA, is a registered Public Benefit Organisation (PBO) with Section 18A tax-deductible status. This means that any donations made to us can be used to apply for tax exemptions. Kindly send copy of proof of payment to finance@bdssouthafrica.com / 0866664995 for receipt.
PALESTINIAN CHRISTIANS CALL ON THE WORLD COUNCIL OF CHURCHES TO "INTENSIFY" BDS BOYCOTT OF ISRAEL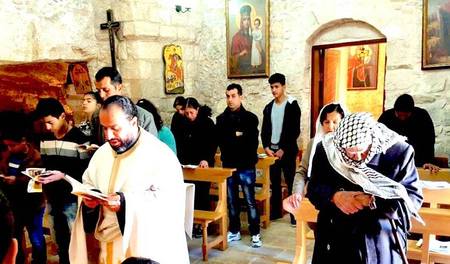 In an impassioned letter, Palestinian Christians have called on the World Council of Churches (WCC) to take concrete measures against Israel until it abides by international law. Their letter, which has been published online, reads:
"
Things are beyond urgent. We are on the verge of a catastrophic collapse. As a Palestinian Christian community, this could be our last opportunity to save the Christian presence in this land. Our only hope as Christians comes from the fact that in Jerusalem, the city of God, and our city, there is an empty tomb, and Jesus Christ who triumphed over death and sin brought to us and to all humanity, new life."
About 200000 Christian Palestinians currently reside in historic Palestine, descendants of some of the oldest Christian communities in the world. Like their fellow Muslim Palestinians they too suffer under Israel's regime of occupation and apartheid - their only crime being that they are Palestinian.
The letter by the Palestinian Christians to the WCC 
reminds the WCC of the role it played in the boycotts against Apartheid SA and calls on the WCC to play a similar role today:



"

[We call on you to] call things as they are: recognize Israel as an apartheid state in terms of international law…we are disturbed by the fact that states and churches are dealing with Israel as if the situation were normal, ignoring the reality of occupation, discrimination, and daily death in the land. Just as churches united to end apartheid in South Africa and whereby the WCC played a courageous and pivotal prophetic and leadership role, we expect you to do the same!"
The letter ends with a 
call to the WCC and Christians world-wide to support the Palestinian struggle against, what they term, "Israeli Apartheid" and in particular for the "intensification" of the BDS boycott of Israel:
"We need your costly solidarity. We need brave women and men who are willing to stand in the forefront. This is no time for shallow diplomacy Christians...we ask that you speak in support of economic measures that pressure Israel to stop the occupation and that you support atheltic, cultural, and academic measures against Israel until it complies with international law and UN resolutions...this is our last peaceful resort...in response to Israel's war on BDS, we ask that you intensify that measure."
SA COUNCIL OF CHURCHES: THE MODERN "STATE OF ISRAEL" IS NOT THE SAME AS THE "BIBLICAL LAND OF ISRAEL"

In a letter to their Palestinian counterparts, the SA Council of churches (led by President Reverend Ziphozihle Siwa and General Secretary Bishop Malusi Mpumlwana) have expressed the support of South African churches to the Palestinian struggle and specifically to the Palestinian Christian community. 
One of the issues that the SACC has raised in their letter is the conflation between the modern State of Israel and the Biblical Land of Israel. This confusion is sometimes deliberately used by the Modern State of Israel with many forgetting that, for example, Bethlehem, Jerusalem and other holy towns are, actually, Palestinian towns. That some of the first followers of Christ are, actually, the Palestinians. The SACC in their letter to the Palestinians explain that:
"Many of our [South African] people go on pilgrimages to the Holy Land, often with the best intentions to be spiritually refreshed and renewed. The State of Israel has commercialised this desire in its favour, but many of our people do not realise this. 
Unfortunately, many of those who lead these pilgrimages visit the dead stones and not the living stones, and we treat it as a theme park experience. They think of the State of Israel and the Biblical idea of Israel as the same thing. This happens mainly through the misuse of words.


Based on the information before us, it is clear that Israel is structured in a way that fits and even surpasses the description of an Apartheid State..with our experience of Apartheid that the whole world recognized and condemned as a crime against humanity, we see the treatment of the Palestinians by Israel as worse than Apartheid….the Israeli occupation and treatment of Palestinians is a political system with no theological grounding.
We remain hopeful, not because of our strength but because of Christ, that your oppression will not be permanent but that the love of God will turn hearts of stone into hearts of flesh, in Israel and Palestine and across the world, to move you from the darkness of oppression to the light of freedom. Maranatha! Alleluia!"