Why not bookmark this AMPS Newsletter and read at your leisure!

AMPS TV drama winners… Kingsman in ATMOS… Soho development concern… Inside Abbey Road… AMPS Journal… New AMPS member… Jackson Studios… Industry news…
Sherlock Sound Team takes AMPS Award for Excellence in Sound for TV Dramas


AMPS (The Association of Motion Picture Sound) is extremely happy to announce that Jon Mooney, Paul McFadden, Doug Sinclair and Howard Bargroff have won the 2014 AMPS 'Award for Excellence in Sound for a Television Drama' for their work on Sherlock.
Sound Mixer Howard Bargroff commented, "Thanks so much for this. Means a lot coming from such an illustrious body as AMPS. We're really chuffed to say the least."
The winners will receive their trophies at an AMPS awards ceremony in September along with the 2014 AMPS Film Award winners.
Five TV Dramas broadcast in 2014 were selected by an AMPS Awards Committee, from which the four leading sound crew members (Production Sound Mixing, Dialogue Editing, Sound Effects Editing and Re-recording Mixing) were nominated for award.
AMPS Sustaining Members Twickenham Studios and Goldcrest Post Production sponsored the award. Maria Walker at Twickenham Studios said, "We are delighted to be associated with AMPS and to be a sponsor of its inaugural Television Award 2014. Sherlock was a worthy winner and I congratulate the sound team on their win."

left to right - Howard Bargroff, Douglas SInclair, John Mooney, Paul McFadden
Kingsman: The Secret Service - It's All Around You!

left to right - Paul Davies, Simon Hayes, Danny Sheehan, Matthew Collinge
Earlier in April, the Soho Dolby ATMOS Theatre was host to an ATMOS screening of Kingsman: The Secret Service.
Afterwards, Simons Hayes (Production Sound Mixer), Danny Sheehan (Supervising Sound Editor - Dialogues) and Matthew Collinge (Supervising Sound Editor - Sound Design) sat in for a Q & A session.
Chaired by AMPS Paul Davies, the trio were promoting the idea that Production and Post can work more closely and spoke about their long term collaborations on films including - Kingsman, Kick Ass 2, XMEN First Class, Kick Ass, Filth & Wisdom, Stardust, Layer Cake, Swept Away, Snatch, Lock Stock and Two Smoking Barrels.

Simon Hayes commented "We think it is quite rare for a Production Sound Mixer and Sound Post Team to work so closely over such a long period and we would be happy to answer questions regarding our workflow."
He added, "I think ATMOS is a great addition to our department's ability to immerse audiences in the sound track and it is wonderful seeing so many recent films getting an ATMOS mix."
Many thanks to Anna Sulley for co-ordinating the event with Dolby.
In the very near future, there will be an AV recording of the Q & A available at -
The Concern over Development in Soho & Fitzrovia

UK Screen has been in discussion with Westminster Council regarding development in the area and the potential impacts on the creative cluster here. 
Last month Councillor Robert Davis released a statement on the loss of office space in the area, saying that 'the balance of commercial to residential floor space has tipped too far… causing several damaging impacts…'  recognising the risk to global competitiveness, the impact on rents and the erosion of the character of the Westminster Central Activities Zone.
UK Screen are putting together a working group and distribution list to keep relevant members informed of planning and development issues in the area. If you would like to be involved in this group (and are a UK Screen member) please email -
sarah@ukscreenassociation.co.uk
.
Representatives from the Council have been invited to visit facilities in the area and to engage in a follow up meeting with our members.
UK Screen is also liaising with the Soho Society on planning applications to get a more complete view of what's happening across the whole of the area. For a snapshot of the larger current and proposed developments
please click here to see their map.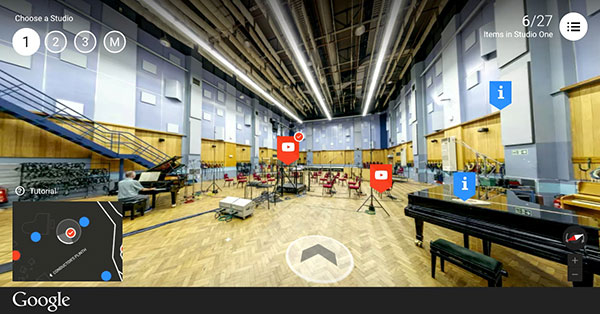 Just in case you hadn't come across this…
Inside Abbey Road is an interactive experience that lets fans around the world explore the legendary studios, hear its stories and play with some of its famous equipment right from their computer, tablet or phone.

Inside Abbey Road is a new site created by Google and Abbey Road Studios, which lets people explore every nook and cranny of the three main studios and one mastering suite for the first time. Throughout the site, there are more than 150 different 360-degree panoramic images for visitors to explore. As they walk through the studios, they'll see YouTube videos and archival images from Abbey Road's history- right where it originally happened. From footage of Elgar and the London Symphony Orchestra opening the studios in 1931 to Jay Z discussing his Magna Carta album with Zane Lowe. Users can even play with pioneering equipment in specially designed interactive gadgets, such as the J37 4-track recorder that was used to record The Beatles' Sgt. Pepper's Lonely Hearts Club Band.
Dolby Presents Best Sound Award to NFTS Graduate

Dolby Laboratories has announced the winner of the Dolby Award for Sound, recognising excellence in sound mixing, sound editing and sound design in a National Film and Television School film.
Following a screening of eight selected NFTS 2015 graduation films to an audience of industry guests at the Ray Dolby Theatre, London, and a Q&A session with Paul Davies and Stephen Griffiths, the award was presented by James Shannon, Dolby Senior Sound Consultant, to NFTS Sound Design graduate Robert Malone for his sound editing/mixing on the animated NFTS 2015 graduation film Pombo Loves You.
"The Dolby Award for Best Sound celebrates excellence in sound mixing, editing and design. We are proud to be collaborating with the NFTS to recognise innovative and exciting talent. This Award is a fantastic showcase of how sound can be used to transform the art of storytelling and create the best possible entertainment experience," said Andreas Spechtler, President, Dolby International.
Chris Pow, Sound Post Production Senior Tutor, said Rob Malone deserved the award, adding, "Rob's professionalism and his developing skills and abilities as a Sound designer, give him great potential for the future. He has the makings of an excellent sound professional."
NFTS graduation films have won 12 MPSE Golden Reel Awards for sound design – more than any other film school in the world, and its graduates go onto to work at a senior level on major films and television productions as well as video games.
AMPS Journal Summer 2015… coming soon!

 

 

 

 

Great excitement here… the artwork for the next AMPS Journal is at the printers and will be appearing through your letterbox over the next couple of weeks.

 

More pages than the last issue, we have an exclusive interview with Mr Whiplash, Ben Wilkins; plus sub-zero tales from the making of Fortitude and far-eastern experiences with Marco Polo. And an awful lot more!

 

I'd personally like to thank all AMPS members who have taken time to contribute content for this issue. Much appreciated.
New AMPS Member - Tom Williams

I began my audio career as a wet behind the ears 18 year old moving to London from South Devon to begin work in Albert Studios, a Neve-based recording studio in Islington. I worked hard as a Tea Boy, Tape Op, then Assistant Engineer on predominately rock music (It was AC/DC's publishing company), treating my 4 years there as an apprenticeship, learning to mix and track bands, select mics, record drums, maintain tape machines and razor blade edit.

In 2001, needing daylight, I got a sound assisting job on a low budget feature film and have never looked back: Working the next 14 years both as a documentary Sound Recordist and as a Boom Operator for TV drama and film.

I was lucky enough to be introduced to Tim White [AMPS] who I worked with on boom for around eight years. Tim has subsequently become a mentor and good friend. I've learnt a great deal under his tutorage.

 
In the last few years I have been making a concerted push into Production Sound Mixing, investing in the best kit and getting some great breaks. Most notably mixing three blocks of 'Strike Back' Season 5 for Sky/HBO and the European shoot of 'Cosmos' for Fox.

Im very glad to be a full member of AMPS. Thank you for having me!
AMPS Member Craig Lines Dusts off his Headphones and Returns to his Real Love!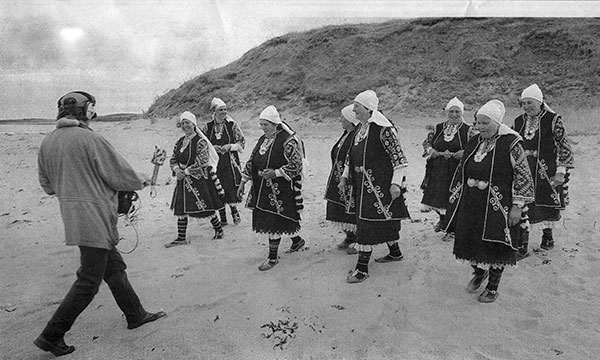 As you may know, I have been a member of AMPS for more than 20 years, joining as a fresh faced sound recordist and enjoying the excitement of working in the film and television industry. I was always (and still am) a film maker at heart and as sound was what I knew best, made my way into the industry in that role. When I got the chance to direct TV drama full time, I took that opportunity and directed a lot of prime time TV programmes for many years - remaining a proud member of AMPS throughout and often looking across the set enviously at the sound person plying their craft. 
'Enviously' because as anyone on a film set will know, the director's job is arguably one of the hardest; the director needs to know absolutely everything about what is going on in all departments, has to 'manage' a crew, never really stops working during a shoot (working after wrap, planning the next day's filming) and worst of all having to put up with the stresses and strains brought on by actors, producers and execs. Not, I hasten to add, that the sound person's job is stress free and easy – far from it! – but the director gets it in the neck from many other areas.
When I first started directing, producers were usually very experienced, and most had been, at one time or another, members of film crews themselves so they knew the ins and outs of film making - and the wages were okay. In recent years however, producers have come from script-editing backgrounds and have rarely stepped on to a film set. Their preoccupation with the sanctity of the words in the script, regardless of the difficulties those words often bring, coupled with their lack of knowledge of the filming process, their inexperience of management and obsession with budgets, has meant that a more substantial amount of pressure is brought down on the shoulders of the director who is simply trying to get a good performance from the actors and place the camera creatively. And wages have not increased in the last ten years – it's quite something to turn up for work after only a few hours sleep to know that the camera assistant (who, don't get me wrong, does an extremely valuable job) is earning more money than the director.
Yet the programme gets made, and the producer has little comprehension of the difficulties they have placed in the way of the director and the crew who often achieve the 'impossible' thanks to their experience, skill and attitude. I grinned and bore it even though it was no longer fun to direct, but I'm sorry to say that the the last two TV jobs I worked on has now made directing for me untenable, I was abused, ignored, unappreciated, shouted at and on one occasion physically assaulted by a producer (on what other job would this treatment be condoned?) and so I have hung up my megaphone and jodhpurs, once again reached for my headphones, and I am returning to the industry as a sound recordist.
And although I feel very sad at being forced out of directing, I am so looking forward to once again being enveloped by a world of sound, and I believe that my experience as a director gives me a special knowledge of the needs and requirements of sound from that point of view. It's good to be back!
Re-building Jackson Studios - Brick by Brick!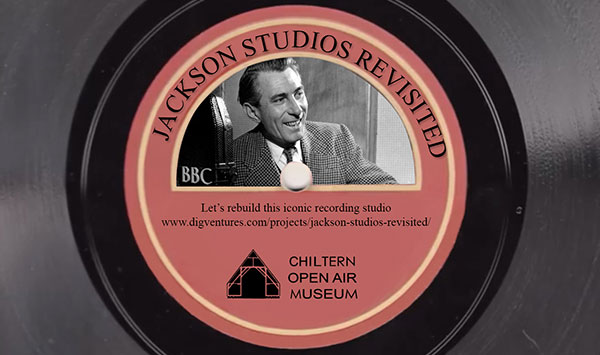 Jackson Studios is the birthplace of many iconic British sounds, and Chiltern Open Air Museum want to bring it back to life!

The studio was used by Jack Jackson, known as the 'Father of DJs', who made television and radio programmes for the BBC in the 1950s. It was then used by iconic recording artists including Motorhead for the Ace of Spades, Elton John, Dr Feelgood, Eddie and the Hotrods, Ian Dury, Tom Robinson and many more.

Through the Jackson Studios Revisited campaign, Chiltern Open Air Museum is seeking to rebuild this unique piece of history. This is a long-term project and they now need to raise money for Phase III – seed funding for planning how to reconstruct the building and what it will offer the public. Imagine being the first band to record new sounds here!

Jackson Studios is a historic building dating back to 1745 and requires specialist input in its reconstruction: they need to progress this project now before the building elements deteriorate, and whilst many of the musicians are still around to capture their stories.

All the museum needs now to get things started is help to raise £7,000 to get the project started. You and your friends can be a part of Jackson Studios Revisited – by supporting us, buying benefits and even joining us for a VIP Pimms Jackson Studios Revisited celebration this summer. The more you contribute, the bigger a part you can play.

Some of the benefits, such as the glass bottles and tickets to the VIP celebration, have limited availability so don't delay! Also, sponsorship opportunities are available so do get in touch if you would like to be involved.
Did you know that the Directory pages on the AMPS website are some of the most frequently visited?

 

Make sure that your profile is up to date - you never know where your next work enquiry will come from!

 

 
Can we help with your Professional Development?
We're keen to hear from you with ideas for seminars and training sessions which would contribute towards Continuing Professional Development.
We're very aware that keeping up with techniques and updates can be a full time job in itself, so if there's any way that AMPS can contribute towards maintaining and developing your industry knowledge and skills, please get in touch.
AMPS Address & Phone Number
Contact details to use are -
27 Old Gloucester Street
London
WC1N 3AX
Tel: +44 (0)1753 669111
BECTU FREELANCERS' FAIR 2015
29 May 2015
Ravensbourne, London SE10
If you're based in and around Bristol, the last Wednesday of each month should be blocked out in your diary. Get to Beerd, 157-159 St Michaels Hill, Cotham, Bristol BS2 8DB for 7.00pm and meet up with other AMPS members and like-minded people! Apparently there's great craft beers and amazing pizzas!
… and finally, on the first Tuesday of every month

Make sure that you attend the AMPS Social at the De Lane Lea bar in Dean Street - be social with your AMPS members! The first Tuesday in every month - 6.30pm.
AMPS, 27 Old Gloucester Street, London, WC1N 3AX
www.amps.net / +44 (0)1753 669111