---
Contents
---
Gwyn's

Illustration

To download a full version of this months image ready for printing, just click on the image.










You can contact Gwyn Perkins by email at g.perkins@gwyn.com.au





---
Scotland Island Rural Fire Brigade
Annual AGM - Sunday 3 March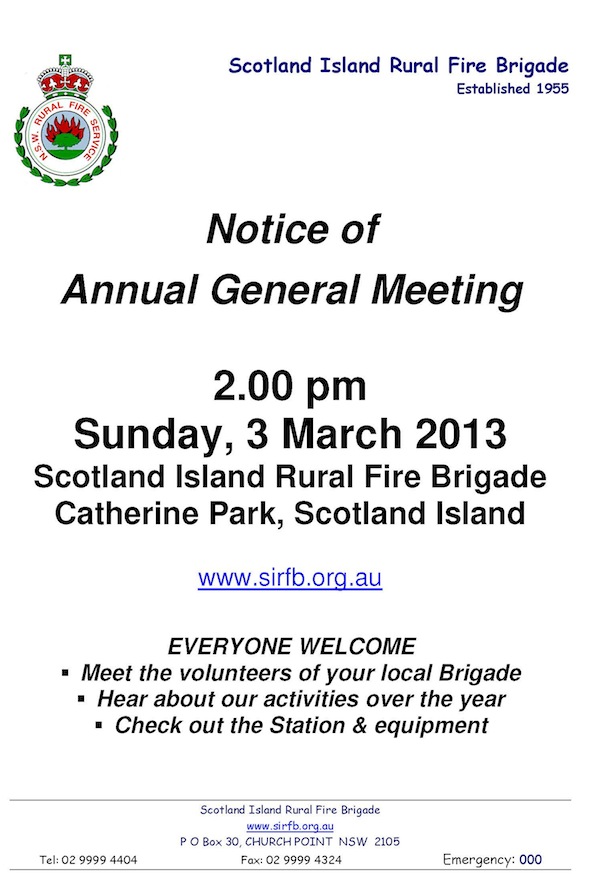 ---

Scotland Island Rural Fire Brigade
FIRE BRIGADE MATTERS




Your Brigade







We have our AGM on Sunday 3rd March at the fireshed at 2.0pm





Training is in the morning from 9.0am untill midday, followed by lunch at 12.30.





Members, partners, children and guests are welcome.



We have successfully attracted a number of new active members over the last few months who will undergo training and assessment, we would like to see even more potential new active members giving us the level of personel required for an effecient brigade.

If you think you can make the committment to active membership contact details are below or talk to any member of the brigade, or come and see us at training on Sunday, meet the other members and see and
talk about the equipment at the station.

David Wardman SIRFB
9999 5944
david@wardman.com.au



---



Clean Up Australia Day is here again
Sunday, March 3, 2013



SIRAC has registered Scotland Island to participate once again!



This event encourages and inspires thousands of Australians to take to their local park, beach, bushland and streets and really help make a difference to their local environment

If you would like to help out, either by grabbing a bag and filling it, or helping to supervise activities, please email

cassgye@spin.net.au

to put your name on the list.

Come down to your nearest Wharf to collect a bag between the hours of 9am and 12.00pm. Bring gloves, sunscreen, hat, sensible clothes and footwear – and don't forget to bring some water too!
Toby and his crew will be out on the Laurel Mae to collect material.



---
Scotland Island Players


The Hallelujah Girls





S.I.Players present, on the 3rd and 4th weekends of March, (15/16th, and 22nd/23rd), in the Community Hall, a rollicking comedy `The Hallelujah Girls'



Cast: Tracey Smith, Lizzie Brand, Lyn Savage, Kerry Borthwick, Cheryl Wagner and Betsi Beem, with David Wagner-McCullough and Andy Moy. (Two virgins there, - can you pick them?)

Director: Bob Bolton

Tickets: $20 each, bookable (&collectable) from Rosemary & Colin, at Scotland Island Lodge, 9979 3301, or from David W-M (`Wags') lots of evenings at the Point, and from Annette R, if she ever comes back.



Early posters saying `BYO' are incorrect

. The Kindy committee will operate refreshments on the balcony, so support a worthy cause. We seek all folk who have previously been involved in SIP productions to come along to the premiere, Friday 15th, when we will have, when the cast emerges after the show, chicken sandwiches and 1 free glass of bubbly to all ticketholders (+cast and crew)

Like `Caravan', `Anyone for Tennis?', `Rocky Horror Show', `Open for Inspection', `Goose!' and `Jealousy & Lust on the Island', - a great fun night is promised.



---
Watercolour Painting Workshop


by renowned island artist David Wardman



David will be holding a watercolour workshop in the Kangaroo Valley on the

16th March.


A one day workshop suitable for beginners and those wanting to gain more insight and experience. An intensive but highly enjoyable process aimed at raising the skills and confidence
of the participant.

A wonderfull location in the deepest part of the rich countryside of the Upper Kangaroo River.

for details see www.studiodairy.com.au or contact karen@studiodairy.com.au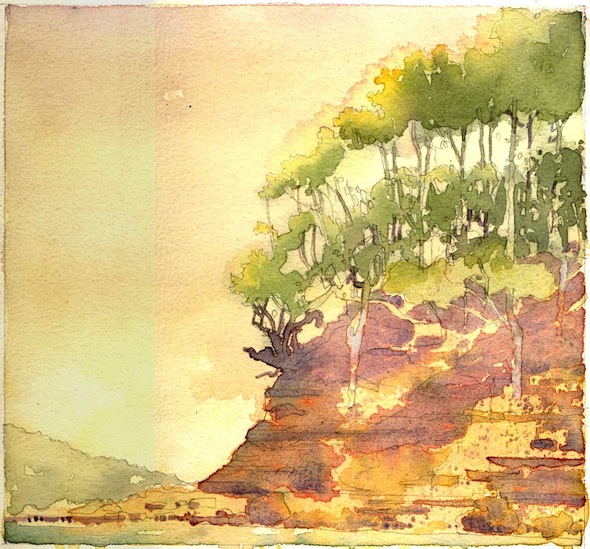 (image woody point)

---
Council's Natural Environment Reference Group


Report from Alan Yuille



I

have been WPCA rep on the Council's Natural Environment Reference Group since it commenced about 6 years ago.



Di Campbell and Sharon Kinneson are Scotland Island's reps.

The group meets once every 3 months, which perhaps makes continuity difficult, but we have investigated various environmental issues, including flood studies, community gardens, Warriewood development, Last November we looked at the investigation into Water birds and estuarine birds in Pittwater. Yesterday we looked an a revised approach to /waste management.

The last two meetings were extremely productive.



WATER BIRD STUDY



The investigation called Pittwater Waterbird Habitat; Survey and Mapping given at the November was very detailed. The survey was taken by K. Brandis, H. Watson and S. Ryall from the Australian Wetlands and River Centre from the University of N.S.W. It is dated August 2012.

The survey studied Waterbirds, shorebirds, habitat requirements, migratory behaviour, the Australasian Flyway. and management issues including threats to these birds.

I would recommend the study to any one in our community interested in our water birds.

Most of the Pittwater shoreline was studied including the north and south shore of Scotland Island and the sandy flats in Elvina, Lovett, Little Lovett and Morning(Towler's) Bays, Treharne cove, The Basin and Mackeral Beach, McCarr's Creek.

Pittwater Water Birds face several threats.

A major present threat is disturbance during foraging and breeding. The major issue here is that the birds are frightened, mainly by dogs running on the shoreline, frightening, chasing, very rarely catching the birds on the sandy flats or in the water.

While it is illegal to let birds run on any Pittwater beaches, with the exception of two designated beaches, many of us delight in the sight of dogs frolicking in the water, chasing waves and seagulls. Unfortunately the birds see it otherwise.

The problem will be exacerbated with sea level changes. (Sydney sea level has already risen about 100mm since the1920s and is rising at an increasing rate, according to Prof. Andrew Short in his book on Australian Coasts).

Sea level is likely to rise faster than sand and sediment will accumulate to form new habitats, so reduced habitats will become increasingly important for sea birds.

If we value the birds we can act to protect their habitats and foraging grounds.

Here is the link to access the survey online. This page provides a summary and a link to the PDF document. http://www.pittwater.nsw.gov.au/waterbirds



WASTE MANAGEMENT.



Pittwater Council is working with Manly, Warrigah and Mosman, (SHOROC) to increasingly harvest valuable materials from waste and reduce land fill problems.

Robina Bramich gave a presentation yesterday on the SHOROC initiatives. It seems we will soon have co-mining of recyclables, papers and containers, plus harvesting of green waste and compostable kitchen waste. I am not sure how this will affect offshore communities where many of us compost all kitchen waste, and the Bays have no Green Waste collection.

On February 25, Robina and some community reps will be travelling with the Garbage barge to see issues relating to offshore garbage collection, with emphasis on Scotland Island.

She can arrange for similar voyages for the Western Shores, should we want this.

She is also arranging for two more recycling bins for South Elvina Public Wharf.

Alan George Yuille



---

Local Council Notices




Notification of PASADENA Development Application


Town Planners, Boston Blyth Fleming, have lodged Development Application N0021/13 for the Pasadena with Pittwater Council.

Written comments on the proposal should be forwarded to Council by March 18, 2013.

The application and relevant documents can be viewed in full on the Council website MasterView 2.0 Application Master

The plans and documents are also available for inspection at Council Offices


---
"Live Life" in Seniors Week




An historical walk and internet training are just part of a host of free activities taking place in Pittwater during March for this year's Seniors Week.



Mayor Jacqueline Townsend said that as a commitment to older residents, Pittwater Council would be supporting Seniors Week throughout March.

The theme for this year is 'Live Life' and the Council's Community Development Coordinator Melinda Hewitt said that the range of events on offer will give participants a chance to do exactly that!

"We have a mix of groups such as seniors clubs and community organisations working with us to provide free activities that will offer something for everyone," said Ms Hewitt.

"One of the highlights of this year's program is an open day at the Nelson Heather Centre with a fun fashion parade and a chance to sample a delicious two-course lunch provided by the Northern Beaches Food Service," she said.

Some of the other activities include:

A free stress-relieving yoga session at the Nelson Heather Centre on Monday 11 March from 10am to 11am. Bookings essential: 8877 5304.
Small group sessions for internet training will take place at Mona Vale Library starting Monday 18 March. Bookings essential: 9970 1600.
A free tour and workshop at 'Reverse Garbage' - Australia's largest creative reuse centre. Tuesday 19 March from 10am to 3pm. Bookings essential: 9970 1194.
The golden age of cinema with a screening of The Band Wagon starring Fred Astaire on Wednesday 20 March from 1.30pm to 4pm. Hosted by U3A. Enquiries: 9982 6181.
Fun sessions by U3A including a behind-the-scenes look at the successful TV series Skippy the superstar and a chance to explore the history of theatre. Enquiries: 9982 3450.
A trip to the beautiful Pittwater YHA overlooking Morning Bay on Thursday 21 March. Enjoy a morning tea and the chance to win an afternoon of kayaking by sharing a memorable travel story. Enquiries: 9999 5748.
Sailing for beginners with Sailability Pittwater on Wednesday 3 April from 1pm to 4pm. Crew with an experienced sailor in a safe and unsinkable dinghy. Enquiries: 9451 9074.
The Pittwater Seniors Week program is available free-of-charge from Council's customer service centres, libraries and community centres and can be downloaded at www.pittwater.nsw.gov.au/seniorsweek

For details of events across NSW visit www.nswseniorsweek.com.au
For more information about Seniors Week in Pittwater call 9970 1181.


---
Join the Compost Revolution!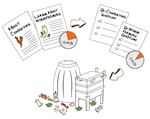 Be part of a revolutionary new way of teaching residents about composting.



Complete a 15 minute online tutorial and you'll receive up to 70% off the recommended price of either a worm farm or compost bin, plus other great giveaways.

Click here to join up.


---
An Inspiring Movie about Garbage!



Pittwater residents are invited to a free screening of the movie Waste Not at the Coastal Environment Centre on Friday 1 March from 6.30pm.

Event organiser Jo Tulau said the award-winning documentary film advocates local, practical solutions for 'transforming the mountains of stuff we throw away into something valuable again'.

Ms Tulau said that Waste Not shows that recycling isn't just something that we should agree with in principle, but a way of creating a fairer and healthier world.

"After the screening, participants are invited to share some refreshments and an informal discussion about the movie and its message," said Ms Tulau.

"The session provides a great opportunity for the community to come together and share their ideas on how we can reduce our impact on the environment," added Ms Tulau.

Waste Not is directed by Ruth Hessey and shows what keeps a 21st century metropolis like Sydney clean and sparkling.

According to Ms Hessey, on a day to day level our sparkling urban lifestyle is made possible by an army of people who deal with our garbage for us.

In Waste Not we meet some of them: Catherine who works at a massive paper recycling factory, Ben the ex-footy player who supervises the inner city garbage runs of the city's south and Bisso, a refugee from Sudan who sorts through massive piles of household garbage eight hours a day.

Waste Not also delves into the science behind the most innovative thinking on recycling in the world today. This includes hearing from the head of development at the CSIRO who talks about creating a new economic approach based on zero waste and maximum resource efficiency.

Bookings for this free event are essential; online at www.pittwater.nsw.gov.au/cecbookings For more information call 1300 000 232.

The Coastal Environment Centre is located at Lake Park Road, North Narrabeen.



---
Chuck Bradley - Nostlagica


Artist-in-Residence at Manly Art Gallery & Museum


Come and see the photographer at works as he creates the images

Details of dates and talks can be found in the accompanying poster....




Click image to load flyer....




---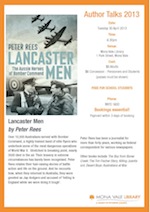 AUTHOR TALK





Lancaster Men




by Peter Rees



Over 10,000 Australians served with Bomber Command, a highly trained band of elite flyers who undertook some of the most dangerous operations of World War II. Stretched to breaking point, nearly 3500 died in the air. Their bravery in extreme circumstances has barely been recognised.



Author Talks 2013




Date:

Tuesday 30 April 2013


Time:

6.30pm


Venue:

Mona Vale Library
1 Park Street, Mona Vale


Cost:

$8.00 Adults
$6.00 Concession - Pensioners and Students (passes must be shown)


Phone:

9970 1600
Bookings essential!
Payment within 3 days of booking



---
International Women's Day
Music & Variety Night Friday 8th March


Dear Ladies,

We are very excited to announce that this year we will be holding a

MUSIC HALL VARIETY NIGHT

at the Scotland Island Hall to celebrate International Women's Day which falls on Friday 8th March.

Doors will open at 7pm and entry is $20 - all profits going to So They Can, a locally supported charity which aids communities in Africa to end the cycle of poverty through education and micro finance schemes.

We encourage you to bring your poetry, song, dance, anecdote about an impressive lady you know, or otherwise unusual talent, and share it with us! Names of willing participants will be taken at the door. This is a BYO event. We will be serving an eclectic variety of delicious finger food throughout the night, this is included in the entry fee.

Bookings can be made by contacting me, Jackie, on 0415 159 178 or by emailing bellswharfcreative@gmail.com - booking is not compulsory but will greatly assist with our catering.

We are also seeking assistance with pre-catering, as well as donations of items or services for our lucky door prizes.

Please contact me as above to discuss.
Thank you for your time and I look forward to seeing you at this event!

Jackie Marshall
0415 159 178



---
Asparagus Out weekend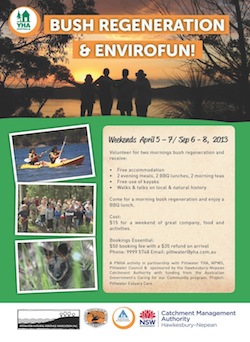 Everyone is invited to join the "Asparagus Out weekend" working on the mornings of 6 and 7 April at Morning Bay in areas nearby the Pittwater YHA.



Offshore persons can meet at the hostel at 8 am. Remember the usual long pants, long sleeve shirt, gardening gloves, insect repellent etc – bush regeneration equipment provided.

Morning tea and bbq lunch also provided each day

Call Michael or Sarah at the hostel for further information - phone number on attached flyer.

Please spread the word to mainlanders that they can stay overnight at the hostel as per the details in the colour flyer.



Hope to see you there,
Sarah and Michael


---
Letter to the Editor


Missing black mother chook



We bought some fertilised eggs for our broody hen and one of the chicks hatched about 7 weeks ago. They have been a lovely sight wandering around the garden together, with her very proud of her new baby! But alas, a dog (the culprit is known to us) that was not on a lead on Sunday 24th February chased her and she has now disappeared. Presumably dead and the chick is an orphan!

I have pleaded, before, for people to walk their dogs on leads, especially when they pass our place. But it has happened again! Next time an incident happens I will notify the relevant authorities.

Robyn Iredale



---
You're invited to attend Australian Identity & Beyond Exhibition


Scotland Island artist Eunice McAllister is a participating artist.



An inclusive multicultural and sexuality diverse community exhibition showcasing artworks from across New South Wales, Interstate and overseas. Open to all members of the community the exhibition and events will link our diverse communities regardless of race, sexuality, gender, age, colour or creed. Breaking down discrimination and isolation due to language, sexuality, gender or a disability.

The MUSE Gallery – Ultimo TAFE. Building C, Ground floor Maryanne Street Ultimo.
Wednesday 20 March 2013 – LOVE & RESPECT Youth event, 5pm to 7.30pm
Thursday 21 March 2013 – Australian Identity & Beyond Exhibition launch, 5pm to 7.30pm
Friday 22 March 2013 – FIRST MEMORY International event, 5pm to 7.30pm
Saturday 23 March 2013 – ART & MUSIC acknowledging and supporting individuals with disabilities, 11am to 3.00pm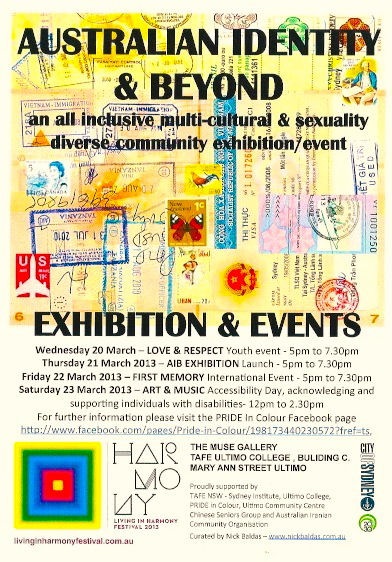 Proudly supported by TAFE NSW- Sydney Institute Ultimo College, Pride in Colour, Ultimo Community Centre, Chinese Seniors Group and Australian Iranian Community Organisation.



---
Missing


First Aid Kit



A First Aid Kit that was placed at Cargo for the Clean Up has gone missing.
It was put on a log early 26th and gone the following morning.

It would be really nice if it was returned!

Description: St John's Ambulance First Aid Kit, black box with white top displaying green cross, valued at $400.00 and recently purchased for OH&S during General Clean Up.

Contact
Cass Gye
02 9979 5853
0418 220 107



---
Wanted


House sitting or rental property -

Short term


We are residents in Clareville and are seriously considering relocating to the western forshores. However we would like to live over there for a few months first.

Therefore we'd ideally like to house sit a waterfront (preferably) or rent if necessary.

We are pet friendly, middle aged couple with a lot of boat experience. We"d like to do this move as soon as possible but are flexible with dates and arrangements.

Good references from offshore friends available if required.

Please call Richard or Meredith 9973 2345 or email richard@rashtv.com.au



---
House sitting:





A working professional couple in their 40's offering to housesit for a long time period.


We love pets and are very 'handy' at general repairs.
We are responsible, tidy and have many references available.
Please contact Marianne 04372 33 545 or email: 2012cp@gmail.com



---
Can you fix a sinking pontoon?
Could anyone recommend a good person/company to fix a sinking pontoon?

I have tried to fill it with expanding foam, but it is still "unbalanced"

Thanks
Gary Hirsch
0410314567



---
For Sale

Bed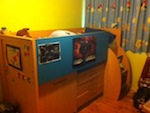 Child's bed for sale on island - includes desk, drawers and under-bed storage, mattress not included $100 o.n.o.

Annette 0421842221




---
Boat to rent for about a month?

Our boat sunk today and we were warned that the insurance case may drag on for at least a month before we can have our boat back. If you have a boat which you don't need for the next four weeks, we would be happy to pay rent for it.

The boat will be parked at our private, deep water jetty on the island, and in a secure, dedicated berth at the Royal Prince Alfred Yacht Club.

The boat would need to cater for a minimum of at least three adults (or two adults and two small children.

If you have a small boat to sell, then we are interested, as well.
Please contact us on 0410 499 734.

Thanks!
Robert & Derry





---
---
The Local Guide
Community Information
Scotland Island Web Site

www.scotlandisland.org.au

What's On in Pittwater - Self Editing Event Calendar

click to go to the Calendar

Scotland Island Community Vehicle -

0404 103 700
Number, Usage & Charges

Scotland Island Rural Fire Brigade -

9999 4404
http://www.sirfb.org.au

West Pittwater Rural Fire Brigade

- 9997-3795
www.westpittwater.rfsa.org.au

Offshore Photo Gallery

offshore gallery
Scotland Island Residents Association (SIRA) Membership Application

- click here to download
West Pittwater Community Association (WPCA)

- http://www.wpca.org.au
Scotland Island Water


SI Emergency Water Contacts and Guidelines for water: click here for information and contacts
Scotland Island 'Water Agreement' - click here to download
Scotland Island Children's Centre

- (SIOCS - Scotland Island & Offshore Childrens Services)
Catherine Park (Long Day Care Service) 7.30am - 5.30pm (Tues, Weds, Thurs & Friday)
Other services include: School Holiday Programme / Facility & Equipment Hire
For information call 02 9979 7856 or email: siocs@comcen.com.au
Scotland Island Community Hall Bookings:

Kez on 9999 4092 or kezborthwickbolton@gmail.com
---

Transport
---
Real Estate
---
Services, Clubs & Accommodation
---
Island Classes (Fitness, Dance, Art etc)
Pilates, Meditation and Group Fitness with Patrice

- 0406 483 036 patrice.corrie@gmail.com
Anusara Yoga

- Thursdays - 0421762236 dominiquemarill@gmail.com or floydcbg@ozemail.com.au
Art with Max

- Watercolour classes. Phone Max on 9997 4527
Art Classes

- drawing and painting in oils, acrylics and mixed media- Marion 9979 3993 or 0431 457 431
@ Nathalie's Table - Cooking Classes

- Mediterranean cooking - Nathalie - 9999 4449
Dru Yoga

- Tuesday 9.00 to 10.30 Tuesday morning - Phone Katya on 0414 187 916
Dynamic Yoga

- Saturdays from 9am - 10.30am 0402 752465 nadineomara@gmail.com

---
Groups
Gurdjieff / The Forth Way

- Call John on 9979 5584, Marion on 9979 3993 or Anne on 9999 3478
Green Group For Catherine Park

- Run by SIOCS - Emmie Collins on 0405 330 781
WOW - Women on Water

- meets 4 times a year - Jenny Frazer 0410533728 / 99994460.
Parents & Kids Groups Playgroup

- Run by SIOCS - email Emma trysemz@tpg.com.au
Scotland Island Players

- contact Bob or Kez on 9999 4092
Catherine Park Bush Care Group

, 2nd Sunday @ 9.30am, Sharon Kinnison @ 9997 6017
Elizabeth Park Bush Care Group

, 1st Saturday @ 9 am, Bob Bolton @ 9999 4092
Island Thinking Group -
Roy Baker, 9999 6891, roybaker99@yahoo.com
Offshore a capella choir

– Saturdays at 2:30 pm, SI Community Hall. Call CB on 9997 2035.
---
Government Organisations
---
Airlines, Buses and Railways
---
Weather
Scotland Island Tides, Moon phases, Sun rise & set
Local Weather Forecast

Radar weather for Sydney (128k circle)
---
Emergency Contact Numbers
ALL EMERGENCIES (Police - Fire - Ambulance)
000
Police Assistance Line & Information
13 1444 or 9281 0000
Broken Bay Water Police
9910 7899 or 0412 162 093
Marine Rescue Broken Bay - Weekend

(

02) 9999 3554 - (02) 8411 1121



Marine Rescue Broken Bay - VHF Radio channel

VHF Radio Channel:

VHF 16


27MHz Radio Channel:

86 or 88



Scotland Island Rural Fire Brigade
9999 4404
NSW Fire Service General Information 9265 2999
9265 2999
Rural Fire Service General information
9450 3000
State Emergency Service, Warringah/Pittwater SES
9486 3399
National Parks & Wildlife Service: 000, general information
9457 9322
Dept of Community Services: general information
9977 6011
Sydney Water
132 090
Energy Australia
131 388, (ah) 131 909

---
Join SIRA
You can now join the Scotland Island Residents Association by
clicking here.
Please print the page and return the completed form to SIRA at this address:
The Treasurer, SIRA, PO Box 70, Church Point 2105.
Please NO CASH.

Contact SIRA at
sirapittwater@gmail.com
Join WPCA

To join the Western Pittwater Community Association, contact Michael Wiener at
m2wiener@bigpond.net.au
---
Archived Newsletters


A complete set of past electronic newsletters since May 2000 can be found and read at https://ymlp.com/archive_gesgjgm.php or by clicking here or by visiting the Mona Vale Library.

The Island website is at www.scotlandisland.org.au


---
To Contribute


If you would like to contribute to this newsletter it's easy!. Send an e-mail to the editor (editor@scotlandisland.org.au) or by clicking here. Type your contribution (100 words or so would be fine) and assuming it is of general interest to the community, does not include matter of a political nature and is not offensive, it will appear next month.

Subscription Information


To get on and off this newsletter,

click here

or got to:

http://www.scotlandisland.org.au/signup .


To change your address, click the 'modify' link at the bottom of this newsletter or send an email to the

editor@scotlandisland.org.au


---
Follow the PON
---
The Online Local Contacts Guide
Click HERE to load
The views expressed in this newsletter are not necessarily the views of the Scotland Island Residents Association (SIRA), or the Western Pittwater Community Association (WPCA)

---