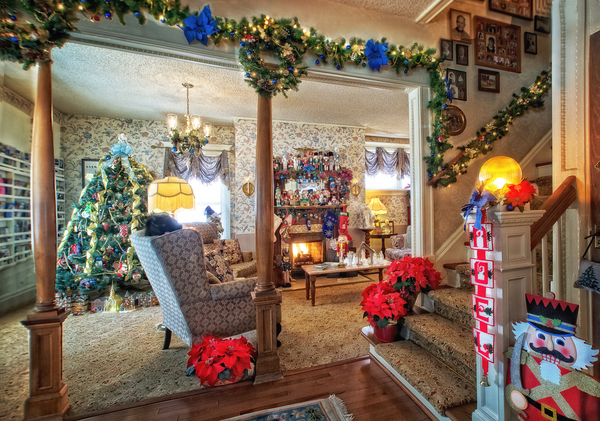 GIVE THE GIFT OF HOSPITALITY
And A HO HO HO-lden House
From
Our Resident Santa Joe!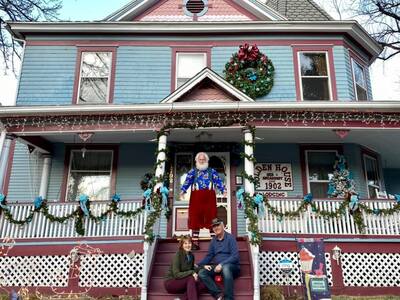 Santa Joe's in the Neighborhood. It's not every bed and breakfast that can claim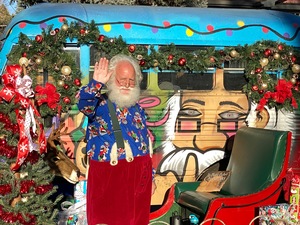 notoriety by living next door to Santa Claus' summer home, but Holden House can! Innkeepers Sallie and Welling Clark recently invited San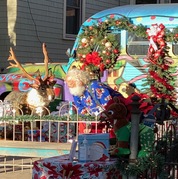 ta Joe over for a quick outdoor "socially-distanced" visit. Your Christmas and holiday list will be complete with our "NICE" place to stay to ensure your letter to Santa is delivered with our holiday themed B&B as a special gift of the season. This has been a challenging year for families who want to leave their wish lists with Santa. So, this year, Santa Joe decided to set up outside at his summer residence (next door to Holden House) to allow for social distancing, following local health guidelines and inviting free photos with kids and adults alike.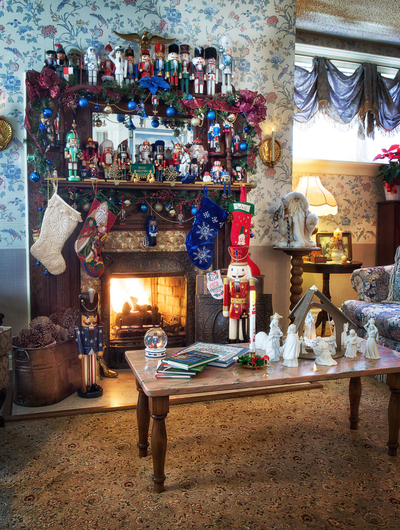 At Holden House, the holidays are especially jolly with Christmas trees throughout the inn and happy cheer to make your stay relaxing and romantic.
Y
ou will find three side-by-side Victorian homes, situated in a residential area just one mile west of downtown Colorado Springs, one mile east of historic Old Colorado City and four miles from quaint Manitou Springs. Within our adjacent complex o
f three Victorian painted lady homes, we feature the turreted Main House, the Rose Victorian and the Carriage House, each with two separate and well-appointed suites.
While the world of travel has changed with an increasing number of alternative overnight accommodations, you can be assured that Holden House is dedicated to maintaining the overall quality, hospitality and cleanliness in our traditional boutique-style inn, combined with a delicious gourmet breakfast served each morning. Our off-street parking areas makes for easy in-easy out.
Full Breakfast, Welcome Cookies, 24 Hour Coffee/Tea and Afternoon Snacks and Wine/Beverage Included! Each morning, our guests are treated to a complimentary full breakfast that's included in your room rate and served in the main house dining room. An optional breakfast served ensuite is also available for an additional fee. In addition, we will prepare an individual evening snack tray and glass of wine or beverage that you can take to your suite or enjoy in one of our many common areas, indoor or out. Onsite you'll have access to a K-Cup Coffee maker with a limited selection, so feel free to bring your own K-Cups if you have your own favorites. We also have a hot water kettle and a hot tea selection available during your stay.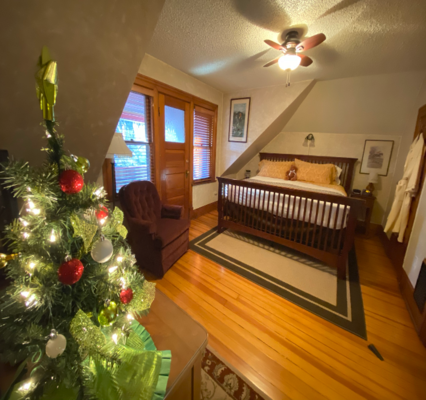 Our Romance and Discount specials keep our guests coming back time and time again. Check out the latest packages to make your stay even better!
It's that time of year...and for us, Christmas and the Holidays are a time for celebration! Here at Holden House, you'll find touches of the season in each suite and throughout the inn to make your stay sparkle. Each of our six lovely suites feature private baths, sitting areas and fireplaces, the perfect place to cozy up on cool evening after a day of shopping or sightseeing. Just a short distance to historic Old Colorado City, Manitou Springs and downtown Colorado Springs, you'll find Holden House a great central location for shopping, dining, art galleries and outdoor places such as Garden of the Gods. Our resident InnCat Mingtoy loves to greet our guests in the Main House. If you prefer pet-free accommodations, choose the Rose Victorian or Carriage House suites.
STAY 3 AND GET 3RD FREE OR STAY 2 MIDWEEK AND RECEIVE 2ND NIGHT 1/2 OFF! Apply the package discount at online checkout or call 719-471-3980 to reserve with a personal innkeeper. #BookDirect now. (not valid on existing reservations or with other discount offers and must be mentioned at time of booking). Only valid by booking directly through our official Holden House website or by calling the inn directly.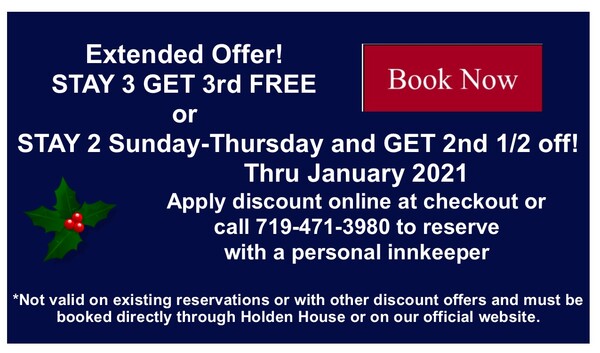 ---
UNIQUE HOLIDAY TRADITIONS -
Holden House embraces the Christmas season, with a traditional silver Christmas spider, signifying the symbol of sparkling tinsel and the Christ Child's birth.
"

Once upon a time, long ago, a gently mother was busily cleaning the house for the most wonderful day of the year, the day on which the Christ Child
came to bless the house. Not a speck of dust was left, even the spiders had b
een banished from their cozy corner in the ceiling to avoid the housewife's busy cleaning. They finally fled to the farthest corner of the attic. 'Twas

Christmas Eve

at last! The tree was decorated and waiting for the children to see it. The poor spiders were frantic, for they could not see the tree, nor be present for the Christ Child's visit. The oldest and wisest spider suggested that perhaps they could peep through the crack in the door to see Him. Silently they crept out of their attic, down the stairs and across the floor to wait in the crack in the threshold...
READ MORE...
---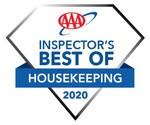 As a AAA Diamond "Inspected" property, we continue to receive excellent housekeeping ratings, including our award for "Housekeeping Excellence".
Here at
Holden House 1902 Bed & Breakfast Inn
, our innkeeping staff has over 150+ years of combined experience in the hospitality, restaurant and medical fields with an average on-the-job training knowledge of 25+ years each. Our inn first opened its doors in 1986 and is still under the same ownership today of Sallie & Welling Clark, ensuring staying power and meticulous attention to detail. Here are just some of the ways in which we are continuing our commitment to provide a clean and safe stay, especially during the current public health situation. Read more...
Innkeepers Sallie & Welling Clark (& Mingtoy) Welcome you to the

Christmas & Holiday Season

Read our Holden House Blog

for inn updates,

recipes and more!

VIRTUALLY YOURS...

TAKE A HOLDEN HOUSE

What Guests Are Saying...

"Another wonderful stay! This is my favorite place in the Springs. Thank you so much...just so sweet & friendly. Made me feel right at home. Merry Christmas and I will be back next year."

May the Force of the Season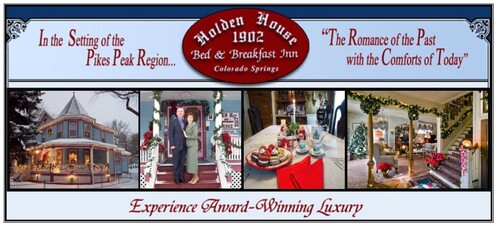 1102 West Pikes Peak Avenue
Colorado Springs, Colorado 80904