---
Editorial



The Scotland Island Artmart turned out to be another memorable event with more amazing pieces of art on display.  And now we can look forward to the Gone Fishing Gallery at the Pasedena, which will be opened by Susan Duncan in early December.

The word is out that the Dog Side of the Moon may well be the best production ever put on, and that you should not misss it under an circumstances. There are still two more shows to go, 4 and 5 November - don't miss out, tickets can be purchased at PMC Hill.

Finally, an acknowledgement of public generosity must go to Penny from Church Point Ferry Service who was online offering assistance with ferry tickets within half an hour of receiving the PON notice informing everyone about the boats that were sunk last week.  Thank you Penny, you and your team are such a vital part of this communtiy and your constant involvement and willlingness to participate and help out is very much appreciated by us all.

Enjoy!


---
Contents
---
Gwyn's November 2010 Calendar 

To download a full version (A4 size) of this months calendar, ready for printing,  just click on the calendar image.

You can contact Gwyn Perkins by email at g.perkins@gwyn.com.au


The file is quite large and in PDF format. To view PDF documents you will need the Adobe Acrobat Reader installed on your computer.

To download Acrobat Reader please

click here



---
Dog Side of the Moon - a brief review



OMG if you miss out next weekend seeing the Dog Side of the Moon it will be another brick in the wall of your life and you will have missed one of the all-time greatest shows the Island and offshore communities has ever put on.

Those crazy diamonds put on a performance that would shine on anywhere and those who were there felt elated and privileged.

Knowing the music of Pink Floyd (see allusions above) greatly helps, so that your memory and hearing resonate together – the entrainment of inner and outer becomes the entrancement. It is said that madness and creativity are conjoint twins and while going beyond the edge of our normal workaday world there be dragons, angels and demons - the Sharman's drum (i.e. entrancing music) dances us through the dark side fearing no evil - we touch the cleansing fire and return safely. Though for some this is just noise, for those who went with the flow its better than…well you know if you still remember.    
The Band members all individually deserve praise, but I do think special mention has to go to David Richards, and while you are only as good as you last gig, I think David has indelibly stamped his reputation as a master music-creative-organise-player. He deserves that Cigar. 

So once again if you don't go next week you will have missed out big time.

Bill Gye



---
ECT Director's Role for Northern Beaches Centre
Small, supportive, community run childcare centre
Free parking and free 10 minute ferry ride
Great flexible work/life balance - 21 hours or more if you wish
Beautiful bushland, sea, beach environment
Opportunity to have full autonomy over the centre philosophy and program structure
Above award pay



Scotland Island Children's Centre is located in the middle of Pittwater on Sydney's Northern Beaches and is accessible by ferry and boat only. The centre is looking for an experienced and passionate centre director to start in January 2011.





The twenty-place centre caters for 2-6 year olds and is open Tuesday to Thursday 7.30am - 5.30pm.



You need to have:

A Bachelor of Education (Early Childhood) from University - recognised by DOCs in NSW
A current First Aid Certificate
Knowledge of the NSW Emergent Curriculum and recent EYLF
Prior experience of management role in Children Services
Proven ability to lead a team
A passion for working with communities to ensure optimum outcomes for families and children
Please email your CV with a cover letter to siocs@comcen.com.au by November 22nd 2010.

www.siocs.com.au



---
Gone Fishing Gallery at Pasadena
Opening Sunday 4 December 3-5pm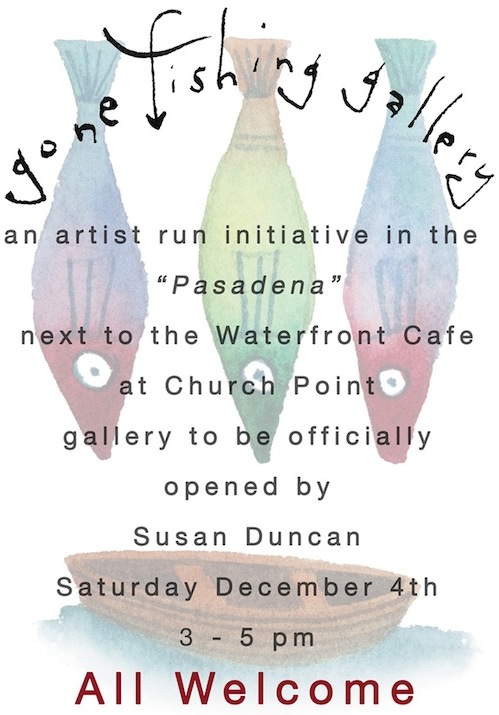 ---
Want to join the 2010 Christmas choir afloat?


 


To join in, just turn up to the first Christmas carol rehearsal date on Tuesday November 9 at Tarrangaua in Lovett Bay. 7.00pm start.



With just six rehearsals before the grand finale performance, choirmaster John has asked that anyone who wants to join please try to make every or at least five of the six dates. All of them would be preferable. Anyone who wants to join is welcome. Being a good singer is NOT a pre-requisite. It's about community and fun.
 
The performance will be on Toby's barge on December 21.
 
So it's time to dust off the Santa hats, oil the vocal chords according to personal taste and get into training for the 88 steps to the house.

See you there.



---
Scotland Island Founder Andrew Thompson Honoured In State Parliament         

Friday, 22 October 2010

Member for Pittwater Rob Stokes last night in State Parliament paid tribute to the founding occupant of Scotland Island, Andrew Thompson.

Today marks the 200th anniversary of Andrew Thompson's death, a Scottish emancipist who was granted occupancy of the Island by NSW Lieutenant Governor William Paterson in 1809, before going on establish a successful salt works and naming the Island after his homeland.

"Scotland Island is a fantastic, close-knit community with a proud and ongoing history", Rob Stokes said today.

"Over the past 200 years, many different characters have contributed to the rich history of Scotland Island to make it the vibrant community it is today.

"Andrew Thompson's legacy as a resourceful, compassionate and community minded person continues to be seen amongst the island's residents.

"I acknowledge the wonderful residents of Scotland Island and pay tribute to its founding occupant Andrew Thompson, whose legacy continues today in a community all neighbourhoods should aspire to emulate", Rob Stokes concluded.



Extract from Hansard and Papers Thursday 21 October 2010



Mr ROB STOKES (Pittwater) [7.41 p.m.]: Tonight I inform the House about a significant anniversary in the heart of my community of Pittwater. This year marks 200 years of permanent settlement of Scotland Island. Scotland Island is an emerald diadem wrapped around a rock in the waters of the southern end of the Pittwater. Measuring about a kilometre in diameter and rising to a height of about 120 metres, the island is very beautiful, particularly when viewed from the south-east through the mist on a winter's morning, when the deep green of the sea meets the grey green of the island, or when viewed from the north on a hot summer afternoon as a stiff nor'easter whips up a forest of dancing whitecaps that seem to scurry across the blue water in their haste to get to Catherine Park on the northern side of the island.

The island itself is a jumbled mix of homes, trees, colour and people. There are lots of children, few vehicles and few fences. And, come to think of it, there are not many shoes either. Scotland Island feels of community. The richness of the relationships is almost palpable. Everyone knows each other and cares about each other. The islanders are an enterprising lot: they run their own water supply and they support their own rural fire brigade and kindy. One of the things I love on the mornings I drop off my children to kindy and school in Newport is watching the island and offshore children making their happy pilgrimage up Queens Parade to Newport Public School, having caught the Church Point ferry across the pond. Scotland Island is a happy place, and it has a rich history that endorses Mark Twain's comments of Australian history that it did not read like history at all but:
… like the most beautiful lies; and all of afresh sort, no mouldy old stale ones. It is full of surprises and adventures, and incongruities, and contradictions and incredibilities; but they are all true, they all happened.

Having been marooned in the Pittwater when sea levels rose about 18,000 years ago, the island would have been regularly visited by the local Guringai tribe, but there were no signs of permanent habitation until it was granted to Andrew Thompson, a Scottish ex-convict, by New South Wales Lieutenant-Governor Paterson in 1809. By 1810 Thompson had made his permanent home on the island and had created a successful salt works. A resourceful Scot, like his Governor and friend Lachlan Macquarie, he also built a ship slipway and, it is rumoured, an illegal still. It is ironic that young people these days are often criticised for changing careers too much and not sticking at one job. Andrew Thompson managed a career as a convict, constable, toll collector, builder, shipwright and industrialist and possibly, although he would have been unlikely to record it on his resume, a distiller. And all that by the age of 36!

He named his island, previously known as Pitt Island, after his beloved homeland. It is quite fitting that in the same year we honour the Scot Macquarie for his contribution to the development of New South Wales we honour his compatriot Andrew Thompson and the beautiful island he named after their shared homeland. And it is appropriate that we remember Andrew Thompson in this place on this day, exactly 200 years after his sudden death on Scotland Island on 22 October 1810. According to accounts from the time, he died of exhaustion, and, most likely, water-borne infection after rescuing people in the Hawkesbury floods a few months earlier. I am the same age as Andrew Thompson was when he died, and I salute this enterprising pioneer for achieving so much in such a short life.

In 1812 Scotland Island was offered for sale. The Sydney Gazette advertisement declared it contains "one hundred and twenty acres of good soil, extensive salt works, a good dwelling house and stores, labourers' rooms, and every convenience suitable for a fishery, or shipbuilding, also a vessel of about ninety tons, partly built, still on the stocks". It did not say anything about the distillery. Over the years different characters and activities have contributed to the rich history of this little island, which has been progressively subdivided until today, when there are well over 600 permanent residents living in cottages cascading down the steep slopes of the island, mainly hidden among the trees.

Thompson's life and the rich history of Scotland Island were recently celebrated at a wonderful bicentenary festival organised by the indefatigable Emmy Collins and supported by the Scotland Island Residents Association, PMC Hill Real Estate and Pittwater Council. Bob Waterer, a Guringai elder and direct descendant of King Bungaree, gave a welcome to country, and the island celebrated its history and its future, its artists and its exhibitionists in song, dance, film, stories, food and fun. Greg Roberts dressed up as Andrew Thompson and Shar Jones' kids dressed up as giant kangaroos and spent the day being beaten up by toddlers. My daughters spent the afternoon chasing chickens, while I was hosted by Bill Gye, president of the residents association. It was great to see some enterprising islander in the spirit of Andrew Thomson handing out sachets of local Scotland Island salt. I also thank Louise Roberts, who so kindly transported my family to join the islanders on the day There are so many people who contribute to the success of this wonderful offshore community—too many to mention here—but I thank them all for making Scotland Island a special place and a beacon pointing to the real relationships and real community that all our neighbourhoods should aspire to emulate.



---

Local Council Notices

Parent Forum Combats Alcohol and Drug Issues



The first in a series of free forums for parents of young people aged 12-25 will be held at Newport Community Centre from 6.30pm to 8.30pm on Wednesday 10 November.

The youth organisation Point Zero will host the information sessions for local parents experiencing difficulties with teenagers and young adults.

Point Zero is a charity organisation for young people based in the eastern suburbs of Sydney. The organisation has recently been piloting a mobile outreach and counselling service for local teenagers on the northern beaches. Given its success the service is due to be extended.

The first of the workshops will educate parents on the impact of alcohol and other drugs and provide advice for minimising risk.

The complex issues that young people and parents face in relation to parties, alcohol and other drugs will also be discussed, as well as rights and responsibilities.

The Council's Community & Library Services Manager Lindsay Godfrey said the workshop would provide parents with strategies for communicating effectively about safe partying and what to do in an emergency.

"This workshop has timely advice for parents with Schoolies Week on the agenda for many graduating high school students," said Mr Godfrey.

Bookings for the free parent forum are essential and can be made by calling Melinda Hewitt on 9970 1170 by Wednesday 3 November.

Further information about Point Zero can be found at www.pointzero.org.au
Lindsay Godfrey, Pittwater Council: 9970 1166


---
Nominations Open for 201 Pittwater Australia Day Awards



Nominations for the 2011 Pittwater Australia Day Awards are now open at www.pittwater.nsw.gov.au

There are five categories of awards for individuals who have an outstanding record of service to the Pittwater community.

They are;

Citizen of the Year
Young Citizen of the Year
Senior Citizen of the Year
Community Event of the Year
Sportsperson of the Year
Pittwater Mayor Harvey Rose said the awards would be open for nominations until Friday 17 December 2010, with a presentation to the winners on Australia Day 26 January 2010 at Newport Beach.

"Nominations can be for people who either live or work in Pittwater and can be nominated by a friend, family member or the person themselves," he said.

Nomination forms can be downloaded from Pittwater Council's website at www.pittwater.nsw.gov.au

Previous winners of Australia Day Awards have included local Olympian and sailor Nathan Wilmot, the Artfest event at Avalon, environmental volunteer Marita Macrae, community volunteers Colleen and Stan Brown and the Newport Surf Life Saving Club.

Pittwater's celebration of Australia Day will take place between 7am and 11am on Wednesday 26 January 2011 at Bert Payne Reserve, Newport Beach.

Media contact:  Community Relations, Pittwater Council Ph: 9970 1119 or 9970 1172



---
GooDog



Training Classes on Scotland Island





Positive Dog Training for Happy Dogs and Happy Owners




Goodog will be holding the inaugural Good Manners training course on Scotland Island starting Sunday 14 November at 2pm.





Course outline



The course is five weeks in duration (one hour each Sunday) and costs $175.00, which includes starter-pack, hand-out notes and a treat pouch.  We take a maximum of eight dogs per course (minimum of four).  Our course focuses on things such as how dogs learn, body language and positive reinforcement for the theory, and then the practice concentrates on:

getting your dog's attention
self control
sit for greeting (not jumping up)
lie down
walk on a loose lead
coffee shop manners and dog park behaviour
door and car etiquette
meeting people, kids and other dogs
the all-important come when called
stay
leave things such as chicken bones in the street, cats and other exciting things to be avoided
tricks, games, etc
We try to get calm and confident dogs in real life situations, basically a dog you can take anywhere (or at least set them up to achieve this stage) and are a pleasure to be around.  We also focus on trick training as this improves the relationship and is fun for dog and owner (and impresses your friends!).

You can check out our website at www.goodog.com.au. Feel free to contact me if you need any more information or would like to book a place on the course.
You can either call me on 0424 74 0234 or e-mail to Barbara@goodog.com.au



---

Author Talks at Mona Vale Library
Author Shares Tips on Sustainable Living


Mona Vale Library's next Author Talk features sustainability guru Michael Mobbs.

Michael will present his book Sustainable House from 6.30pm on Wednesday 3 November at library.

A former environmental lawyer, Michael Mobbs is Associate Lecturer at the School of Engineering at the University of Technology and also runs his own sustainability company, specialising in the design and project management of sustainable water, energy and recycled water projects.

Sustainable House is an essential guide for those planning to build or renovate. It is suited to apartments or houses and will assist home-owners in achieving an environmentally friendly home.

It covers recent revolutions in sustainable housing and includes the author's assessment on technologies and materials used in his own ground-breaking sustainable house 14 years after its completion.

Originally published in 1998 and now in its second edition, Sustainable House is prescribed reading in tertiary design courses across Australia and is listed as a best-selling book with the CHOICE organisation.

Michael's book provides advice on retro-fitting your kitchen, bathroom, water supply, energy, waste system and garden.

It also offers tips for working with councils, builders and engineers and the costs and benefits associated with making your home sustainable.

Mayor Harvey Rose said the Council had adopted sustainability as a key principle in all its operations. 'We recently launched our own sustainability checklist and guidelines for owner-builders and designers in Pittwater," he said.

The Author Talk will take place at Mona Vale Library from 6.30pm on Wednesday 3 November. Bookings are essential; to book phone 9970 1600. Following the talk there will be book signings and light refreshments. Admission is $7.50 adult, $5.50 concession.

Catherine Buddin, Mona Vale Library Ph: 9970 1605



---
Warringah Printmakers Studio Annual Exhibition
5 Nov - 31 Dec 10am - 6pm

www.printstudio.org.au

---
Thank you

We would like to say a massive thank you to all the people involved in saving our two boats vandalised last Saturday night at Carols Wharf. They managed to pulled them to shore before the engines could go under water. We were away on holiday, so if it wasn't for them we would have definitely lost two good engines. A great example of this amazing community.

We are really hoping that the rest of the Community collaborates with the Police, so things like that won't happen again to someone else. Although we were really lucky, we still lost two batteries and we wouldn't mind to invoice the vandals!

Thanks again.
Paolo and Anna.



---
Wanted





Looking for a Wedding Venue!


Recently engaged couple looking for a property on Scotland Island to use as a wedding venue for March 2011. Having kayaked around the island a few times, seen a number of properties on the north and east facing sides of the island with long sloping lawns down to the water, inquiring whether anyone would consider renting a property out for a few days to use for a wedding. We envisage an outdoor rather lowkey/peaceful wedding with water views and a marquee for the reception.

If anyone is interested or could offer some advice, please don't hesitate to contact Paul Moffat on
0449015393 or  pmoffat@apilifestyle.com.au

Many Thanks,
Paul & Kim




House swap or House sit.

.


I am a responsible caring woman available to house sit and look after animals indoor plants and garden if required during January 2011.

Alternately, my home in Ballina is available for exchange during same period if that would suit.  House has ample sleeping accommodation, swimming pool and is 3 minutes walk to beach, Shaws Bay Hotel and shops.  Contact Lesley on 0421277992.



---
For Sale


Free Refrigerator----Kelvinator Twin Air No Frost 640 Liter


2 Doors - Food 375, Frozen 265
In good working order,

FREE to the first caller


Phone Lionel on 0411 550 391



---
The Local Guide
Community Information
Scotland Island Residents Association (SIRA) Membership Application

- click here to download
West Pittwater Community Association (WPCA)

- http://www.wpca.org.au
Scotland Island Water


SI Emergency Water Contacts and Guidelines for water: click here for information and contacts
Scotland Island 'Water Agreement' - click here to download
Scotland Island Children's Centre

- (SIOCS - Scotland Island & Offshore Childrens Services)
Catherine Park (Long Day Care Service)  8.30am - 4.30pm (Tues, Weds & Thurs)
Playgroup @ Children's Centre every Monday, 10.00am - 12 midday
Other services include: School Holiday Programme / Facility & Equipment Hire
For information call 02 9979 7856 or email:  siocs@comcen.com.au
Scotland Island Community Hall Bookings:

  Kez on 9999 4092 or kezborthwickbolton@gmail.com
---

Transport
---
Real Estate
---
Services, Clubs & Accommodation
---
Island Classes (Fitness, Dance, Art etc)
Pilates, Meditation and Group Fitness with Patrice

-  0406 483 036 patrice.corrie@gmail.com
Anusara Yoga

-  Thursdays -  0421762236 dominiquemarill@gmail.com or floydcbg@ozemail.com.au
Art with Max

- Watercolour classes. Phone Max on 9997 4527
Art Classes

- drawing and painting in oils, acrylics and mixed media- Marion 9979 3993 or 0431 457 431
---
Groups
Gurdjieff / The Forth Way

- Call John on 9979 5584, Marion on 9979 3993 or Anne on 9999 3478
Green Group For Catherine Park

- Run by SIOCS - Emmie Collins on 0405 330 781
WOW - Women on Water

- second Wednesday of the month - contact Nila on 9999 2445   
Parents & Kids Groups Playgroup

- Run by SIOCS - email Emma trysemz@tpg.com.au
Scotland Island Players

- contact Bob or Kez on 9999 4092
Catherine Park Bush Care Group

, 2nd Sunday @ 9.30am, Sharon Kinnison @ 9997 6017
Elizabeth Park Bush Care Group

, 1st Saturday @ 9 am, Bob Bolton @ 9999 4092
Island Thinking Group -
Roy Baker, 9999 6891, roybaker99@yahoo.com
---
Government Organisations
---
Airlines, Buses and Railways
---
Weather
Scotland Island Tides, Moon phases, Sun rise & set
Local Weather Forecast

Radar weather for Sydney (128k circle)
---
Emergency Contact Numbers
| | |
| --- | --- |
| ALL EMERGENCIES (Police - Fire - Ambulance) | 000 |
| Police Assistance Line & Information | 13 1444 or 9281 0000 |
| Broken Bay Water Police | 9910 7899 or 0412 162 093 |
| Scotland Island Rural Fire Brigade  | 9999 4404 |
| NSW Fire Service General Information 9265 2999 | 9265 2999 |
| Rural Fire Service General information | 9450 3000 |
| State Emergency Service, Warringah/Pittwater SES | 9486 3399 |
| National Parks & Wildlife Service: 000, general information | 9457 9322 |
| Dept of Community Services: general information | 9977 6011 |
| Sydney Water | 132 090 |
| Energy Australia | 131 388, (ah) 131 909 |

---
Join SIRA
You can now join the Scotland Island Residents Association by
clicking here.
Please print the page and return the completed form to SIRA at this address:
The Treasurer, SIRA, PO Box 70, Church Point 2105.
Please NO CASH.

Contact SIRA at
 sirapittwater@gmail.com
Join WPCA

To join the Western Pittwater Community Association, contact Michael Wiener at
m2wiener@bigpond.net.au
---
Archived Newsletters


A complete set of past electronic newsletters since May 2000 can be found and read at https://www.ymlp.com/pubarchive.php?sira or by clicking here or by visiting the Mona Vale Library.

The Island website is at www.scotlandisland.org.au


---
To Contribute


If you would like to contribute to this newsletter it's easy!. Send an e-mail to the editor (editor@scotlandisland.org.au) or by clicking here. Type your contribution (100 words or so would be fine) and assuming it is of general interest to the community, does not include matter of a political nature and is not offensive, it will appear next month.

Subscription Information


To get on and off this newsletter,

click here

or got to:

http://www.scotlandisland.org.au/signup .


To change your address, click the 'modify' link at the bottom of this newsletter or send an email to the

editor@scotlandisland.org.au


---

---
The Online Local Guide - Community Information

 Click HERE to load
The views expressed in this newsletter are not necessarily the views of the Scotland Island Residents Association (SIRA), or the Western Pittwater Community Association (WPCA)

---