Panel Discussion
Nasty Women: Feminism, Resistance, and Revolution in Trump's America
Wednesday, October 11 at 7 PM

Featuring:
Samhita Mukhopadhyay – Nasty Women Editor
Kate Harding – Nasty Women Editor
Kate Schatz – Founder of Solidarity Sundays
Carolyn Jasik – Director of California Women's March
Debra Cleaver – Founder & CEO of Vote.org

Join us for a lively and pertinent panel discussion inspired by the essays in Nasty Women, written by a diverse group of talented women seeking to provide a broad look at how we got here and what we need to do to move forward.
---
More Upcoming Events: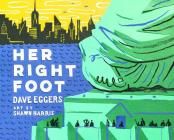 DAVE EGGERS AND SHAWN HARRIS
Her Right Foot
Sunday, October 15 at 10 AM*
*Please note special day & time

Five Starred Reviews

"Eggers's crucial and timely re-examination makes Liberty an active participant in a debate that is more contentious than ever." -- Publishers Weekly, starred review

If you had to name a statue, any statue, odds are good you'd mention the Statue of Liberty.
Have you seen her?
She's in New York.
She's holding a torch.
And she's in mid-stride, moving forward.
But why?

In this fascinating, fun take on nonfiction, Dave Eggers and Shawn Harris investigate a seemingly small trait of America's most emblematic statue. What they find is about more than history, more than art. What they find in the Statue of Liberty's right foot is the powerful message of acceptance that is essential to an entire country's creation.
---

ROBIN SLOAN
Sourdough
Thursday, October 19 at 7 PM

"At once a parody of startup culture and a foodie romp, Sourdough is an airy delight, perfect for those who like a little magic with their meals." - Booklist

Come celebrate Robin Sloan's much-anticipated new novel, and enjoy fresh-baked sourdough from Noe Valley Bakery! Sloan, the author of Mr. Penumbra's 24-Hour Bookstore, will be joined by the hosts of Mother Jones magazine's Bite Podcast, the magazine's food-related podcast "For people who think hard about their food." They will be doing a live taping of the podcast.
---

Co-sponsored by Wonderfest!
JOHN BARGH
Before You Know It: The Unconscious Reasons We Do What We Do
Tuesday, October 24 at 7 PM

Meet the world's leading expert on the unconscious mind, whose groundbreaking book gives us an entirely new understanding of the hidden mental processes that secretly govern every aspect of our behavior. Before You Know It: The Unconscious Reasons We Do What We Do "will be the most important and exciting book in psychology that has been written in the past twenty years," according to Dr. John Gottman. This event is co-sponsored by Wonderfest, the Bay Area Beacon of Science. Don't miss it!
---