Bitter Creek North Newsletter 

May 1, 2015

_________________________________



Call Toll Free:  1-877-MELT WAX

 



"Where Creativity Flows!"

May Specials!

 

 

 

 

 

 

 

Spring is in full swing, which means it's time to start planting gardens!

Stock up on these wonderful

Plants & Herbs fragrances

!

Choose from the following fragrances:

* Eucalyptus Spearmint BNL

* Sage, Sweetgrass & Cedar BNL

* Sagebrush & Pinion Leaf BNL

Super Soap Base Sale!

All M&P Soap Bases

 are 10% off any quantity!

No limit!

Choose from the following bases:

 

Sale ends Sunday, May 31st at 11:59pm cst!

 

 

 

 

 

 

 

 

 

 

 

 

 

 

Mother's Day Sale!

 

 

 

 

 

 

 

  

Candle & Tart Warmers 

We just received beautiful new designs in April, so be sure to check out our

entire selection! 

Sale ends Sunday, May 31st at 11:59pm cst!

 

 

Votive Clam Shell Sale!

2 Cavity Votive Clam Shells 

Sale ends Sunday, May 31st

at 11:59pm cst!

 

 

 

 

 

 

Chunk Cutter Sale!

 

  

 

 

 

 

 

 
 

 

 

 

 

 

 

 

 

 

 

 

 

 

 

The following fragrances are 

 

$2.00 off per lb this month!

Choose from the following fragrances:

 




 

 

*Cucumber Melon

A perfect blend of our Wild Watermelon, Cucumber and Honeydew creates this incredibly fresh & fun fragrance.

 

 

 

 

 

 

 

*Maple Butter

Sticky drops of Vermont maple and deep rum extract are blended with buttery vanilla. smooth and delicious.

 

*Apple Butter Caramel

 

This delectably sweet scent is a combination of delicious apple, gooey caramel, and sweet and spicy apple butter.
 

All online orders of $50 or more are automatically entered each month to

win $10 in BC Bucks!
  

Monday, May 25th

Memorial Day.

 

From the Bitter Creek Family

to yours,

please have a safe and happy 

Memorial Day weekend!

 

 

Happy 

Memorial Day!

 

  

 

 

 
 
    We just launched our new mobile website for your smart phone. 

You can now order from

ANYWHERE & ANYTIME with ease. We've worked with our designers to make our mobile site as simple to use as possible. 

If you're one who uses your phone for everything, Check us out!!

 

 

 

 

 

 

 

 

 
Do you have a creative and original "Tip of the Month" to share? Send it in to
Tips@candlesupply.com
and you could
Win $25 in BC Bucks!
***Must enter code "MAY
15" into the comments section of your shopping cart (not the coupon code box)!  Discounts will not be automatically calculated by the cart on these sales, but will be calculated by our office and reflected on your invoice.
Sales end Sunday, May 31st 11:59 pm!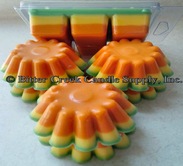 Check out our new blog post
New posts are added frequently, so check back often!

As always, we appreciate your patronage and look forward to being of service to you!