Hello ,

My name is Loredana. For those who subscribed
to Sylvia's newsletter
some time ago, you've probably already met me before as a guest blogger, in the story about the "Use Your Dutch" surf lesson. Do you remember?

In the meantime, about 1.5 years went by since I first started learning Dutch. I
now
can speak almost fluently and can say all t
he things I want to say
in Dutch
. Amazing, isn't it? :)
Come meet me and Sylvia on September 29th,
at the community fair in Hilversum
(9.00-14.30 at the Annagebouw, Emmastraat 7,
behind the St. Vitus church)

What will happen at our stand:
Short ten-minute 'teaser' lessons.
Try to open the Dutch Mystery Box, which is
specially designed* for Learn Dutch Fast. It has 5 drawers which can be opened with the help of a secret code. At the fair, you can try to open the first drawer by cracking the code!
Since Sylvia has a new hobby (geocaching), she would like to share the fun experience of opening a field-puzzle.
Right now, she is adding some steam-punk ornaments to make the box not only a challenge to open,
but also a beauty for the eye ;-)
Unfortunately, I'm not allowed to post pictures of the mystery box, but at the top of this letter, you can see some of the ornaments Sylvia is using.

The very famous Dutch Cliché Cards will also be for sale at the fair, for a very special price, of course in a nice pouch.
There will be a variety of other pouches and bags for sale, made by the same person of the beautiful pouches for the cliché cards: the mother of Syl's Vietnamese friend Anh.




Guess and win a nice prize, and much more!
This is how we will look, so you can
easily spot
us: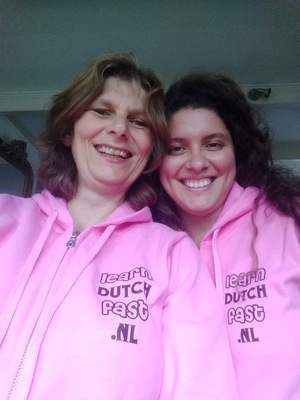 You don't live in the area? No worries:

Until September 29th you can enjoy the special fair discount on the cliché cards.
Email Syl the code "ikhouvankorting" and you will receive 10% discount on the price of the cards.
(You pay the full transportation costs, though.)
They can be sent all over the world.

Also take a look at the Facebook Distance Learning Page for ideas on how to study from home.
*T
he story behind the cliché cards and the Dutch Mystery Box: 

The box is designed by Martijm, who together with his sister Maresa also made the photos for the Learn Dutch Fast Cliché Cards. 
Martijm and Maresa are the kid's of Syl's friend, Kuina, who sadly passed away way too young. Kuina & Syl always used to call each other 'sis' so this makes Martijm and Maresa Syl's 'nephew and niece'.
Martijm travels all over the world and when he's at home,
he's always looking for interesting projects which will help him earn some money for his next trip (Btw, he also does translations).
His sister helps him with whatever is needed. They are both very creative, inventive and handy as you can see from the Cliché cards and the Dutch mystery chest.
See for yourself on September 29th in Hilversum
or at another time at Syl's place in Bussum.
Or organize a coffee party with your friends
and invite Syl (and me, haha) to join and bring the box...
Mail for more info.
P.S.: The last courses of the year are almost fully booked, so if you had plans to learn or improve your Dutch in 2017, you have to be quick.
There are two places left for the Total Immersion Week level 1 starting October 9th, and for the level 2 course starting October 24th (3 days). On December 4th there will be a beginners' course for German speakers.
Mail me if you would like to have more info about one of those courses.

That was it for now, tot ziens!
or share on social media:


Thank you!