---
Contents
---

---
Woody Point Yacht Club:
Commodore Cocktail Party
4th August 2012
6.30pm till midnight
BYRA - 1842 Pittwater Road, BAYVIEW
Fancy Dress - Movie Heroes and Legends
Front Door Ticket Sales
Members $55/Non-Members $60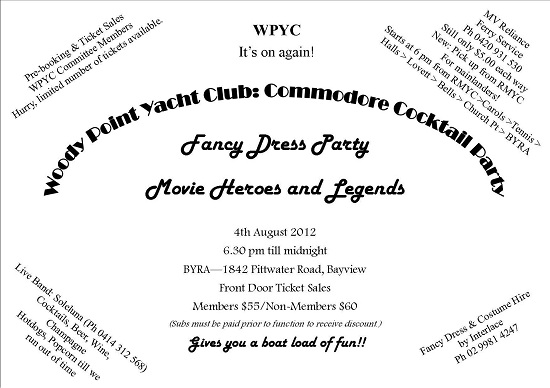 ---
Local Council Notices
ISLAND VEGETATION COLLECTION
MONDAY, AUGUST 6

Please put your material out as described below, and further in attached brochure and the Pittwater Offshore Directory – BY SUNDAY, AUGUST 5


A maximum of 2 cubic metres of vegetation for each household
Leaf litter, grass clippings and prunings TO BE PLACED IN HARD SIDED CONTAINERS
Branches to be no longer than 1.2m and BUNDLED AND TIED TOGETHER WITH TWINE
No plastic, hessian or nylon bags
No cardboard, foam or polystyrene boxes
No soil or untied bundles
Any material not complying with collection guidelines will be left on the road side for residents to arrange private collection.

For electronic versions of these calendars please see below
Western Foreshore Calendar
Scotland Island Calendar



---
Scotland Island Winter Fire Shed Dinner
Saturday August 11th, 7pm
INDIAN CURRY NIGHT
Adults $20
Children under 12 $5

---
SCOTLAND ISLAND RURAL FIRE BRIGADE

Your Brigade

Fire Brigade Matters



BUSHFIRE

Our main threat to the Island is from embers blown, with a strong wind, towards us from a major bushfire in Kuringai Chase.
A bushfire taking hold on the Island could be started in other ways; a petrol spill from an overturned vehicle, an uncontained house fire, or arson.

Preparing our property for a possible bushfire, to minimise the possibility of a fire taking hold, is good sense and should be part of our overall property maintenance plan. Preparing now, is sensible, before the start of the fire season, clearing fuel on the ground that can be taken away in Councils' green waste collection on the 6th August.
The term 'fuel on the ground' refers to the build-up of dead vegetation, leaves, twigs, dead branches, dead dried bushes. This fuel on a hot dry day with a strong wind blowing from the West or North West is going to ignite from wind borne embers should there be a fire opposite in Kuringai Chase.

The wind is going to blow this ignited material towards our houses, most often houses with an exposed under croft. Most houses on Scotland Island are built in a way that leaves them vulnerable to a bushfire, built on steep slopes (fire moves fastest uphill) with generous overhangs (decks) where fire can easily penetrate.

With this in mind keep your house underneath free of any combustible material, stored timbers etc. Never store flammable liquids or fuel (petrol) under the house, store well away from the house.

At the fireshed our fuel containers (all metal) are stored away from the building in a metal box.

Keep at the base of your house a margin of at least 2 metres of completely cleared ground. Keep gutters free of leaves and check eaves for gaps. We have leaflets at the fireshed with further details.

Our approach to fire prevention is one based on common sense, we do however become complacent if not threatened by fire for some time (as we haven't been) but we live in a high bushfire risk zone, to acknowledge this and to prepare our properties makes good sense.

The fire brigade on the Island is looking for new active members if you feel you can make a commitment to active membership contact me below or speak to any brigade member.

We have training on the first Sunday of each month, drop into the shed and see what we do, all visitors are welcome.

David Wardman
9999 5944
david@wardman.com.au



---
SOS for firefighters:
Service needs to triple its membership
Courtesy of MANLY DAILY
10 May 12 @ 12:01am by Andrew Priestley



Photo by SIMON COCKSEDGE





SCOTLAND Island Rural Fire Brigade needs to nearly triple its members to fully carry out its duties, according to the brigade's Captain, Ian White.



The volunteer brigade, which also handles ambulance and State Emergency Service callouts on the island, has about 15 active members. But Mr White said it is looking for 40.

"The brigade desperately needs more trained members to share the workload," he said.

"We're one of the busiest in the local area and it's all run by volunteers."

According to Captain White, the brigade responded to 12 storm damage calls, 11 medical callouts, six fire calls - including three boat fires - and two vehicle recoveries in the past 12 months.

If volunteer numbers did not pick up, Mr White said the brigade's capabilities would be compromised.

He was concerned residents had become complacent since a serious blaze had not occurred in the area since the Berowra fires a decade ago.

"As there has not been major local fires since 2002-2003, people have forgotten how serious the bushfire risk is to the residents of Pittwater," he said.

"(If more volunteers can't be found) the brigade would have to rely on mainland crews."



JOIN THE BRIGADE




Call the Rural Fire Service on 9450 3000 or download a form at rfs.nsw.gov.au.





---

---
Kindy Trivia Night update and Thank you's


The Kindy Trivia Night was held on Saturday 16th July and what a fantastic night was had by all.



There was a raffle with prizes donated by various companies around Sydney. We had the children's artwork for Auction and a wonderful 2 night stay in Leura donated by a wonderful couple Jane and Mark. We also had a handmade quilt which was kindly donated by Marie Kennedy which raised in approx $400 – Thank you Marie.

A total of $2k was raised for the kindy that night all of which will go towards new resources for the children.



Thank you to the following companies:




Penny at Church Point Ferries.
Mrs. Browns Health food shop
Toni & Guy Hair studio
Megan Browns dad for DVD player
Glenworth Valley Adventure Park
Samurai Horse riding
Quays Marina
Stowaway Cafe
Pittwater RSL
Liz @ Costume Hire
Pittwater cellars
Barbara & Jason Harvey
La Mona beauty
Marie Kennedy for Quilt.



I would also like to thank everyone involved in making the night a brilliant success and great fun. Thanks also goes out to the wonderful compare we had on the night 'Sally Kennedy' of Lane Cove who came to support the kindy. She was so wonderful and kept the whole night under control, exciting and fun. Thank you Sally.



Photos from the Trivia night can be seen

HERE

Look forward to our next Kindy Fundraiser.
Liz Power (Director)




Kindy Opening Monday's:


Dear Families the kindy is looking at opening on Mondays if you are interested please contact Liz on 02 9979 7856 or director.siocs@comcen.com.au to arrange enrollment forms and a visit to the Kindy. If this goes ahead this will mean that the kindy is open 5 days a week from 7.30am to 5.30pm for the first time ever. This is an amazing achievement and thanks go out to all our wonderful families and committee's for supporting the Kindy throughout the years.



Upcoming Events for the Kindy:


Kindy mini Olympics (Date to be confirmed) at Catherine park, Scotland Island everyone welcome. $5 entry fee, sausage sizzle and lots of fun to be had.

Kindy Disco – Friday 30th August from 6pm at the Community Hall, Scotland Island. More info to follow shortly.



---




AUTHOR TALK





Author Delves Into School's 100 Year History



Get a glimpse of history on our doorstep as local teacher and 'unofficial' archivist Beverley Lewis presents her book

Mona Vale Public School, Celebrating 100 Years

on Tuesday 14 August at Mona Vale Library.

A Pittwater resident, Beverley Lewis is a former teacher and student of Mona Vale Public School.

After completing teachers college and service in country NSW, Beverley returned to teach at Mona Vale for 32 years before retiring in 2005.

Events librarian Catherine Buddin said Ms Lewis had put together a collection of stories and photographs for a pictorial history published to celebrate the school's centenary.

"Beverley has created the book with another 'unofficial' archivist and ex-teacher Bev Harvey. Together they have worked on the project since 1987," Ms Buddin said.

Pittwater Mayor Harvey Rose praised Ms Lewis for bringing together significant moments in the school's history which also includes an original published history by Thomas Le Sueur.

"Not only is it a local story, but it's collated and illustrated by members of our local community, including artist Noela Cunningham who has contributed many beautiful illustrations," said Cr Rose.

A copy of Beverley's book will be added to the school's time capsule to be buried at the school's 100 year festival day on Saturday 15 September.

The talk will take place on Tuesday 14 August from 6.30pm at Mona Vale Library 1 Park Street, Mona Vale.

Bookings are essential; to book phone 9970 1600.
Following the talk there will be book signings and light refreshments.
Admission is $8 adult, $6 concession.

Events & Promotions Librarian
Mona Vale Library
Park St
Mona Vale NSW 2103
tel 9970 1600 or 9970 1605 fax 9979 1465
catherine_buddin@pittwater.nsw.gov.au



---
BURNT
Photographic Exhibition including images by June Lahm

1-19 August 2012
Incinerator Art Space
2 Small Street Willoughby

---
IS THIS YOU...?
(OR IS THERE A PART OF YOU THAT WOULD YOU LIKE IT TO BE?)
IF SO, GET ON DOWN TO SATURDAY MORNING DYNAMIC YOGA
@
THE COMMUNITY HALL... RIGHT HERE ON
SCOTLAND ISLAND
9AM – 10.30AM
Dynamic Yoga offers men:
• Improvement in physical strength
• Increased flexibility
• Better performance in their chosen sport
• A clearer and more productive mind
• Better performance at work

---
Bayview Sea Scouts Fundraiser




Coming up to Spring we are promoting our annual Garden Products Fundraiser (fondly known as the POO DRIVE).



Bayview Sea Scouts are offering to deliver a range of quality garden products to local homes for Spring.

Money raised will go towards Cubs & Scouts to participate in a wide range of activities & adventures.
Support this worthy local cause, help yourself & your garden.
It's the easiest way to stock up with heavy & bulky garden products
Because we do all the work!



FREE Delivery to your door – Saturday 1st September 2012



Good range of quality garden products.
Hassle free & keeps your car clean!
$5 dollar discount for orders over $130
Our scouts will be delivering for free our well - priced garden products throughout the Pittwater community
(including Scotland Island and Pittwaters' western foreshores) on SEPTEMBER 1ST.

You can print our order form HERE

Best regards,
Anne Seale
0414545459



---
Watch Out - Laser Target !

Last week 19/7 I was off Eastern just after dark when I was targeted with a very powerful green laser. It was coming from somewhere on Bilgola Plateau. Fortunately I didn't look at it directly other wise I m sure it would have damaged my vision. I have reported it Northern\n Beaches police and the Water Police.

Beware!
Mike Molloy



---
Free




Baby cot and accessories


High chairs (x 2)
Baby hammock, bouncer (naturesway)
Single pram
Baby change base and change mat

Contact Sandy at esaby@hotmail.com



---
Wanted


Use of Pontoon


I am looking for a temporary spot on a private pontoon for 1 – 1.5 months along the west or south (close to Bell's) sides of the island for my PolyCraft (4.1m). Due to delay in construction of the private wharf being built at Cargo I am seeking a temporary spot as we currently do not have access to our boat on a daily basis as it is currently moored on the east side of the island.

I am happy to pay rent for use of pontoon if someone would be generous to provide us with a spot over the next month and a half.

If you can assist please contact Jillian on 0450 334 565.


---
Children's Slide Wanted



Please contact Antony & Kirsty Bush
Ph 9997 8551
Mobile 0415 393 676



---
For Sale
Portable baby cot, almost new $25
Baby Monitor $50
Iwata Spray painting compressor gun, water based inks etc $200 (for art, cosmetics, craft etc)
Commercial bread/cake mixer $200 (worth more than $900)
Sewing machine and overlocker $100
ONOs
contact Tracy Smith 0400311157


---
Sofa Bed


Sofa Bed with comfy innerspring mattress.
Comes with 2 covers- one blue and one brown.
$50

Please phone: 0423 084775


---
Child Car Seat




For Sale - $30.00


Safe n Sound Convertible Car Seat from birth to 4 years.
It is an older one but would be perfect for an Island Car
Call or text Nicole 0403 229 677 for pick up at the Point



---
The Local Guide
Community Information
---

Transport
---
Real Estate
---
Services, Clubs & Accommodation
Scotland Island Traders - On-line shopping

from your computer, through your door on Scotland Island. Contact Graeme on 0419 460 331 or click here for full details
Justice of the Peace

- Bob Bolton - 9999 4092
Justice of the Peace

- Paul Purvis - 9979 9667
Justice of the Peace

- Paul Burchall - 0414 975 793
Justice of the Peace

- Bob Mitchell (Mackeral Beach) - 0419 745 628
Justice of the Peace -

Maureen Anderson - Morning Bay resident. - 02 9997-2659 or 0417-279-346
Pittwater Community Arts Inc.

- Enquiries Lorrie Morgan 9997 8079 lorriemay@bigpond.com
Peninsula Music Club

- enquiries Janice Tuynman - 99991937 - jt@swift dsl.com.au
Woody Point Yacht Club

- http://www.wpyc.com.au commodore@wpyc.com.au
Royal Prince Alfred Yacht Club

-

02 9997 1022

http://www.rpayc.com.au/
Royal Motor Yacht Club

- http://www.royalmotor.com.au/ 02 9997 5511
Scotland Island Lodge - Bed & Breakfast -

02 9979 3301 or http://www.scotlandislandlodge.com.au
Pittwater Youth Hostel

- 02 9999 5748 www.yha.com.au/hostels/details.cfm?hostelid=31
Nila Chambers - Celebrant (marriages, funerals etc)

Discount for all offshore residents. 9999 2445
Handy Service

- "No job too small" - Call Alan 0447 775 541
Electrician Wayne

on Scotland Island 0418 229 277 - offshore community sparky - www.sparky.com.au
---
Island Classes (Fitness, Dance, Art etc)
Pilates, Meditation and Group Fitness with Patrice

- 0406 483 036 patrice.corrie@gmail.com
Anusara Yoga

- Thursdays - 0421762236 dominiquemarill@gmail.com or floydcbg@ozemail.com.au
Art with Max

- Watercolour classes. Phone Max on 9997 4527
Art Classes

- drawing and painting in oils, acrylics and mixed media- Marion 9979 3993 or 0431 457 431
@ Nathalie's Table - Cooking Classes

- Mediterranean cooking fortnightly - Nathalie - 9999 4449
Dru Yoga

- Tuesday evenings - Phone Katya on 0414 187 916
---
Groups
Gurdjieff / The Forth Way

- Call John on 9979 5584, Marion on 9979 3993 or Anne on 9999 3478
Island Kinesiology Clinic

- Mondays on SI Phone Jen Cudmore 0425 212 849
Green Group For Catherine Park

- Run by SIOCS - Emmie Collins on 0405 330 781
WOW - Women on Water

- second Wednesday of the month - contact Nila on 9999 2445
Parents & Kids Groups Playgroup

- Run by SIOCS - email Emma trysemz@tpg.com.au
Scotland Island Players

- contact Bob or Kez on 9999 4092
Catherine Park Bush Care Group

, 2nd Sunday @ 9.30am, Sharon Kinnison @ 9997 6017
Elizabeth Park Bush Care Group

, 1st Saturday @ 9 am, Bob Bolton @ 9999 4092
Island Thinking Group -
Roy Baker, 9999 6891, roybaker99@yahoo.com
Offshore a capella choir

– Saturdays at 2:30 pm, SI Community Hall. Call Gordon on 9997 2035.
---
Government Organisations
---
Airlines, Buses and Railways
---
Weather
Scotland Island Tides, Moon phases, Sun rise & set
Local Weather Forecast

Radar weather for Sydney (128k circle)
---
Emergency Contact Numbers
ALL EMERGENCIES (Police - Fire - Ambulance)
000
Police Assistance Line & Information
13 1444 or 9281 0000
Broken Bay Water Police
9910 7899 or 0412 162 093
Marine Rescue Broken Bay - Weekend

(

02) 9999 3554 - (02) 8411 1121



Marine Rescue Broken Bay - VHF Radio channel

VHF Radio Channel:

VHF 16


27MHz Radio Channel:

86 or 88



Scotland Island Rural Fire Brigade
9999 4404
NSW Fire Service General Information 9265 2999
9265 2999
Rural Fire Service General information
9450 3000
State Emergency Service, Warringah/Pittwater SES
9486 3399
National Parks & Wildlife Service: 000, general information
9457 9322
Dept of Community Services: general information
9977 6011
Sydney Water
132 090
Energy Australia
131 388, (ah) 131 909

---
Join SIRA
You can now join the Scotland Island Residents Association by
clicking here.
Please print the page and return the completed form to SIRA at this address:
The Treasurer, SIRA, PO Box 70, Church Point 2105.
Please NO CASH.

Contact SIRA at
sirapittwater@gmail.com
Join WPCA

To join the Western Pittwater Community Association, contact Michael Wiener at
m2wiener@bigpond.net.au
---
Archived Newsletters


A complete set of past electronic newsletters since May 2000 can be found and read at https://ymlp.com/archive_gesgjgm.php or by clicking here or by visiting the Mona Vale Library.

The Island website is at www.scotlandisland.org.au


---
To Contribute


If you would like to contribute to this newsletter it's easy!. Send an e-mail to the editor (editor@scotlandisland.org.au) or by clicking here. Type your contribution (100 words or so would be fine) and assuming it is of general interest to the community, does not include matter of a political nature and is not offensive, it will appear next month.

Subscription Information


To get on and off this newsletter,

click here

or got to:

http://www.scotlandisland.org.au/signup .


To change your address, click the 'modify' link at the bottom of this newsletter or send an email to the

editor@scotlandisland.org.au


---
Follow the PON
---
The Online Local Contacts Guide
Click HERE to load
The views expressed in this newsletter are not necessarily the views of the Scotland Island Residents Association (SIRA), or the Western Pittwater Community Association (WPCA)

---