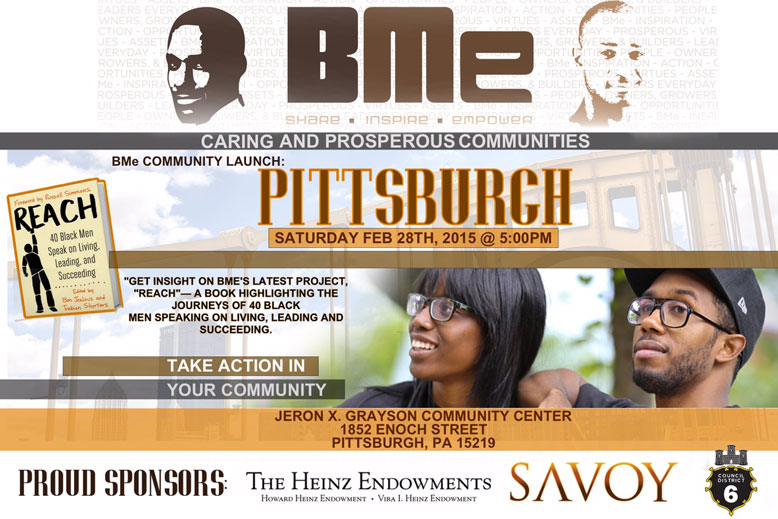 BMe Community, a national network of inspired black men, will launch in Pittsburgh along with announcing its $100,000 BMe Leader Campaign for the 2015 BMe Leader Awards, aimed at providing recognition, funding, and networking opportunities to Black men who take action to help build prosperous cities across the country. This launch event will take place on Saturday, February 28, 2015, from 5pm - 7pm, at the Jeron X. Grayson Community Center located at 1852 Enoch Street, Pittsburgh, PA 15219; refreshments will be provided by SAVOY Restaurant.
The 2015 BMe Leaders will be selected from black men who reside in the four cities where BMe operates (Detroit, Baltimore, Philadelphia, and Pittsburgh). In these towns, Black men's faces are often associated with the cities' greatest challenges. BMe contends that if more people see the host of ways that inspired Black men bring out the best in the city, then these cities will have a better more accurate, more attractive image as well.
BMe began as an innovation of the John S. and James L. Knight Foundation and now operates as an independent entity with support from Knight Foundation, Open Society Foundation, Skillman Foundation, and The Heinz Endowments.
We invite you to come learn more about BMe Community, as well as come to nominate yourself, a neighbor, friend, or colleague for the 2015 BMe Community Leadership Awards. Our open application process will be open from February 28th to March 27th, please attend to learn how to apply, as well as learn about other exciting opportunities BMe Community will bring to Pittsburgh.