To ensure that my newsletters arrive safely, please add my email address to your address book.
April 2017 

IN THIS ISSUE:
Series 1:

Openings for professional biz

 presentations

Information on Certification of World Class Speech Coaching Program starting in June! ACT Now and receive a discount of $500.00!
In the next few newsletters, we'll focus on business presentations, examining common errors and how to remedy, or even avoid them. As a business professional, it is imperative for your success to have your meeting attendees  focus on your proposals and seriously consider buying in…while you appear to them as calm, confident and competent!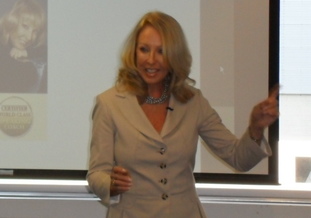 Info. on Craig Valentine's Certification Course
Would you like to have this credential beside your name?  

Well you can! Earn it from the comfort of your home since no travel is involved!
Craig Valentine & Mitch Meyerson  announce their World Class Speaking Coach Certification Program starting June 12th, 7pm.EST.
What you will gain from this program:

CREDIBILITY: The World Class Speaking brand and certification will open many doors for you as it has for our graduates. Our latest book (World Class Speaking In Action) reached #1 on an Amazon bestsellers list. 

COMPETENCE: Their proven step by step system will give you the tools to help your clients present with impact and persuade with ease. 

CONFIDENCE: You will feel confident coaching anyone from a business executive to a professional speaker to someone who is just starting out.

CLIENTS: You will get exposure to new clients on an ongoing basis upon completion of the program.
CONVENIENCE:
This class is virtual, so you can be from WHEREVER YOU ARE in the world!
You won't have to re-create the wheel. Simply use these proven processes, templates, models, books, and resources to coach your clients.   
Click link to hear and read what Craig Valentine and other certified coaches and I have to say about this awesome course!
Thrill of a life-time to have earned the skills to coach a talented toastmaster win the District level of the International Speech Contest and advance to the 'Big Stage" in Las Vegas and then the next year in Washington, D.C.!!!!!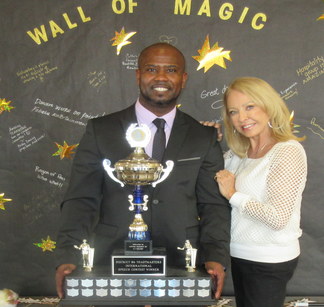 Don't hesitate to contact me, as many have done before, if you have any questions or would like more firsthand info about the course!
Kathryn

416

489 6603

or email me at:  

 
kathryn@kathrynmackenzie.com
(PS I too delberated in 2009 when this program was first offered, but I am so glad that I took the plunge and invested in myself and my business as a speaker)
Quotations of the month:
 "During the first few minutes of your presentation, your job is to assure the audience members that you are not going to waste their time and attention." - Dale Ludwig
"Good communications, written or oral, begins with an understanding of the audience.  If you can get inside their heads, you can find a way to connect." - Debra Bennetts
Business Presentations: Big Bang Openings!
I'm sure you realize that the higher up you go on the corporate ladder, the more important your presentation skills become. A more senior job title along with its higher pay, mandates increased responsibility. If this is your goal, get ready by setting yourself above the rest... NOW!!
It's natural and normal to be nervous when presenting to our colleagues, and even more so, to senior management. They cannot see how you feel within, but they can hear:
what you say,

how you say it

how you look and act
In the next series of newsletters, we will focus on Business Presentations…common errors and how to remedy or even avoid them so you can Talk your way to the Top!
stating unpleasant pleasantries (weather, ... nice to be here…etc)

starting with a joke, an apology, a long-winded story

verbally waffling around not getting to the point

physically shuffling around the floor appearing confused, indecisive or anxious

what else have you seen or possibly done as a weak opening?
Please note: you have fewer than 60 seconds to make a first and lasting impression. The Law of Primacy states that people remember what they hear and see first  
walk up confidently,

 then stand grounded with feet planted firmly on the ground

start strong…use a quotation or question or statistic or short relevant story

state what's it in for them…BENEFITS…i.e. "For you this means…" or "so that you can..." Ensure the benefits are readily obtainable

follow by a roadmap "And this comes to you in the form of… i.e. a 4 Step Formula, 3R's , the A B C Guide to Greatness, etc."
*****Remember:
Good presentations are not mystery novels- don't hide
the major objective/point of your presentation and keep them waiting for it (especially to senior management!) If you give your conclusion first, they know right away what the most important take away message is and that the rest of the presentation (the secondary points, facts and examples) is built on that main premise
Join me again next month when we continue discussing
Business Presentations
and
the topic will be

: Business Closings: common errors and remedies
Until then, powerful presentations to you! 

 _____________________________________________________
Individual Speech Coaching or Group Instruction
Let's first discuss your needs and/or those of your group
 (no fee for consultation) 
Kathryn MacKenzie, M.Ed. DTM




Presentation Skills Instructor / 

 

 Keynote Speaker/Coach





Was this newsletter passed on to you by a subscriber?

Want to MAGNIFY your speaking skills?




Then I invite you to visit my website: www.kathrynmackenzie.com and SUBSCRIBE to my FREE monthly 'Keys to Your Speaking Success' newsletter.




Email: kathryn@kathrynmackenzie.com | Phone:

416.489.6603

 

   

© 2017  All rights reserved