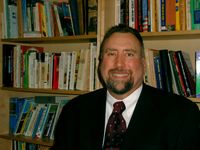 John in the IAHF Office.............. Senator McCain's Bill Withdrawn Due to Our Pressure

IAHF List:
Victory is ours!!!

I just got back from the
Arnold Sports Festival & Expo
in Columbus, Ohio where there were more than 700 booths manned by sports nutrition companies. I walked around to every booth in the show dropping off flyers and educating people at the booths and in the crowd to the dire need to kill McCain's S.3002, the Dietary Supplement Safety Act of 2010 which would have banned the sale of many dietary supplements via creation of "negative" and "positive" lists as well as allowable potencies under totally false pretenses.
The bill would have subverted the new dietary ingredient notification process found in the Dietary Supplement Health and Education Act and it would have forced dietary supplement companies to report all Adverse events associated with their products, even minor ones- something that wasn't necessary and which would have swamped the FDA blocking their ability to act in the most serious cases when their action was actually warranted while crushing manufacturers under the weight of unecessary red tape which would have driven up costs to consumers.

Senator Orin Hatch, the primary sponsor of the Dietary Supplement Health and Education Act played a role in getting McCain to withdraw this bill by telling him it was counterproductive, that it would have gutted DSHEA, and he offered to work with him to draft a better bill that would more precisely address the problem of illegal synthetic steroids being sold by a few bad actors in the supplement industry.
Frankly, I can't see why Hatch thinks such a bill is even necessary given the broad powers FDA already has to go after illegal steroids via the Annabolic Control Acts, but perhaps he was just giving McCain a way to save face. Also, McCain now vows to put some of the language from this bill into the Food Safety Act, so that bears close scrutiny and needs to be defeated anyway because it would
drive all small farmers out of business
I just made a Hurculean effort on behalf of all of you to achieve this victory, slogging through airports, and walking miles on the hard concrete floor at the Columbus Convention Center yet hardly anyone donated to IAHF since my last alert. I'd like to thank the few of you who did, and I'd like to ask the rest of you if you actually value my efforts because sometimes it really doesn't seem like you do. I returned from this trip with a rip roaring cold and some sign of support would be especially appreciated at this time!
If you value my efforts to defend your access to dietary supplements, please give me some love, send a donation via paypal or by sending a check or money order to
IAHF 556 Boundary Bay Rd., Point Roberts WA 98281
Also, please continue to support JD Hayworth's
bid to unseat McCain
Our best defense is a good offense. McCain never should have introduced S.3002, and the best way to send a message to the rest of the Senate that messing with the dietary supplement industry is unacceptable is to drive McCain from office- he's a brain dead product of nepotism, and he's certainly no friend of dietary supplement consumers. JD Hayworth on the other hand IS our friend, and he deserves our support- with all of our help he will destroy McCain in Arizona's Republican primary!
For more info, see the articles below:

McCain Move Bolsters Vitamin Makers
3/8/2010 6:48:00 PM
NEW YORK­ A few publicly traded companies in the dietary supplement space saw stock prices rise on Monday, after Sen. John McCain (R-AZ) withdrew his support of the Dietary Supplement Safety Act, Dow Jones reported on
The Wall Street Journal
. McCain's bill would have made major regulatory overhauls to the current federal oversight of the dietary supplement industry.
"It looks like it will be an easier world to be in the dietary supplement business," Avondale analyst Bret Jordan told Dow Jones' Shara Tibken. "The bill would have significantly tightened regulatory requirements."
Tibken reported Nu Skin Enterprises Inc. (NUS) and Medifast Inc. (MED) were both up; however, Herbalife Ltd. (HLF) and Usana Health Sciences (USNA) were slightly down, which led Wedbush Morgan analyst Rommel Dionisio to comment to Tibken, "It's not really affecting anybody else, and that's news that would lift them all. There are companies with much greater exposure to the U.S. business than Nu Skin."
Sources:
Related Articles: