Mundelein Community Connection (MCC) is a not for profit organization dedicated to the economic development, historic preservation and healthy community spirit of Mundelein's central business district. Working together we provide an atmosphere where new and established businesses can grow and where families find the hometown they always wanted.
A Message from the Executive Director
We began 2021 with much uncertainty. Early in the year we were forced to cancel the 2021 Mundelein Craft Beer Festival, for the second year in a row.  Even a smaller alternative event had to be cut due to concern that a liquor license would not be issued.  In addition, the craft beer industry was reeling from the effects of the pandemic.  It was questionable if brewers would participate.  So, we made the difficult decision to postpone Beer Fest for another year.  We will be back in 2022!
So far, in spite of losing the Craft Beer Fest, 2021 is off to a great start.  Park-on-Park returned on June 16th with great car participation and attendance. The Farmers Market, the only MCC event to survive in 2020, returned, as usual, in mid-June and will continue every Friday from 3 pm until 7 pm into October.  Coupled with the open-mic nights and outdoor dining on the west end of Park Street, the Farmers Market makes a great outing.
MCC held a very fun Bingo night at Tighthead Brewery on June 22nd and we are considering more Bingo nights later in the summer.  The MCC Board and friends worked the Mundelein Days beer booth on July 4th; and will be staffing the beer booth at the Mundelein Grand Prix bike races on July 19th.
There is a lot of summer left, and a lot of fun MCC community events to enjoy.  We hope to see you downtown this summer.
MCC, in partnership with the GLMV Chamber of Commerce and Tighthead Brewery presented Bingo at the Brewery on Tuesday, June 22nd.  Over 40 people attended.  A good time was had by all!  The next MCC Bingo night is scheduled for October 26th from 5 pm to 7 pm at Tighthead.  Because of the great feedback from all parties, the MCC Board is considering adding Bingo Nights on Monday, August 21st and Monday September 27th at the same time and location. 
Park-on-Park Classic Car Nights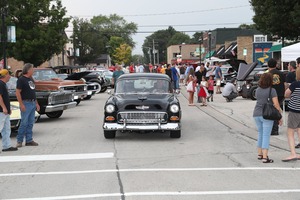 Park-on-Park is back!  The 21st season opened on June 9th.  Perfect weather, and attracted over 500 pre-1977 classic cars, and over 1,000 guests.  There was plenty of great food provided by Brothers Ribs, Lucky Burger, Grub-n-Go, and My Funnel Truck; great music by DJ Eddie Rodriguez; and a tremendous diversity of beautiful cars. 
Park-on-Park will continue on the second Wednesday of each month throughout the summer:  July 14th; August 11th, September 8th and October 13th.  Park-on-Park is limited to pre-1977 vehicles,  which makes it a car-lovers event that attracts some of the finest vehicles in the area. There is something for everyone, owners and spectators alike. Mark your calendars now for the remainder of the 2021season.
Thanks to
Sudden Impact Collision Center
for providing dash plaques;
Flatout Gaskets and Fabrications
for posters and flyers; and our DJ sponsors
Mundelein Automotive and Matco Tools.
  Nearly 40 businesses provide the support necessary to make this the best "free" car show around.  For a full list of sponsors and more information please visit: 
www.parkonpark.com
.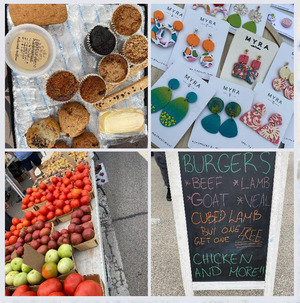 There is lots of fun and fresh food at the Mundelein Farmers market, every Friday  from 3 pm to 7 pm on Park Street.  A variety of high-quality vendors are there every week.  Market Manager, Becca Merkau, has added a number of interesting vendors and fun events to add excitement to the Market.  She is promoting the special events and vendors regularly on social media. Follow us on
Facebook
and
Instagram
.  
Middleton's Preserves and Six Generations Farms provide a wide mix of fresh vegetables. Mundelein growers like Goblin Farms, Sunrise Topiaries, and  Garden City Greens provide products as LOCALLY GROWN as possible! Nana's Rum Cakes and Toni Canolli's serve confectionaries made right in town!  Farmer Nick and Billydoe Meats are getting great reviews for their meat products, including grass fed beef, veal, chicken, lamb and goat.  Holcomb Hollow, also from Mundelein,  reveals a SURPRISE ITEM at the market each week which has been a huge hit!  Face painting and henna is available weekly, plus games and other activities for kids. On 7/16 the Cruising Characters will be at the Market from 5-7 pm. That will be a great day for the kids to come out and meet the characters and get pictures taken.  
Youthage Culinary (from Mundelein) presents live food demonstrations once a month using fresh produce from the market.  The next live demos will be August 13th and September 3rd.  Chef Robert is interactive and does a fantastic job getting the crowd involved while demonstrating and sampling his creations.
The Market could not be possible without the support of our
Sponsors
. Please visit the Market, support local business and sustainable living; stay for the open mic, and have dinner downtown!
Mundelein Grand Prix/Intelligencia Bike Races
New this year, The Mundelein Grand Prix, a professional and amateur bicycle races will take place on Monday, July 19th. The races are part of the nationally-renowned Intelligentsia Cup series held in various communities in the Chicago area from July 16-25. 
Held in a "criterium" format, racers compete together on a short-loop, course through the streets of Downtown Mundelein. Shortly after one race finishes, another begins. There will be nonstop action from 10AM until 8PM.  Tight turns, narrow streets and fast straightaways, make this a thrilling spectacle!  Race day features more than just bicycle racing.  There will be a beer garden (staffed by Mundelein Community Connection), children's games (sponsored by the Mundelein Park District), music, food, art activities (hosted by the Mundelein Art Commission, and more.   The Mundelein Grand Prix will be an event that the whole community can enjoy!  Please stop by and join the fun.
Sundays, on the Kracklauer Park stage, 5 to 6:30 pm.   Excellent music…under the open sky…among friends…the perfect way to end the weekend! 
July 18 - Second Hand Soul
Motown, soul, and Rock & Roll…this Chicago band lights up the stage.
July 25   - The 4 C Notes
The Midwest's only Frankie Valli and the Four Seasons tribute band.
August 1   Mellencougar
John Cougar Mellencamp tribute band plus other Rock & Roll hits.
Mundelein Art Festival September
MARK YOU CALENDAR!  The 10th annual Mundelein Fine Arts Festival, a juried art festival showcasing 45 fine artists will be held September 11th and 12th from 10 am to 5 pm in Kracklauer Park.  In addition to professional artists, the festival will also highlight artwork by select students from Carmel Catholic and Mundelein High Schools.